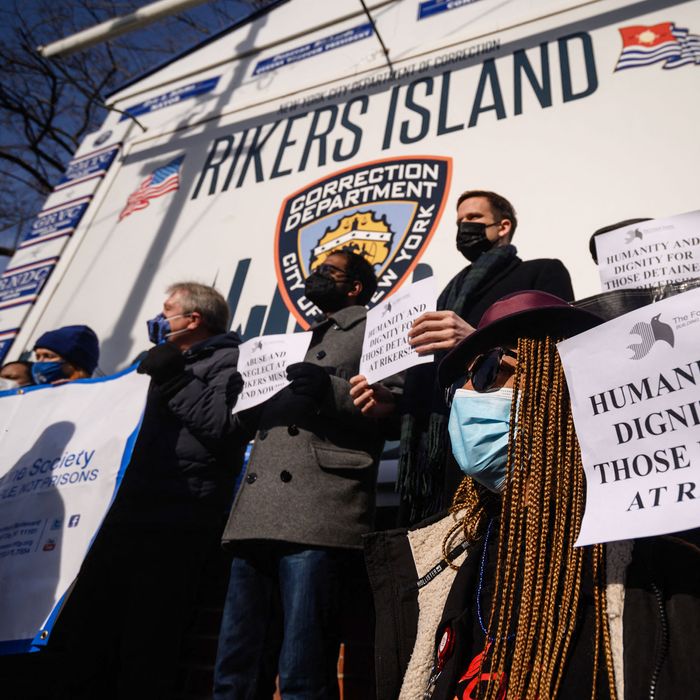 People at a rally in solidarity with hunger-striking inmates at the entrance to the Rikers jail complex in Queens, January 2022.
Photo: Ed Jones/AFP via Getty Images
When the Omicron wave hit Rikers Island in December, the people held there began to feel dangerously alone. With correctional officers calling out sick in record numbers, there wasn't enough staff for inmates to have medical checkups, social visits, or recreational breaks or go to their court appointments. Without an outlet, detainees say that people took it out on each other instead, and no one was around to break up the fights. This left detainees with broken bones, gashes, and other injuries while living in constant fear of being attacked again.
"I asked the other people here if they felt my pain," says Ervin Bowins, a detainee who was one of the organizers of a hunger strike that began on January 7. "I told them we can organize in solidarity. And when other people joined me, it was beautiful." Around 200 people took part in the strike that Bowins helped to organize. It included refusing meals and lining up in the hallways demanding to speak to higher-ups at the facility.
The strike brought attention to the situation at Rikers, where 15 people died last year. Politicians rushed there again in January to inspect the deteriorating situation. But the attention also brought retaliation. After Bowins met with Public Advocate Jumaane Williams, he says he was moved by officers into a gang-controlled unit.
"The guard brought me into the unit and said, 'Here's your snitch,' and within a second there were 15 guys on me, just beating me," Bowins says. He is now in protective custody on Vernon C. Bain Correctional Center, or "the boat," a floating barge anchored off of the South Bronx where some Rikers detainees are held.
Bowins was describing a controversial decision by the de Blasio administration to group members of the same gang together. When staffing declined on the island, those gangs took over the day-to-day operation of the units, including the one Bowins found himself transferred to. Corrections officers are now sending inmates to the units as retaliation for speaking out.
"This is known as 'around the world' on Rikers Island," says Stan German, the executive director of New York County Defender Services, which is representing Bowins in his criminal case. "When you complain, they just bounce you around to other dorms to completely unsettle you and put you in harm's way. When our lawyer saw him on Sunday, he had a black eye. It was clear he had been assaulted."
One of those gang-controlled units was the site of a "Fight Night" this past October, when two detainees were forced by a gang leader to fight one another. In a rare ruling, a Manhattan judge found that correctional officers had failed to protect the detainee, known in court documents as "Relator G," and the detainee was released from Rikers while he awaited trial. It wasn't Relator G's first time at the jail, and he noticed that conditions had taken a nosedive. "There was more staff, the food was better, less fights, less contraband," he says about his earlier stints. He's now home with his family, but still has headaches and a back injury from the beatings he endured from other inmates.
The problems at Rikers have developed over decades, stemming from a culture of impunity among the guards to a crumbling infrastructure and the loss of alternatives for those among the detainee population who are mentally ill. But former Department of Correction commissioner Vincent Schiraldi said the sick-outs by correctional officers were something more recent; they were in response to new punishments being handed out to officers who had engaged in misconduct, including egregious use of force on the island.
Benny Boscio, the president of the Correctional Officers' Benevolent Association, disagrees. "Our officers were being extremely overworked, working 24-hour shifts," he told me just hours before he held a luncheon with the new DOC commissioner appointed by Eric Adams. "If anyone thinks the sick rate wasn't going to rise because of the amount of hours officers were being forced to work." The number of staff showing up to work first hit a low point this past fall, when around one in five officers were consistently not at their posts. On one day in September, 2,000 of the more than 8,300 Rikers Island employees called in sick or had a personal emergency. Those numbers ticked back up during the latest Omicron outbreak.
When Eric Adams took office in January, he replaced Schiraldi with Louis A. Molina and rolled back the policy the former commissioner had implemented to reduce the abuse of the unlimited sick-leave policy by corrections officers, which had required a doctor's note. He also fired a high-profile investigator who had begun tackling a years-long backlog of use-of-force allegations by guards against detainees and has not appointed anyone to replace her. While it's difficult to say exactly how these changes have affected the jail in just one month, removing the policy to verify sick-leave requests likely did not help with the chronic understaffing. But the corrections officers are relieved. "We're very happy that the sick-leave policy was reverted back to the way it was supposed to be," Boscio said.
Along with the lack of on-duty guards, 5,400 detainees are currently being held on Rikers Island, a rising number that can be tied to the city's clogged court system and rollbacks to the 2020 bail-reform law that gave judges more leeway to impose monetary bail. "When given permission to give bail more often, we saw judges consistently do so," says Insha Rahman, the vice-president of advocacy at the Vera Institute of Justice, a research organization that has pushed for the closure of Rikers Island. She adds that after the bail reform law was rolled back, "We saw a very clear uptick in the jail population at Rikers."
"You can just die here waiting for court," says "L.A.," a 39-year-old who's being held in a medical observation unit on Rikers. "It's like torture." (He asked that we not use his name, for fear of retaliation.) L.A. and others in his unit have also been participating in a series of hunger strikes and other actions to draw attention to the conditions there.
25-year-old "Devin," who's been held on Rikers for since September, says he's tried to kill himself repeatedly after feeling intense stress and anxiety while held on the island. The only help he's received is having his shoelaces taken away. "It's like a game to the correctional officers where we can't do anything but sit here with the rats and the roaches," he told me over the phone in mid-January, in a soft and faltering voice. He sounded deeply defeated. He's been waiting for his next court appearance in the coming weeks, but any idea of when he can leave Rikers is still far off.
The new reform-minded Manhattan prosecutor Alvin Bragg could slow this trend of rising inmate numbers. He has instructed his office not to pursue bail for certain felonies, in a borough that has long outpaced other boroughs in sending people to Rikers (though Bragg recently rolled back some of his changes). In the aftermath of the two shooting deaths of police officers in Manhattan last month, there have been renewed efforts to roll back the bail law even further, including a call by Adams to lock up more people pre-trial and a return to caging 15- and 16-year-olds who don't cooperate with police.
Many are also waiting to see what the federal judge who has overseen Rikers Island since 2015 will do. Judge Laura T. Swain has installed a monitor as the result of a settlement on the use of force at Rikers and, based on reports from the monitor, can issue orders to improve inmate safety on the island. Many are hoping that Swain will order the jail to go under federal receivership, which would suspend some features of the correction officers' union contract and the city's control over the island. "Rikers has to go into federal receivership," said New York County Defender Services' German. "There's no other way this ends." The judge could stop short of that, however, and issue a cap on detainees or mandate other ways to take the pressure off the island.
Adams has voiced his support of a plan to close Rikers within the next five years, but has yet to take any steps to move forward with the borough-based jails that would replace it.
For "Smoke Neutron," a 28-year-old musician who's been on Rikers since 2019 and seen his court case delayed multiple times, it's challenging enough just to get through the day. He has been organizing strikes, talking to the media, and designing T-shirts with strike slogans on them asking for decency from the guards. He says he is tired of being bounced around to different units in Rikers, and that there wasn't any heat in his unit on a night when the temperature dropped to the single digits.
His immediate goal is to have the guards restore some access to the law libraries and outdoor recreation spaces. But his organizing is also a way of passing the time. Without a goal, even something as small as access to the basketball court, people will lose themselves. He's seen people try to end their lives, thinking no one cared about them and nobody was listening. "No one's going to give you anything here," he says. "You have to work together and ask for it, even just the basic things we need. Right now, it's just no way to live."