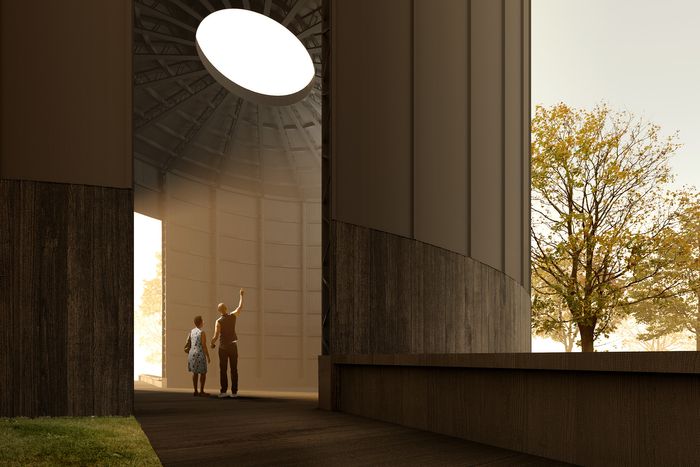 Art: Theaster Gates Studio
The Serpentine Pavilion in London's Hyde Park is one of those rare projects for which architects actually have the runway to design something cool without having to worry about pesky things like zoning codes or a demanding client who pushes their own ideas. It's the sort of design that normally stays on paper (or in CAD), like Junya Ishigami's canopy made from huge shards of slate, Bjarke Ingels's LEGO-like tent, and Frida Escobedo's courtyard of Mexican breeze blocks latticed together. This year, the Serpentine Galleries awarded the pavilion to Theaster Gates, the first visual artist to win the commission. He's collaborating with architect David Adjaye on his design, named Black Chapel.
Gates plans to create something like a church. Spiritual spaces are a theme in his recent work, such as Black Vessel for a Saint, a 2017 sculpture he made for the Minneapolis Sculpture Garden. "Coming out of COVID, I thought how nice it would be to have a place of quietude," Gates told The Guardian. "It's a place for people to be with their thoughts and rest, a sacred chapel where you can sit and be reflective. It should give you the ability to touch your inside self." The wood pavilion's cylindrical shape riffs on industrial bottle furnaces found around Stoke-on-Trent and will have an open oculus in its domed roof. While the Serpentine Pavilion is usually an entirely new build, Gates plans to install a bell he salvaged from St. Laurence Church, a South Side Chicago landmark that was demolished in 2014, outside the pavilion, and will use it to call visitors to the performances he's programming for the space. There will be "gospel, alt-jazz, avant-garde sounds, the history of British Black music, Gregorian and Benedictine chants — all the things me and my band are into," he said.
While Gates isn't technically an architect, architecture and urbanism have been a recurring theme in his artistic practice, most of which is focused on sites in Chicago's South Side, a mostly Black area of the city with deep cultural significance and a long history of disinvestment. Through the Rebuild Foundation, Gates renovated an abandoned neoclassical bank building and turned it into an archive and cultural center, and he built 32 units of affordable housing. He is also working on a socially focused master plan for the South Side through Reimagining the Civic Commons, a national program founded to build trust through equitable redevelopment. All of this work has offered members of Gates's community both spaces for cultural preservation and venues to express themselves. Black Chapel is no different, except for its form and its location in London.