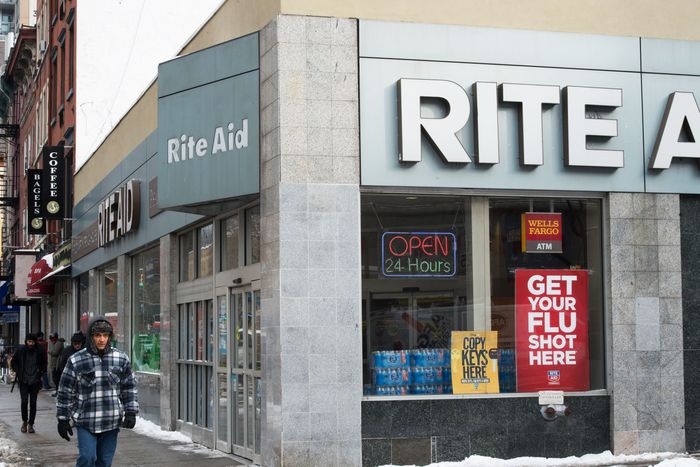 Photo: Bryan R. Smith/AFP via Getty Images
Michael Rapaport knew exactly what was going on. "Yo! This fuckin' guy just filled his two bags up with everything in Rite Aid," the actor narrated from his local Upper East Side chain pharmacy as he filmed a man headed out of the store late last month. "Walking down the street like shit is Gucci …My man just went Christmas shopping in January. He had the condoms, the shampoo." He added that someone (he didn't say who) had told him that the Rite Aid in question would be closing in mid-February because of shoplifting.
The tabloids ran with Rapaport's claims that out-of-control theft was killing our local drugstores. (This particular store did see a lot more thefts reported in 2021 than in previous years: 249 petit larcenies, compared to 48 in 2019.) The Post alone ran at least five related articles in the following days, pushing its crime-and-chaos narrative and dinging new Manhattan district attorney Alvin Bragg for some of the policy changes he'd promised in his "day one" memo. The Post also reported that another Rite Aid — this one in Hell's Kitchen — would be closing as well, supposedly also because of shoplifting, according to ambiguously attributed "store sources." Almost immediately, Bragg announced the formation of the Manhattan Small Business Alliance with a mission to reduce shoplifting. And last week, he reversed several of his criminal-justice reform policies in response to related backlash. Even so, this week, MSNBC's Morning Joe devoted a five-person panel to shoplifting. "You go to a local pharmacy, Duane Reade or Rite Aid, any of them, and you gotta get someone to help assist you," Al Sharpton said during the segment. "What did I miss that we now have to lock up toothpaste?"
No matter that an employee at the Upper East Side Rite Aid told Fox 5 that the store is closing because of "shipping issues" — a reference to the pandemic-related supply-chain disruptions affecting all sorts of businesses and which have nothing to do with petty theft. When the Post made similar claims in the fall about shoplifting that was purportedly leaving city pharmacies half empty, a CVS spokesman emphasized that "product supply challenges are currently impacting most of the retail industry."
In fact, the two reported Manhattan Rite Aid closures appear to be part of a nationwide downsizing. In December, Rite Aid said it would be closing 63 stores "to reduce costs, drive improved profitability, and ensure that we have a healthy foundation to grow from, with the right stores in the right locations, for the communities we serve and for our business." Shoplifting was not a listed rationale. Asked about the Manhattan store closures — and whether shoplifting played any role — a Rite Aid spokesperson says only that that the decisions "are based on a variety of factors that retail businesses consider such as overarching business strategy, lease and rent considerations, local business conditions and viability, and store performance." Again, no mention of shoplifting.
This general contraction is also an industry-wide trend: The prior month, CVS said that it would be closing about 10 percent of its stores in the coming three years — some 900 locations — in response to "evolving consumer needs." A spokesperson for CVS tells me that the company has not closed any stores due to shoplifting. Walgreens says that when it closes stores, its reasoning is rooted in "the dynamics of the local market and the changing buying habits of our customers."
"Rite Aid's main profit margin is coming from non-pharmaceutical consumer goods," explains Mahmud Hassan, an economics professor who runs Rutgers's Lerner Center for the Study of Pharmaceutical Management Issues. "If you look at a bottle of Tylenol or other over-the-counter drugs, they make a fortune on those and from other consumer goods, like milk." He says the pharmacies are responding to the pandemic's effects on in-store sales and the continued growth of online shopping and home delivery of prescriptions. "If people don't come inside the store, they're not selling as much because people are using drive-throughs to get prescriptions from the pharmacy and ordering stuff on the internet." (The drive-through effect obviously doesn't apply to Manhattan, but online fast-delivery pharmacy companies like Capsule definitely do.) Walgreens is certainly preoccupied with online sellers: A spokesperson says it's currently lobbying for a bill that would hold online marketplaces "accountable for the activity on their platforms" and help "ensure only legitimate goods are sold by verified sellers."
"The reality is, we have too many retail pharmacy locations in the United States," Adam Fein, CEO of Drug Channels Institute, which studies the economics of the pharmaceutical industry, told WHYY when the Rite Aid and CVS closures were announced. Fein later wrote a long blog post detailing the "10 Industry Trends Driving the Retail Shakeout." Neither shoplifting nor any other kind of theft made the list. Hassan says the same, adding that companies are scrambling to restructure in response to industry pressures that have been nagging them for years—not because of shoplifting. With high levels of remote work likely to continue, he says, these financial difficulties are not temporary. "I think this is only the beginning," he says, "of a restructuring of the entire outlet industry for retail stores." He thinks a big merger attempt is likely coming again, and noted that Walgreens already bought nearly 2,000 stores from Rite Aid in 2018. "I'm sure most of [the pharmacies] are not closing because of shoplifting," says Christopher Herrmann, a criminologist at John Jay College of Criminal Justice.
Regardless of the actual reasons for the closures, has there been a recent surge in shoplifting in New York's chain pharmacies at all? We don't really know. "I reached out to my friends at NYPD — I am a recovering crime analyst at NYPD HQ — and there is no easy or good way to do this analysis with current data," Herrmann says. "The data that is shared with the public on the NYC Open Data Portal does have info on shoplifting, but it is only shared quarterly," meaning that the most recent data aren't yet available. In general, though, he says that shoplifting information tends to be unreliable because its reporting is variable and arbitrary. There's no national database, and across jurisdictions, shoplifting data is classified in many different ways that don't match. This makes it really hard to figure out what's going on at any time, let alone to compare across times and places.
"Let's put it this way, because you want evidence: Right now it is, by and large, anecdotal," says Read Hayes, a researcher at the University of Florida's engineering college and director of the Loss Prevention Research Council, which analyzes and models data for corporations on product loss from things like flooding, storms, and theft. (Hayes describes the politics of his work as "alt-middle.") "Unfortunately, shoplifting is not reported well, by the victims or the police," Herrmann says.
According to data shared by the NYPD, citywide retail theft complaints — which include not only shoplifting but all "petit larcenies, grand larcenies and Robbery's [sic] that initially began as shoplifting," a DCPI spokesperson clarified — did rise to slightly above 2019 levels in 2021 after a dip in pandemic-inhibited 2020. Last year saw 43,864 complaints, up from 32,358 in 2020 and 37,918 in 2019. It was unclear what percentage of those theft complaints were just incidents of shoplifting. The NYPD did not provide numbers specific to chain stores or pharmacies. Although some recent coverage has cited an increase in year-over-year reports of petit larceny, Hermann says that the changes in pandemic life between the periods make the comparison unhelpful.
Unlike the Upper East Side store that Michael Rapaport filmed, the Hell's Kitchen Rite Aid slated for closure only had 39 reported petit larcenies in 2021, barely changed from 35 in 2019. A CVS spokesperson tells me that nationally, "retail theft incidents have significantly increased during the pandemic, but we do not break out this information by specific markets." Hayes says some of his clients have reported similar experiences.
Let's say one were to choose somewhere to shoplift, perhaps out of some combination of need and boredom. A big faceless corporate pharmacy chain with very few employees on the floor or items remaining on shelves — stores with, investors have noted, "bad lighting, depressing interiors, messy merchandising, and a weak assortment of products" — would be an unsurprising target. Still, Herrmann says that although unemployment increases are sometimes linked to rises in certain kinds of property crime, "that wasn't certainly the case with COVID," perhaps due to an unusually widespread social safety net of temporary pandemic benefits.
A significant obstacle in trying to understand what's happening with shoplifting, though, is that many of the people thinking about the question are either police, people with vested interests in advocating for the police, people who work or consult for retail chains, and people who say they're studying things like "What's a good day for a bad guy?" as the LPRC's Hayes did to me. Retailers including Rite Aid and CVS have reportedly backed harsher penalties for shoplifting, which have contributed to high incarceration rates, according to a 2020 report by the nonprofit consumer advocacy group Public Citizen.
"This restructuring of the business is not from shoplifting. This is economic," Hassan says firmly, adding that most stores are insured, which allows them to recoup a sizable chunk of any product losses. Shoplifting "gives them a good excuse," he says, "so they don't have to say, 'Hey, my profit is down.'" Yes, there's some pilfering going on. But the real thief is probably Amazon.