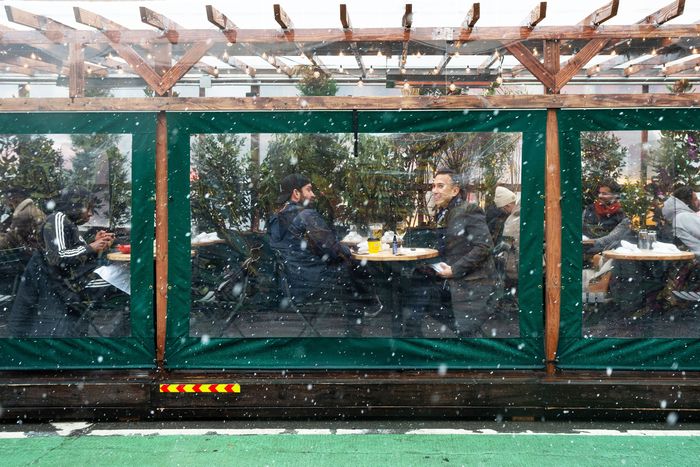 Photo: Alexi Rosenfeld/Getty Images
Today, the Department of Transportation held a long-awaited (and very long) land-use meeting with the City Council about the future of Open Restaurants, the pandemic-relief program that has enabled restaurants to add seating to sidewalks and streets. It's part of a bigger process to determine what a permanent streetries program would look like, which launched with a listening tour of community boards, the general public, and other agencies in November. While official rules are forthcoming, today's meeting offered an initial look at how the DOT is thinking about the future of outdoor dining. One big revelation: The days of sheds and shacks appear to be numbered.
"We don't envision sheds in the permanent program. We're not planning for that," said Julie Schipper, the DOT's director of the Open Restaurants program. "What would be in the roadway are barriers, tents, and umbrellas but not these houses we've been seeing in the street."
Schipper offered this comment after councilmember Sandy Nurse, who represents the 37th District, voiced concern over rats living underneath the streetery platforms. "The goal of the program is to have something that can last years and years," Schipper continued. "Over COVID, you couldn't eat indoors. That won't always be the case. This is planned for a post-COVID scenario when you can dine outside but you don't need to be in a house on the street."
The future of Open Restaurants will probably look a lot as it did in the beginning — with a few chairs and tables corralled by a barrier protecting diners from traffic — but with a lot more enforcement and regulation. All participants will have to apply for a permit, which is expected to take about five months for approval. The policy is still under development, with official rules and design guidelines expected to be in place by 2023. The DOT also said it plans to crack down on streeteries that don't comply with existing rules in the year ahead.
Over the past two years, restaurants have become more adventurous — and more enclosed. What began with ad hoc structures to give restaurants a fighting chance of surviving the pandemic became a new tool to enliven public life in the long run. But with private booths, heating, air conditioning, and sometimes power wired directly to the structures, it's often hard to see the difference between a streetery and an actual dining room. Even though streeteries are going to get a lot more boring, the heart of the Open Restaurants program remains exciting. We're finally taking space back from cars and gaining more opportunities to dine outdoors. Whatever New York ends up instituting will certainly become a model for other cities.