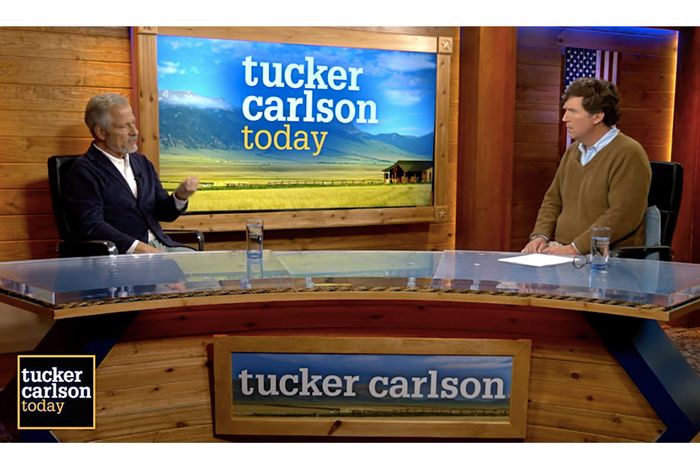 The Congress for the New Urbanism founder Andrés Duany appears on Tucker Carlson's new talk show.
Photo: Screenshot via Fox News
Tucker Carlson Today doesn't quite look like Fox News. The streaming talk show offers a more domesticated setting for cable's most-watched white nationalist, dropping the propagandistic iconography and incendiary chyrons in favor of rustic wood finishes and a backdrop of mountain-fringed ranchland. Carlson, in place of a suit, wears a V-neck sweater over a wrinkled button-down. This is casual Carlson, daytime Carlson, and on the February 18 episode, this Carlson wanted to talk about architecture.
"A lot of modern architecture appears to be designed to crush the human spirit," Carlson says to open the 50-minute segment, entitled "Ugly Buildings" (see a clip here). "So when you find someone who's thinking about how to elevate humanity with the buildings he designs, you want to talk to him." He then introduces architect and planner Andrés Duany, who has created, as Carlson describes it, "a brand-new way of thinking about architecture called the New Urbanism."
New Urbanism is not at all brand-new. The Congress for the New Urbanism, also known as CNU, turns 30 this year. It was founded in the 1990s by architects and planners, including Duany, who aspired to undo the car-centric sprawl that defined most American cities at the end of the last century. There are thousands of CNU members who identify as New Urbanists, and Duany was there to pitch Carlson their vision. In the segment, he chats with his host about the New Urbanist definition of freedom, which is to "restore the right to live without a car," as Carlson — who last summer spent 13 minutes describing a plan to build denser neighborhoods as an attempt to "destroy the lives of people who live in nice places" — eagerly nods in agreement. "Your goal is to create places that are pleasing to people and that reconnect people through walking," says Carlson. "I love that."
As some corners of the urbanist internet praised Duany's appearance as a "win" — "If this is what it takes for New Urbanists to get their message to the masses, I'm all for it," one person wrote — others rightly pointed out that playing to the aesthetic sensibilities of a bigoted nativist is dangerous. It also seems to directly undermine CNU's own work: The organization puts out an annual report advocating for tearing down urban freeways, and Carlson issues incendiary screeds decrying highway removal. But the decision to go on the show is an extreme, if logical, extension of what the New Urbanists call "making the case," the elevator pitch for selling its communities to a broad audience. The truly wonderful thing about his New Urbanist vision, Duany tells Carlson, is that, by interchanging a few words, he's able to sell his idea to just about anyone, from environmentalists to Tea Partiers. Never mind that there's a big-box-store-parking lot-size chasm between designing an attractive city that cleverly tucks cars out of sight and actually implementing the complex policies that might reduce car dependence on the whole. But that doesn't matter very much if the project is mostly one of self-promotion. This time, the New Urbanist message was: Make America Walkable Again.
New Urbanists have long attempted to court Republicans as natural allies. Duany co-authored a white paper making exactly this point: "Conservatives and the New Urbanism: Do We Have Some Things in Common?" (The answer, the paper posits, is yes.) CNU also has a longstanding partnership with The American Conservative, which publishes a recurring column entitled "New Urbs." At CNU's annual conference, programming has included a session on "reaching conservatives" where attendees were invited to learn "how a former publisher of National Review came to see the essential connections between conservatism and good urbanism." CNU's very approach is conservative in nature, which is perhaps most evident in its hyperfocus on main streets: the mom-and-pop shops revitalized, the town square reprogrammed for families, all supposedly benefitting from this idealized, Disneyfied business district. At one point, when Duany is talking about a private residential community built by his firm in Windsor, Florida, he says the real benefit of a New Urbanist development like this is that it "creates so much wealth." For whom?
Because of CNU's penchant for building ground-up cities — the most famous example being the unsettlingly idyllic town of Seaside, Florida, made famous in The Truman Show — New Urbanists have been accused of developing communities that are not financially accessible to existing residents, and doing so in a way that dismisses, displaces, or erases the neighborhoods that were already there. On Carlson's show, Duany acknowledges that New Urbanists get blamed for triggering gentrification, but then says an easy way to keep some housing affordable is by also having "really ugly buildings with the cars all over the place" nearby. Carlson suggests these ugly buildings might be housing projects, to which Duany agrees. "Build a housing project, they don't go up in value!" Duany laughs. "That's a solution for gentrification — make sure it's ugly." In Duany's city-building vision, who gets to live in the pastel townhouses with a bike path out front and who is forced to live in the housing projects surrounded by parking lots?
Building denser, more walkable cities is important for a whole range of reasons, most notably as a tool to combat climate change. (Interestingly, Duany tells Carlson that the labeling of CNU's work as climate-friendly was purely accidental.) CNU is also correct, in its way, that seeing this vision through requires a diverse coalition of support. But their investment in walkability isn't the same thing as a vision for equity. Building a movement for the latter — for communities that benefit those who were most harmed by the creation of sprawl in the first place — requires much more than having an affable chat with a white supremacist with strong ratings. The recent ban on oil drilling in Los Angeles stands as an example of what an ideologically, racially, and economically diverse alliance — uneasy and temporary as it may be — actually looks like. For years, the city's wealthy and privileged communities managed to get drilling sites near them shut down one-by-one, but it was not until an unusually broad coalition formed over the last decade, led by the Black and brown communities most impacted by fossil-fuel extraction, that a citywide policy change was made. And it certainly didn't require "making the case" to petroleum executives.
Pitching New Urbanism to Carlson's millions of viewers is transparently an attempt to raise its profile. Duany's firm sent out a press release saying as much, praising Carlson's platform as a "rare opportunity to expose a large part of the country to the New Urbanist message" and the "first step in what needs to be an engagement with the population we build for." This is telling in its own way. Over the past three decades, New Urbanists have demonstrated marginal interest in engaging with critiques of their approach — some of which very directly correlate CNU's principles with MAGA rhetoric — and focused more on cultivating cozy relationships with the people who hold the power and capital necessary to achieve their highly specific vision for a more "beautiful" America.
This is exactly what Carlson does, too. His racism, homophobia, transphobia, and xenophobia are constants, but the content itself feels endlessly changeable in his effort to keep trending. Watching the conversation with Duany, one gets the impression that they're not two architecture enthusiasts talking about walkable streets as much as they are two gifted salesmen admiring the other's capacity to code-switch. Duany has boasted that he's a gun owner who is into "really big cars" as a way to brandish his faux-populist credentials, and he did the same with Carlson. "I'm a car guy. I love cars," Duany says. In response, Carlson admits that he hasn't gotten in a car in two weeks because he lives in such a dense, walkable community. Which, by the way, Carlson says he loves.