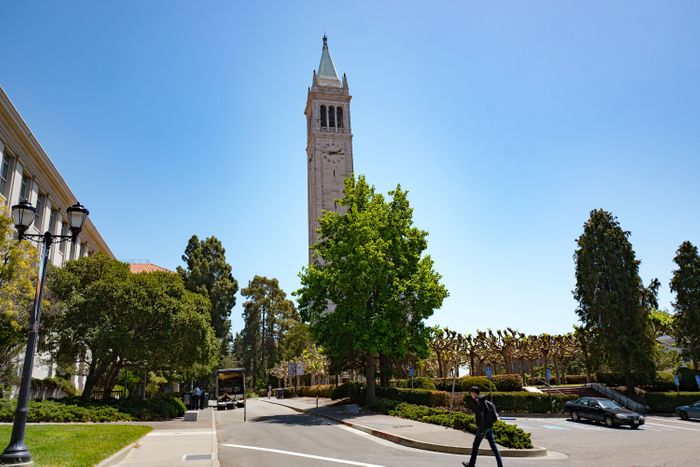 Come fall, UC Berkeley might see one-third fewer students admitted.
Photo: Smith Collection/Gado/Getty Images
This week, thousands of students who are waiting for acceptance letters from University of California, Berkeley, are getting a lousy surprise in their inboxes instead: a letter warning that there may not be enough spots for them on campus. The school lost its final appeal last week in a yearslong court case over an enrollment freeze and is now required to cut 3,050 seats from its incoming class, or about a third of the students it had expected to enroll next semester. The reason? Having too many students on one urban campus, the lawsuit argues, is bad for the environment. After years of lawsuits brought against the university, Berkeley NIMBYs have hit the absolute zenith of town-gown conflict by fighting not against megadorms or sports stadiums but the very presence of students themselves.
According to the claim, UC Berkeley has "overenrolled" its school by up to 30 percent over the last decade without first seeking approvals from its neighbors, which the judge ruled should have happened under the California Environmental Quality Act (CEQA). The lawsuit says that the environment — their environment? — is being ruined by the presence of too many students, who are overcrowding apartments, burdening local emergency services, and creating too much noise and trash. Since the claim was first filed, the university has agreed to pay more for municipal services and released a 15-year long-range plan for "responsible, flexible, and sustainable development" to address its growing enrollment — including 11,700 new beds over the next two decades. But the court ruling puts that vision on hold and, like the enrollment freeze, will require an intervention from the California Supreme Court to overturn it.
The suit was brought by Save Berkeley's Neighborhoods, a group of neighbors with a long history of litigation against the university that's headed by Berkeley resident Phil Bokovoy, a lawyer who is also closely affiliated with three other homeowners associations. Bokovoy first moved to the city's Elmwood neighborhood, a few blocks from campus, to attend graduate school there. But what was apparently once good for him shouldn't be an option for students now. "When I moved into my house, there were 27,000 students. Now it has 45,000 students. I didn't choose to live in a town with 45,000 students," he told NBC Bay Area. Bokovoy says that he wants UC Berkeley to build a new satellite campus in Richmond, five miles away. (The university briefly wanted the same but abandoned the plan.) If not, Berkeley proper will be overwhelmed by students, Bokovoy told Slate last year. "We'll end up like Bangkok, Jakarta, Kuala Lumpur — dense Asian cities where there's no transportation network." Not only is his view of these cities incredibly outdated — Bangkok and Kuala Lumpur have extensive public-transit systems — but it also feels like he's specifically referencing the demographics of Berkeley's student body, which is 40 percent Asian.
The lawsuit is a stark example of how CEQA is used to stop development altogether instead of actually mitigating its negative effects. "CEQA treats population growth as a big problem, whether or not it's occurring exactly where it should be occurring from an environmental perspective," says Chris Elmendorf, a law professor at the University of California, Davis. Adding more students to a dense urban area is what more California cities like Berkeley should be doing to lower greenhouse-gas emissions and wildfire risks, he says. "It will probably create more noise in certain neighborhoods, and there may be more beer cans — these are college students — but so what in the great scheme of things?"
If Bokovoy was indeed concerned about housing or transportation impacts, his group would be encouraging UC Berkeley to locate more housing near the school, allowing more students (and faculty) to live in closer proximity to their classes. (In fact, his groups have brought lawsuits against those plans, too.) Dan Zack, an urban planner in Fresno whose daughter had applied to UC Berkeley and received a letter about the potential enrollment cap this week, worries that pushing thousands of students out of Berkeley means more of them will end up in schools in auto-dependent areas. "This will put an additional financial burden on them because they'll have to own and operate a car," he says. "And will almost certainly be a net loss for the environment."