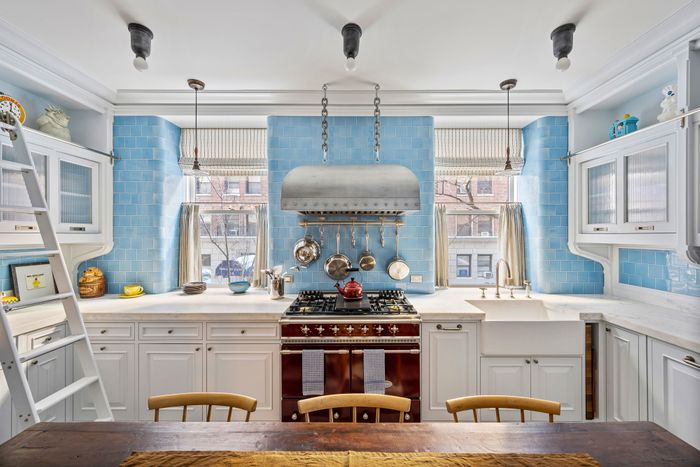 Photo: Yale Wagner and Shade Degges for Sotheby's International Realty
Sitting on the second floor of Astor Court at West 90th Street and Broadway, this prewar three-bedroom apartment is massive and lovely with ten-foot ceilings, seven separate rooms, and excellent moldings everywhere. But it is the almost absurdly charming kitchen — a sprawling space with two windows and French doors — that sets this place apart.
As it turns out, the whole apartment was revamped by interior designer Kyle O'Donnell, who started his firm, Gramercy Design, after working on a Flatiron loft for "accountant to the stars" Frank Selvaggi. Naturally, he then went on to renovate homes for Selvaggi's clients including Jimmy Fallon and Anne Hathaway (the kitchen in her recently sold Upper West Side penthouse, like the kitchen here, incorporated a ladder for reaching high-up shelves).
This renovation was actually another project for Selvaggi, who bought the place three years ago. The idea for the kitchen, as O'Donnell puts it in an Instagram post, was to "reimagine the space as an eat-in kitchen had this concept existed in the 1920s." The 13-by-17-foot space now has storage on all four sides and a dining table that seats six. There are checkered stone floors, a chained zinc-clad hood (over a Lacanche stove), and ceiling lights from the Urban Electric Company. (The subtler details are just as carefully considered, including rounded corners on walls of sky-blue tiles, pewter hardware and rippled glass on the cabinet doors, and a rolling library ladder — for easy access to an abundance of vintage cookie jars.)
The apartment is asking $4.65 million — about a million more than the two other (more conventionally renovated) B-line units in the building that have sold within the last six months. If you're willing to pay more (the exact amount is not yet determined), you could also get the furniture, which includes club chairs from Ralph Lauren and modular walnut tables from the Future Perfect.