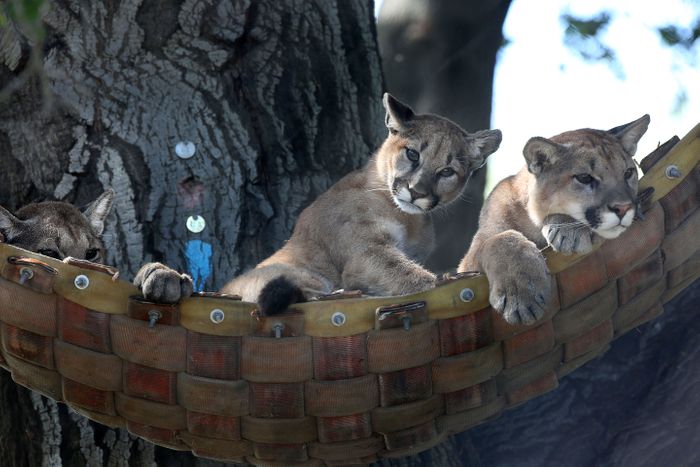 I can haz ADU? (No.)
Photo: Liz Hafalia/The San Francisco Chronicle via Getty Images
If there's one thing billionaires love, it's living on gated, heavily patrolled swaths of land large enough to house an entire neighborhood of non-billionaire people. And if there's one thing billionaires hate, it's any suggestion that they should welcome those non-billionaire people to live any closer to their armored enclaves. Take the residents of the Silicon Valley city of Woodside, California — population 5,500, 89 percent white, median household income $250,000, median home-sale price $5.5 million — who insist that they really do want to allow more housing in their neighborhoods. Unfortunately, their own town council says they can't, because they're planning to declare the entire city a habitat for mountain lions, a threatened species in California. Woodside, regretfully, submits that it therefore can't allow accessory dwelling units, or ADUs — now legal statewide, thanks to laws recently signed by Governor Gavin Newsom — anywhere in its city limits. "We love animals," Woodside mayor Dick Brown told the Almanac News. "Every house that's built is one more acre taken away from their habitat." In no way, of course, is this an attempt to suppress the zoned potential for development and avoid any new construction that smacks of density. Woodside is instead spinning this as a choice between big cats and granny flats.
Mountain lions, which are native to the state, absolutely do face an existential threat. California's cougars, in particular, are being harmed by sprawl, as their habitat has been carved up by freeways and subdivisions. The state is already taking big steps to allow cougars to travel more freely, starting with an $87 million wildlife crossing over the 101 freeway in Los Angeles. Issuing a blanket ban of certain types of housing nearby is not part of that project. It's also not the intent of the Endangered Species Act that Woodside's town councilors are using to build their argument, says Beth Pratt, California regional executive director for the National Wildlife Federation. "What you want to do is prevent open space from being overdeveloped," she says. "But when there's an existing footprint, adding a duplex isn't adding harm." The biggest property in Woodside, owned by Oracle founder Larry Ellison, is a 23-acre Japanese-inspired estate with a large lake and catwalk-like breezeways. It looks extremely cougar-friendly, whether it has a guest house in the yard or not.
By coincidence, right across the street is a 20,000-square-foot home about to be listed for $110 million. It's newly constructed on a three-acre property that was razed and graded during "four years of development and construction," according to The Real Deal — development and construction that almost certainly destroyed the habitats for numerous species. Yet per Woodside's proposed legislation, building that mansion would be permitted, and adding an 800-square-foot lakeside cottage on Ellison's compound would be illegal. Somehow, the city of Woodside is managing to reinforce a housing crisis for cougars and humans alike.