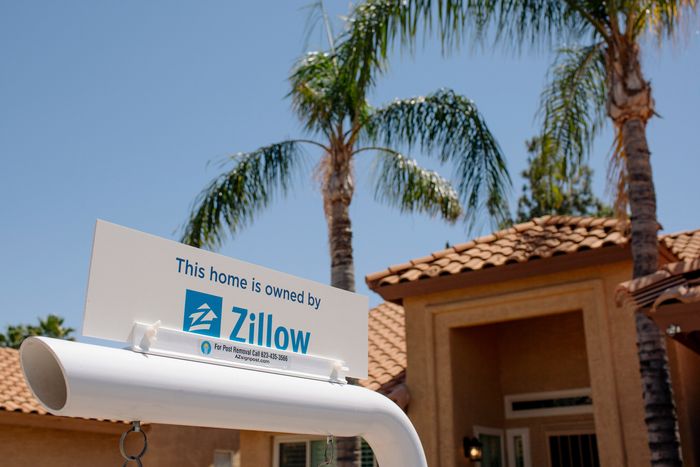 Photo: Caitlin O'Hara/The New York Times/Redux
Just a few months ago, Zillow's future seemed shaky, after the company announced it was shuttering its $1 billion iBuying program, through which it had overpaid for tens of thousands of houses. (The company had changed its algorithm, overestimating appreciation and winning bidding wars at a time when the market was cooling, sticking it with a glut of inventory it couldn't make a profit on.) Zillow laid off 25 percent of its workforce, said it expected to see a total write-down of more than $540 million, and started looking for institutional buyers to off-load the tens of thousands of homes it owned. The share price plummeted 50 percent.
But as it turns out, it's really hard to screw up in this real-estate market. On Thursday, Zillow announced that revenues in the fourth quarter were much higher than expected — $3.88 billion, nearly a billion more than analysts' estimate — causing the company's share price to bounce back by 13 percent. (Zillow also announced plans to build a "housing super app," which may have encouraged investors as well, vague though it sounds.) The company's better-than-expected performance was largely thanks to its homes division, perhaps the most visible portion of the company, the one that helps customers list properties (as well as including the iBuying program); it "marked an 11-fold rise in revenue as Zillow managed to sell inventory faster and at better prices" than expected, despite Omicron-related setbacks, Reuters reported.
Not so surprising, as U.S. home prices went up 19 percent in 2021 — and in some places much more than that (32.2 percent in Idaho, 29.5 percent in Arizona). And unlike 2006, which was the height of the last bubble, there are no signs that the market is going to go bust this time around. Limited supply and buyers with strong credit taking out conventional loans and making 20 percent down payments (if they take out mortgages at all; many are just paying cash) mean that housing prices aren't likely to fall. In fact, they will probably go up even more.
All of which explains why Zillow hasn't had much trouble off-loading its portfolio: Last week, Bloomberg reported that Pretium Partners, the second-largest single-family landlord in the U.S., had plans to buy 1,200 homes from the company for $450 million. (Pretium already purchased 2,000 homes from Zillow as part of a separate deal.) Zillow also sold more than 8,300 homes to regular home buyers and investors in the fourth quarter — more than expected — and its expected write-down has dropped to $405 million.
Zillow's decision to tweak its algorithm to be more aggressive this summer may not have been, as it turns out, totally wrong-footed. It was just a little too aggressive for a business dependent on flipping properties fast. Overpaying, after all, is really only a problem if you have to sell before the market catches up. And lately, it's been catching up very quickly.