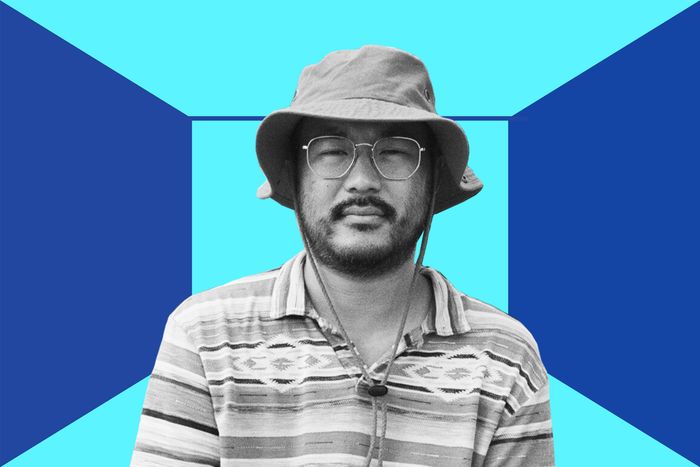 Photo-Illustration: Curbed; Photo: Rafik Greiss
New York's "21 Questions" is back with an eye toward creative New Yorkers. Dong-Ping Wong, an architect, runs the Chinatown studio Food. He's designed projects for Kanye West and Virgil Abloh through his previous studio, Family, which he co-founded with Oana Stanescu, and is a co-founder of the +Pool, a floating pool coming soon to the East River. 
Name: Dong-Ping Wong
Age: 42
Neighborhood: Lower East Side
Occupation: Architect
What's hanging above your couch? 
I actually don't have a couch right now since I'm starting to renovate my apartment soon. But I'm currently sitting on the couch in my office, and above it is an amoeba-shaped study model of a hospital tower and a photo of the stage we designed a bunch of years ago for Kanye.
What's the first job you had in New York? 
It was helping to build Hernan Diaz Alonso's Young Architects Award pavilion at MoMA PS1. We were assembling stuff, and the fun part was that I don't think the architects had a real sense of how the thing was going to get built, so it was very much solving it live on-site with a bunch of 20-year-olds. Hernan would stand on the top of the museum's steps — which was a good 50 yards away from the thing that was being built — with a cigar in his mouth and his hands on his hips for like five minutes and then leave and go back inside the museum, where he had a site office. I actually just saw a photo the other day of us during that summer and I was like, I have never been that fit.
What color are you always drawn to? 
Red is my favorite color, but purple is what I'm drawn to because it never seems to be in the right place. Whenever I see it, it's never like: That's a really relaxing palette of materials or colors that blend really well together. Purple always seems to be this goofball.
What art or artifact are you most surprised you own?
It's a very architect-y answer: I have a 24-by-18-inch sample of smoke-stained oak that's really textural and ridgey. It's incredible to touch and is almost like velvet. It's a sample of flooring that Axel Vervoordt had chosen for Kim and Kanye's Paris apartment in Paris back in 2013, maybe. I remember Axel saying that they already bought the wood for the floor, but they never ended up doing the renovation. So there's probably like 2,000 square feet of gorgeous wood flooring just waiting to be used in a storage container somewhere in the world. I've carried this material with me through five different moves because it's so rare that I ever come across something that's so luscious, for lack of a better word.
Which New Yorker would you want to hang out with?
Marisa Tomei. I remember reading an article about what she was eating during the early stages of the pandemic, and I think she mentioned a Vietnamese chef, so I'd like to think we'd just eat a ton of Vietnamese food, and I could try my My Cousin Vinny accent.
What's the last thing you made with your hands?
I designed and built a chair for 909 Archive, a gallery that my friends Playlab run in downtown L.A. It's basically a gamer chair stuck on top of a cooler stuck on top of these off-road wheels with a Pokémon stuffed animal on a chain. I happened to be in San Diego at the time visiting my parents, and I spent a week in their garage. It felt like undergrad or high school, where you're just making goofy things at home.
Is there one thing you own multiple versions of?
Besides utensils, I don't think so. I tend to really like not having stuff.
What New York City museum do you always go back to?
The old Whitney–Met Breuer building. I go there not really caring what the exhibition is half the time just because I really like the building. I remember being so sad when the Whitney moved, but when the Met did the renovation, I was like, Holy shit, it's even nicer than I thought. I like that it's gone through different tenants now because the building has remained just as nice. I always visit the little clay houses in the stairwell, which is not a detail of the architecture but has become like a permanent part of the building no matter which museum has taken over.
What do you always have next to your computer? 
Probably a hoodie — I'm one of those people who walks inside and just sheds clothes. There's always clothing covering an important document or sample on my desk.
Where is the best view of the city?
Just coming over the Manhattan Bridge into the city. There's something about seeing the cables of the bridge kind of fly by you and the city behind it. About ten years ago, I was coming back from the airport in a car at night — seeing the skyline was the first time in my life that I'd had that feeling of like, Oh, I'm home. When your breath settles and your body suddenly relaxes. That was the first time I ever had that feeling, and the moment was revelatory for understanding why I like New York.
What building or object do you want to redesign every time you see it?
All of Battery Park City. I'm always bummed out over there because it's such an amazing corner of the island, and it always feels like a weird, blocked-off suburban neighborhood. It feels non–New Yorky, not that inviting, and sanitized. Even though it's publicly accessible, the waterfront feels like it's owned by this uniform bank of buildings between it and the rest of the city. I'd like to design something so that you didn't feel like you had to step within this development in order to access the waterfront — and a larger variety of scale in those buildings and materials.
What's one thing you would change about your field?
More Black architects in leadership positions, especially in institutional positions like schools, NCARB, AIA, nonprofits, and media. To design for communities, especially marginalized communities of color, there's often a miss if the leadership doesn't understand the community. The work will be very different and much better if it's by someone who knows the community inherently and personally. There's also the question of what constitutes valuable architecture. When you go through school, the default of valuable architecture is very much western European architecture, and anything else is just a side study. I can imagine a profound shift if that wasn't the case — if value wasn't so singularly focused.
If you could live anywhere in New York City, where would it be?
In Chatham Towers, which are these brutalist towers at the south end of Bowery. They're super nice inside and have huge windows. They feel like a nice confluence of an architect-y world and Chinatown world.
What would you hoard if it stopped being produced?
I wear these Timberland boots in a brown-and-green color known as "Beef and Broccoli." They're my perfect everyday boots if it's cold, if it's wet, if I'm on a construction site. I've probably owned five or six pairs over the years.
What do you do to get out of a creative rut? 
I go for a walk or — and this doesn't happen so much now that I'm in New York — jump in the ocean. When I'm in California or in the Caribbean, where I'm lucky enough to have a few projects, it feels incredible to dunk yourself in the water and just stand there for a bit.
Where was your first NYC apartment and how much was the rent? 
When I left graduate housing at Columbia, I moved to the McKibbin Lofts. I think my share of the rent was $800, but I moved out after a month because there were bedbugs. I'm both proud and ashamed that I did a small stint there.
Where in the city do you go to be alone?
Central Park. It's huge, it's beautiful, and going for a walk there is very nice. I always feel like a tourist and a little outside of time when I'm there. It's as much a break from my daily life as it is from people.
Worst piece of career advice you've ever gotten? 
I'm thinking back to my professional practice classes, but I don't remember anything specific because I forgot it right away since it seemed really irrelevant.
What have you given away to someone that you wish you could get back? 
I haven't given anything away that I've regretted. If I give something that is actually important to me to someone, the memory of them now having it, the niceness of giving them that thing becomes more important.
What's your favorite NYC restaurant and regular order?
There's a dish at Kopitiam, a Malaysian restaurant on East Broadway right near my office, called Criss Cross 'Shrooms. It's so simple, just mushrooms and rice, but the way the restaurant prepares it was like nothing else I've ever tasted. The first time I had it, it was like crack. I devoured it and ordered it every day for like two weeks.
What descriptive phrase do you want on your obit headline?
He's dead.