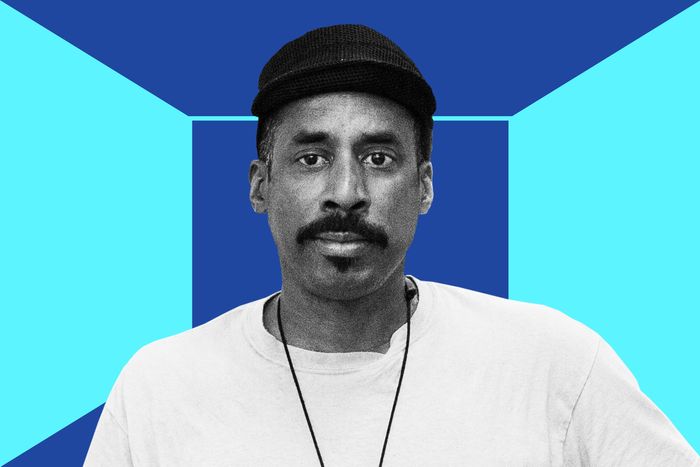 Photo-Illustration: Curbed;Photo: Courtesy the artist; The Vilcek Foundation (www.vilcek.org); and Lehmann Maupin, New York, Hong Kong, Seoul, and London
New York's "21 Questions" is back with an eye on creative New Yorkers. The Jamaican-born artist Nari Ward creates assemblages and installations by repurposing materials he finds in his Harlem neighborhood — including baby strollers, shopping carts, shoes, and detritus — that speak to current and past social situations. His sixth solo exhibition at Lehmann Maupin, "I'll Take You There; A Proclamation," opens April 28. 
Name: Nari Ward
Age: 59
Neighborhood: I live in a very peculiar part of Harlem. There are two historic neighborhoods — a neighborhood called Strivers' Row, which is historic with a lot of well-to-do professionals who stayed in Harlem and didn't flee for the suburbs, and Hamilton Heights, which is another really historic region close to City College. I'm in between both and closer to the Frederick Douglass projects. So I'm always glad to say it's a nice mix of economic strata.
Occupation: Artist and educator. I do a lot out of working with young people. It's something that I am really proud of, and I find that it is difficult to balance, but I am trying to figure it out.
What's hanging above your couch?
Actually, it's one of my works. I did this series called Breathing Panels. I didn't really want to have it there, but my wife insisted because she's crazy about these pieces. It's a work that reflects on a historic moment that I witnessed in the First African Baptist Church in Savannah, Georgia, built by enslaved people. They told me it used to be one of the sites of the Underground Railroad, and the people who built the church created these breathing holes in a pattern of a Congolese "cosmogram" that allowed for air and light to go underneath for people who stayed in the daytime. I was really intrigued by the power of using this cosmogram as a kind of hiding in plain sight, and it actually is a symbol of regeneration.
What's the first job you had in New York?
I was a security guard at Macy's. I started out at the doors in the uniform, and then I was good enough that I was promoted to become a detective, which means that I was undercover catching shoplifters. But the problem was I got burned out, because it was also quite depressing — a lot of people who were stealing were low-income people, so I felt like I needed to leave. I might have lasted six years.
What color are you always drawn to?
Mostly blue and purple.
What art or artifact are you surprised that you own?
I brought from Jamaica this kind of weird, perverse thing — it's a pipe made out of this really great wood that they call the wood of life, "lignum vitae," sort of the national wood of Jamaica. I couldn't resist getting this erotic pipe of this female, but I don't smoke. I just thought it was such a beautiful object. It's kind of something I'm embarrassed to have on my desk, but I also love how the material has all this power and its connection to the female body.
Which New Yorker would you want to hang out with?
It would be Shirley Chisholm and Nina Simone. I would want to hang out with those two folks; they were groundbreakers.
What's the last thing you made with your hands?
I made a shoelace — well, you know, these artworks that are using shoelaces. So the thing that makes a rope or a cord a shoelace is this little thing called an aglet. I have to make the aglets, so I make them and put them on this cord to make it into a shoelace.
Is there one thing you own multiple version of?
Hats. I feel like the hat becomes a kind of accentuation, or a period, so, depending on my mood, there's a bunch of different hats that I wear. I don't have a lot, but I'm always on the lookout; that's my weak spot.
What museum do you always go back to?
It's got to be the Studio Museum, because it was such an important anchor for me as a young artist. And then, of course, the New Museum. I always like to see what they are doing. They are not really invested in taking care of the art or the artists, so the fact that the New Museum doesn't really have a collection is liberating.
What do you always have next to your computer?
Probably a little rocket-ship air cleaner. It's one of those things to clean the computer. It's like a little bladder that you squeeze. It's something I grab and play with. I spray my face. It's a fun little thing that everyone should have next to their computer.
Where is the best view of the city?
So I was doing a project in Socrates Sculpture Park; I really love that view. It was really memorable, because I don't get that view of the city often — I'm always in it, so I don't get to see the skyline.
What building or object do you want to redesign every time you see it?
I would love to redesign the Columbus Circle monument. Every time I see it, I think, Why is this thing still here? I will try to describe what I would imagine there. It would be a kind of sarcophagus where we'd encase the current statue with panels of thousands of Indigenous women's belly buttons cast in bronze or copper. My logic is this notion of an afterlife, and really this idea of a birthing; they are the possibility of rebirthing this symbol.
What's one thing you would change about your field?
Collectors have too much power. There should be some other way that the museums can get funds or work without having to kiss the ass of the collectors. I feel like we are in the era of the collector, just because they have the resources, and that is something that has to be kept in check somehow.
If you could live anywhere in New York City, where would it be?
I am one of those people who is quite happy where they are. I love Harlem.
What's really cool about Harlem is I don't see a lot of my circle. The art folks aren't here. I can walk in Chelsea and, every three blocks, you might see someone, and it's fine, but sometimes you just want to get lost.
What would you hoard if it stopped being produced?
I hoard materials as part of my practice, but I thought, What is my vice? My late-night vice is eating peanut butter off a spoon, so I would hoard peanut butter.
What do you do to get out of a creative rut?
Just walking around the neighborhood, not scootering or driving. That pace of looking is one that I really cherish and, for me, being an artist, to think about how the everyday can be reinterpreted. The element of chance is always there. That's the thing — how to bring the element of chance back into the studio practice.
Where was your first New York City apartment, and how much was the rent?
The first one was in the Bronx, and the rent wasn't cheap: It was like $350 a month for a one-bedroom.
Where in the city do you go to be alone?
I don't need to be alone. That's part of the walking — just disappearing into the neighborhood and not having to be engaged with any one individual or space.
What was the worst piece of career advice you've ever gotten?
My uncle Felix was venomously against me being an artist. He saw no value in it. He thought, as an immigrant, I should be trying to better myself to have this opportunity that a lot of young Jamaicans didn't have coming to the United States and that I was throwing it away. He thought that this was the worst thing that I could do.
What have you given away to someone you wish you could get back?
There is one piece that, early on, I made and gave to a friend, because they helped me move, and it's a piece that I always wished I had now. (I am glad I gave it to him; I wish I had another one.) It was actually something I found in the basement of Brooklyn College. I think it was for cleaning the floors, and they had gone to another technology, so they had these steel-wool rolls that they didn't use anymore. So I took one of them, and I made it into this huge Afro with a spring that held it all together, and the tension and the fragility that this piece has … I really think about wanting to live with that piece again.
What is your favorite NYC restaurant and regular order?
There's a neighborhood restaurant that I go to called The Edge on Edgecombe Avenue, and I know the owners — these two sisters who are wonderful. They have this great fusion English and Jamaican food that I really like. My favorite is the worst thing for me, but it's their oxtail dish. It's amazing but the worst thing health-wise for someone my age. It's something I try to have at least once a month.
Which descriptive phrase do you want in your obit headline?
Empathetic.