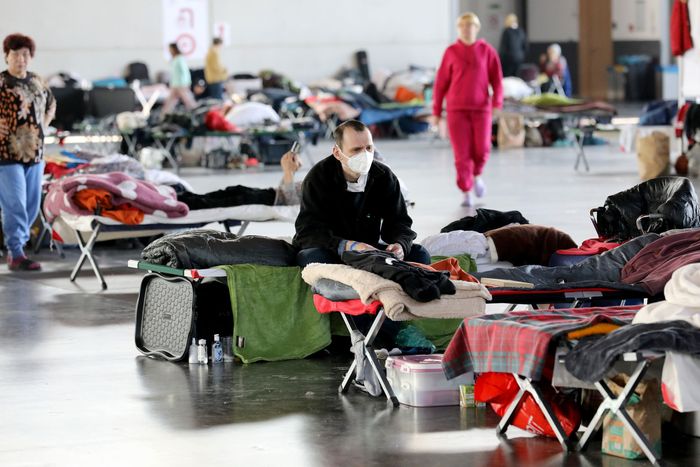 Photo: Bernd Wüstneck/dpa/picture alliance via Getty Images
Earlier this month, as millions of refugees fled the war in Ukraine, a website launched in 2008 by a couple of guys looking to monetize an air mattress on the floor became an unlikely vector for direct monetary aid: Inspired by a handful of influencers, Airbnb users started booking stays in cities like Kyiv, encouraging their hosts to pocket the money. Screenshots of Ukrainians thanking their benefactors circulated across the internet, and the company took notice. To better facilitate this unconventional use of their platform, Airbnb waived service fees in the country. It also announced a program that would house up to 100,000 Ukrainian refugees for stays it expected to last a few weeks, the most recent extension of Airbnb.org, the hospitality start-up's 501(c)(3) charitable arm. A few days after Airbnb launched the pledge, former president Barack Obama tweeted an endorsement.
The nonprofit organization, a spinoff of the massively profitable business last valued at over $100 billion, launched two years ago, inspired by what the company characterizes as "the natural generosity of Airbnb hosts." The company's founders donated millions of dollars, and both hosts and employees are encouraged to give, a canny rerouting of profits into a program that reimagines the company as something akin to Silicon Valley's Office of Refugee Resettlement. The pivot seems to have worked. In an attempt to provide "immediate support" to Ukrainian refugees, Mila Kunis, who was born in Chernivtsi, and Ashton Kutcher started a fundraising campaign in early March for Airbnb.org through GoFundMe.org, a philanthropic sister organization to the VC-backed crowdfunding company launched to disrupt a market. To date, the campaign has raised over $35 million — surpassing its $30 million goal — with donations from figures like Josh Kushner and scores of venture capitalists.
Shortly after Airbnb announced it would cover refugee stays, a few confused Ukrainians attempted to book rooms through the service, expecting to be placed in a home for free. Instead, they were directed to the United Nations' International Organization for Migration, with whom the start-up has recently partnered. (The company has formed "strategic alliances" with local governments and UNESCO in the past.) One young Ukranian influencer posted the rejection she'd received through Airbnb's platform on Twitter and asked, "Why did you announce it when you can't even help us?" I had a brief chat on Telegram with another who said she had "never used Airbnb" but had been trying to figure out how to do it since she'd seen the news circulate online. Some hosts were just as confused: Airbnb.com abruptly canceled bookings and suspended new accounts from putting up listings, Wired reported, in an effort at fraud prevention. The disarray underlined the brand's odd role in a global crisis: A refugee who wanted to stay in an Airbnb would need to be placed there by an established organization; if "guests" wanted to support people fleeing their homes, the company was now encouraging them to donate to its nonprofit arm.
With Airbnb.org, the company has elevated itself to the level of critical infrastructure, stepping in to offer its services in times of disaster as disparate as an ill child or a hurricane or a war. In its initiative for Ukraine, the millions of dollars Airbnb.org has raised to date will be routed back to existing aid organizations, and some of those refugee-placement services will use Airbnb.org money to pay Airbnb.com hosts. (The company waives service fees in Airbnb.org transactions.) This arrangement conveniently splits donations in a way that lends a philanthropic sheen to its brand and also supports its core business of compensating people who have a room to rent out.
Where other companies might simply donate money, massive start-ups like Uber, GoFundMe, and Airbnb also donate their platforms, fusing themselves to the complex networks of nonprofits and government agencies across the disaster-relief field. It's a self-justifying system: If Airbnb weren't around to facilitate refugee housing, or GoFundMe wasn't partnering with the State Department to get money to Ukrainians, who would do it? But as in most things, start-ups are less businesses selling discrete products than middlemen harnessing other people's resources and operating at a particularly rapid clip. Still, in an odd interpretation of Airbnb.org's function as a grant-maker, Kunis wrote on her crowdfunding campaign that it was a "humanitarian aid effort" that is "actively on the ground."
Airbnb's charitable program began, as the company is fond of recalling, when Hurricane Sandy made landfall in New York City in 2012. Watching news coverage of destroyed homes and flooded streets, an Airbnb host named Shell "sparked a movement," asking if she could open her Brooklyn loft for free. Shell, who would later appear in subway advertisements and video spots, is probably more representative of an urban Airbnb host than the single mother with an extra room the company prefers to portray: Something of an Airbnb influencer, she describes herself as a "real-estate professional" and coordinates catering by private chefs for an extra fee. (As property owners, and often as owners of more than one property, Airbnb hosts tend to skew wealthy.) In addition to the Clinton Hill loft Shell offered up, she rented out other apartments in the city as well as homes in Puerto Rico and rural New York. Her latest venture, a 12,000-square foot loft in Red Hook, happens to be in a neighborhood where Hurricane Sandy's destruction cleared the way for luxury real-estate developers to move in, raising rents and displacing residents who had lived there for significantly longer than the length of an Airbnb stay.
The company saw an opportunity in Sandy: Its engineers created a disaster-response tool that would eventually become known as Open Homes, essentially a free version of Airbnb that connected hosts interested in donating housing with groups who demonstrated a need.
It's an approach that mirrors other tech-industry forays into charitable giving, initiatives that often act as salves for the public-relations challenges they face: Uber and Lyft, facing a series of crises in 2021, partnered with the White House to provide free rides to vaccination appointments; GoFundMe, finding its brand associated with the abject misery of the American health-care system, developed a charitable organization to partner with celebrities and bundle donations for causes more palatable than a single person's medical debt. Around 2014, when Airbnb was embroiled in a legal battle with New York's attorney general that would eventually end in a settlement, it ran advertisements reminding residents of its role in housing the displaced during Hurricane Sandy.
Open Homes put the company around the margins of nearly every nationally syndicated horror of the past few years. When California erupted in flame, Airbnb was there, as it was during the Pulse Nightclub shooting and to take in medical workers moving from hospital to hospital to treat COVID-19. In 2017, as increased regulation slowed Airbnb's growth and the company crawled toward its inevitable IPO, the Trump administration announced travel bans against majority Muslim countries. Brian Chesky, Airbnb's CEO, joined the tech industry's recommitment to liberal politics and pledged to house "anyone not allowed in the U.S." The reality was that the company would mostly partner with existing refugee organizations who would connect arriving families with hosts, paving the way for more formal partnerships with organizations like the International Rescue Committee and the Make-a-Wish Foundation.
As Open Homes grew, the forums in which the company's hosts gossip soon filled with "horror" stories about guests they began to resent for their free stays. One woman in the U.K. wrote a lengthy post about opening her vacation cottage to medical workers whose "story didn't ring quite true in a number of ways" and had an "air of entitlement." "I feel used," she said. Another described an Airbnb user fleeing a disaster as getting a "free hurricane vacation" on the beach, while a man who hosted a person receiving cancer treatment described a "high-maintenance" guest: "I told the rep that she could donate part of her salary to compensate me for the hours of wasted time." And it's not particularly surprising, given how the platform has trained its hosts to consider their properties as a valuable asset, that there might be some friction between these self-styled landlords-slash-entrepreneurs and the people to whom they were "donating" their $100-a-night moneymakers. Several expressed concern about bad reviews that might be left by their unhappy, needy, freeloading guests — the ultimate disaster for some Airbnb hosts.
Airbnb.org launched in late 2020, several months after the landlords of Airbnb revolted when COVID-19 wiped out the bookings they had come to depend on to pay their mortgages and bills. ("We have a lot of work to do, and frankly, they're still hurting," Brian Chesky said at the time.) The company characterizes the move as a natural progression from Shell's request to list her loft for free, lending its "unique marketplace" to organizations working for social good. It's the tax-exempt, partnership-friendly extension of Open Homes, which routes private donations through the company's charitable arm and doles out the funds to relief organizations. It also, in a roundabout way, donates to Airbnb hosts themselves, should they be unwilling or unable to lend their properties for free, reducing the chances a landlord will end up on a forum complaining about an annoying chemotherapy patient to whom they donated their home. (Airbnb says this is rare given how many people have signed up to host for free.) In recent years, Airbnb.org has allowed people without Airbnb.com listings to donate their spaces as well.
In its first year of operation, as the pandemic raged, Airbnb.org raised over $10 million, according to its most recent filings with the IRS. The company's co-founders directly contributed $6 million of that, and a significant chunk of it came from Airbnb shares. The nonprofit then donated just over $3 million, in cash and "travel credits," to organizations working with refugee placement, disaster response, and COVID-19. One way to think about all of this is that Airbnb is providing a necessary service when short-term housing is scarce. Another is that a company that, some believe, contributes to the scarcity of affordable housing has found a way to collect donations that — in addition to benefiting aid organizations — contribute to the growth of its platform, and reputation, writ large. After all, a person could just donate to those aid organizations directly, funding short- and long-term housing programs that already exist.
According to Airbnb's founder, 35 percent of Afghan refugees in the United States are being housed in properties its users are renting out, and the company says it has facilitated free housing for 54,000 refugees to date from countries including Syria, Venezuela, and Afghanistan. But in many cases, it's been nearly impossible to place those refugees in long-term housing. Rents are simply too high. Right now in New Jersey, Afghan families are overwhelming the system, many of them stuck in Airbnbs; when community members ask how they can help, representatives for aid organizations are asking for tips on what nearby properties might be available to rent. "These solutions, like Airbnb, I am thankful for it because at least they are doing something," the executive director of another refugee placement organization told NBC late last year. "But I always tell people that it is a bandage on a cut. The cut is still there. You are just covering it up." Refugees need stable, long-term housing as much as they need some free nights in an Airbnb. (The company says it has been engaging with resettlement agencies, government partners, and apartment associations to "identify solutions to help overcome the various obstacles to long-term housing for Afghan refugees.")
I recently spoke to a woman who is responsible for booking the stays Airbnb.org donated to her organization to house Afghan refugees, though the funding they granted had recently run out. She's back to housing her clients in non-Airbnb homes or, in rare cases, hotels — the few homes being offered for free by hosts in her area just weren't appropriate fits. She was grateful for the program but said there had been some challenges when it came to communicating between Afghans fleeing war and the hosts who were being paid by Airbnb's fund. Accustomed to housing tourists, some hosts were upset when their specific checkout instructions weren't followed or when dates changed. A few times, they were angered by something an Afghan family did and complained. "Oftentimes there is a cultural reason or a trauma the family has gone through" that influences how they act in the space, she said, making it difficult for her to manage the dissonance between a host's dissatisfaction and the harrowing experience the family recently had.
Her organization also has a program in which individuals can take refugees in on a short-term basis. In those cases, they are trained extensively by a dedicated coordinator on how to best welcome their guests. Under Airbnb's current program, an organization's caseworkers are responsible for communicating with potential hosts, essentially telling them what to expect. (According to the company, Airbnb provides guidance to its partner organizations, and refugees often don't interact with hosts at all, staying in empty homes.) Airbnb.org itself takes a more hands-off approach: Hosts who sign up for recurring donations to Airbnb.org or offer their homes at a discount get a bright-pink badge on their website to reflect their charitable intentions. On the nonprofit's website, frequently asked questions about housing Ukrainians include whether a person's "superhost" status will be impacted by a refugee stay. (Only for the better, the company says.)
Last week, Airbnb's CEO appeared on The Ellen DeGeneres Show to announce the company's co-founders would match up to $10 million in donations to Airbnb.org: "The lesson is that in a world of darkness, in a world of destruction, kindness still exists," said Brian Chesky. "In a country where you have free internet access, where people are free, they no longer just have a voice. They can take action." Ellen got misty-eyed; behind her, a screen scrolled through Airbnb.org. In the decades since the tech industry reshaped the economy, it also altered expectations about what a "socially responsible" business should want to do, a tendency inflated by many tech platform's cozy relationships to governments — an echo of all those years spent scooping up White House administrators to better ingratiate themselves to power and, in many cases, evade regulation.
Growth, in this case, isn't just about the success of a business anymore; having fundamentally reconfigured the reality of cities, Airbnb must make itself essential, a real-estate business that is also a vacation operation and a multinational clearinghouse for aid, among other things. The virality of its Ukraine campaign will further entrench the company's nonprofit arm as a humanitarian organization. It's not quite as cynical as a few executives pretending to care about war. But its turn from vacation-rental business to disaster-relief organization is indicative of a broader pattern in which every CEO is a thought leader, every problem an issue to which a platform can pivot, and every essential function of the state a power vacuum to disrupt.