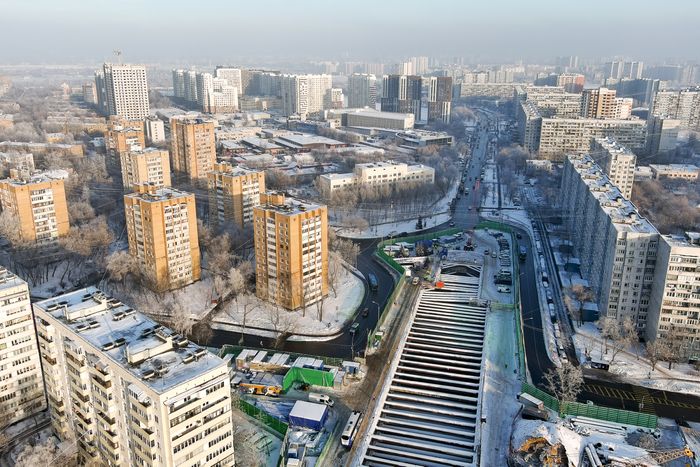 Architects are halting their Russian projects as the country invades Ukraine.
Photo: Vladimir Gerdo\TASS via Getty Images
Since the invasion of Ukraine last week, at least a dozen high-profile architecture firms have released statements condemning Vladimir Putin's aggression, expressing solidarity with the Ukrainian people, and suspending their projects in development in Russia. "As a practice, we believe in dialogue, openness, and engagement; values that are directly opposed to the ongoing war," read a statement from David Chipperfield Architects. A spokesperson for Zaha Hadid Architects said the firm was "deeply shocked and saddened by the conflict in Ukraine" and had placed two projects "on hold." MVRDV, Snøhetta, OMA, and Herzog & de Meuron offered versions of the same.
It is heartening to see architects recognizing that their work — where it's done, under what conditions, to what ends — is political. These firms work closely with governments, which almost inevitably means collaborating with autocratic leaders and corrupt despots. Historically, speaking out against those governments has been the exception, not the rule. After years of work without a glimmer of repudiation — even when accepting these Russian commissions, these firms were well aware of Putin's atrocities — the current invasion seems to be the turning point. What changed?
Part of the reasoning for these positioning statements is likely just pragmatic; the projects may never be completed now. A few firms also face the worst-case scenario of having projects under development that could be destroyed in warfare. MVRDV, based in Rotterdam and working on projects in both Ukraine and Russia, was among the first to issue such a statement. "Our projects in Ukraine have sadly been put on hold by the atrocities. Right after the start of the invasion, we began contacting our Ukrainian friends and partners in support and we try to remain in touch," it read. "We have stopped our Russian projects, even though this means we have to stop collaborating with people we have known for years, and who are dedicated to bringing a more collaborative international outlook to Russia."
But it is notable, if not shocking, to see some of these firms abruptly halt work on Russian projects when they've been comfortable working alongside authoritarian figures for decades. OMA and Herzog & de Meuron came under fire for rehabilitating China's geopolitical image by designing high-profile buildings that became instruments of propaganda — most recently during this year's Winter Olympics — but have publicly dismissed the idea that they have played such a role. Zaha Hadid was heavily criticized for her response to a 2014 report that hundreds of migrant workers had died since Qatar was named as the host city for the 2022 World Cup.* "I have nothing to do with the workers. I think that's an issue the government — if there's a problem — should pick up," she said at the time. "I cannot do anything about it because I have no power to do anything about it." Hadid went on to take commissions from other autocratic clients, which left a "mixed legacy" upon her sudden death in 2016. The nature of their profession imbues architects with political power — particularly when introducing sweeping changes to the built environment — and it's imperative that they consider the impact their work will have on local economic conditions, human rights, and the climate crisis.
Architecture has a long and fraught relationship with totalitarianism — think of the empire-building of Nazi Germany — but when contemporary architects have been confronted about their own relationships to despots, they tend to argue that they are there to perhaps make positive change. In 2020, Norman Foster was heavily criticized by Architects Declare, a global coalition that asks firms to sign a pledge to eliminate emissions, because he was designing airports in partnership with the Saudi Arabian government, a double whammy of fossil-fuel interests. After an outcry, Foster's firm withdrew from the climate coalition instead of the Saudi job. (Hadid's firm also quit the coalition around the same time.) The following year, as Foster continued work on the airport, he reiterated his defense, claiming that he tackles politically divisive projects in an attempt to repair them from within. "I do feel passionately that we have to address the infrastructure of mobility," he said. "We have to reduce its carbon footprint, like everything else. We can't walk away from it. We can't adopt a hypocritical moral stance."
Not all starchitects take this compromised position. In 2013, when Daniel Libeskind, a Polish American born to Holocaust survivors, was interviewed about the plan to rebuild the World Trade Center site, he flatly denounced his competitors for cooperating with autocrats on other projects. "I'm not interested in building gleaming streets for despots; I prefer making work in the challenges and constraints of a democracy than working in a homogeneous system," he told The Architects' Journal. "I can't separate the formal geometry from the context of who they were commissioned by and the morality of those states."
This disconnect between past and current actions is most striking in the statements of firms that aren't working in Russia right now yet felt the need to broadcast their condemnation. BIG, the Bjarke Ingels–helmed Danish firm, expressed solidarity with Ukraine on social media: "BIG is not engaged in any projects in Russia or for the Russian government anywhere and our support for Ukraine's sovereignty, democracy, human rights, and territorial integrity is unwavering." Yet in 2020, Ingels was photographed with Brazilian president Jair Bolsonaro, the Trumpian dictator who has condemned gay rights, eradicated the homes of indigenous communities, and profited off the clear-cutting of the Amazon rainforest. When pressed about the meeting, Ingles said he still planned to work for Bolsonaro, with a line of thinking that echoed Foster's reasoning for following through with his oil-funded airport project. "Creating a list of countries or companies that BIG should shy away from working with seems to be an oversimplification of a complex world," Ingles said. "Dividing everything into two categories is neither accurate nor reasonable." Now, his firm has done just that.
*Clarification, March 7, 2022: This sentence has been edited to specify the nature of the criticism.