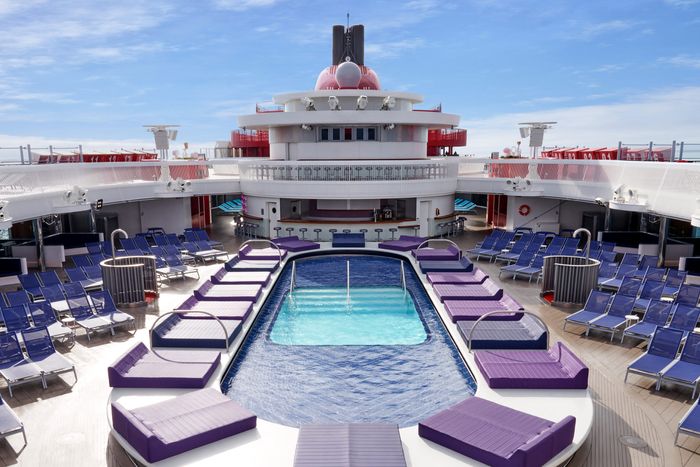 Photo: Courtesy of Virgin Voyages
I found Virgin Voyages' new cruise ship Scarlet Lady lolling just offshore from downtown Miami. She beckoned with her streaks of lipstick red, so I walked toward her, across the bridge and into the port (which is a little like walking to La Guardia: possible but not usual), and doubled back, trudging through a sea of parking lots. As I approached the company's blindingly white, week-old terminal, the ship reared behind it, deck upon glassed-in deck, like a newly sprouted waterfront condo that had drifted across Biscayne Bay. I had come to examine this vast floating object designed to transport thousands into a multi-day fantasy of the yachtsman's life. A cruise ship is a machine for leisure, and I wanted to know how it worked.
Scarlet Lady represents the first phase in Virgin's expansion from air, land, and space into sea. A near-identical copy, Valiant Lady, will start sailing from Barcelona in May, and two more are in the works. With a capacity of 2,700 passengers and 1,160 crew, these $700 million babies are not the biggest, fanciest, or costliest of their ilk, but they may be the most fanatically designed. As soon as I stepped onboard (nose swabbed, vaccine cards shown, mask in place), I saw that hardly a square inch had been left to negligence or chance. The elevator waiting areas had no interest, and glimpses into areas where the crew lurks suggested that, as with all theatrical settings, the back-of-house is bare and basic. But the rest of the fit-out manifested the efforts of a dozen architecture and design teams, all managed by Virgin's chief cat herder, Dee Cooper. Her job was to align all these different creative spirits with the corporate brand — to patrol the border between bold and tacky, obvious and crazy.
And so the jogging track runs along its own red-steel catwalk (by Concrete Amsterdam) elevated above the main deck, the better to avoid collisions and the vibrations of pounding heels. Hammocks, hand-woven in Thailand from flameproof synthetic cable, hang everywhere, combining contemporary relaxation technology with a soupçon of Moby-Dick. Both the cardio gym and the weight room have views of the boundless ocean, so you can feel small while you get big. On the VIP-only deck, dichroic glass panels throw multicolored glimmers on the white lounge beds. Diners can choose between the chrome-and-glass skinny chic of Test Kitchen ("part cooking school and part restaurant"), designed by Concrete Amsterdam; the indigo-and-violet moods of the haute Mexican restaurant Pink Agave, by Tom Dixon's Design Research Studio; and a fistful of other food habitats. Roman and Williams' The Manor is a soothing forest-green den, perfect for a quiet old-fashioned — until you walk through a knockoff of a Yayoi Kusama "Infinity Mirror Room," with stars glittering above below and all around, and into the sensory-overload nightclub. Inviting textures pop up everywhere: plush ottomans, metal partitions that look like they've been perforated by a machine gun and beaten with hammers, acres of fake leather, fake wood, synthetic moiré hangings, and assorted other materials that give the impression of luxe while also meeting the fire code's requirements for industrial toughness. Virgin has virtually eliminated cheap primary-colored plastic with two sweeping prohibitions: no single-use disposable containers and no passengers younger than 18. In the company's branded universe (though not in the real world), adult apparently means sophisticated.
Designing a cruise ship is an idiosyncratic challenge, a mixture of technical givens and carefree pleasure. As in hospitals, bridges, and oil rigs, the overall structure and minute details are governed by engineering, efficiency, safety, and cost. Unlike those facilities, though, the function of a cruise ship is enjoyment (or rather, the profit that flows from providing enjoyment). The trick is to make passengers feel like they've been handed an all-access pass to 110,000 tons' worth of luxury, freedom, and self-indulgence. And so a cruise ship is a complete habitat, its culture constant, its boundaries clear and absolute, its population flowing in and out in regular tidal patterns. At sea, it provides plenty of food and comfort but no escape, which raises the stakes on each design decision.
The Scarlet Lady has a reserve of regal suites pushed out over the bow, each with an expansive terrace. Most of the cabins, though, are tight, with strokes of glamorous lighting and clever design — beds that swivel into sofas, for example — to compensate for the scant square footage. That's deliberate, both because it increases the number of passengers ("sailors" in Virgin parlance) who can be packed onboard and because it nudges them out into public areas to mingle and drink. But people have different appetites for crowds and rowdiness, and designers had to accommodate all-night dance-partiers, slot-machine aficionados, and those who prefer to spend their evenings murmuring over a cocktail. Even on the outdoor decks, where there is nothing much to do besides lie in the sun and drink, passengers can search out varying degrees of intimacy or public display. In that sense, a ship is a miniature city.
As I toured the various levels, guided up stairs and around corners by Virgin staff so that my sense of the layout grew ever shakier, I saw that exploration is part of the shipboard experience. The interlocked designs must be complex enough to provide multiple routes and destinations, but simple enough to avoid frustrating disorientation. The result is that the decks and bars where the indolent can spend all day in near immobility are also transit points for the restless. That makes a ship like this an eavesdropper's paradise. It's engineered so that you can look down on people who forget there's anything above them but open sky. Privacy is always partial.
I am not the cruise industry's target audience. Spending days on a floating version of a Las Vegas hotel in order to share a beach with the same several thousand traveling companions who crowd the onboard hot tubs, the slot machine, and the bottomless dinner plate — this is not my idea of a good time. Sea monsters like Royal Caribbean's new 7,000-passenger Wonder of the Seas strike me as a manifestation of the global addiction to bigness, the malady that has bloated pickups, stretched skyscrapers, widened highways, blocked the Suez Canal, engorged stadiums, jammed Ottawa with 18-wheelers, and even supersized demolitions. Cruise ships pollute the places they visit and, over the years, have battered Venice so badly that the government had to (sort of) ban them from the lagoon. And then there's the efficiency with which the shipboard lifestyle promotes a lively assortment of respiratory and gastrointestinal illnesses.
Even so, I'm impressed by the imaginative range of this self-contained world, and though I'd probably start eyeing the lifeboats after the first 24 hours, I get the appeal of suspending reality. With all its mood-lit nooks and carefully constructed ambiances, Scarlet Lady is a set on which passengers can act out the scripts they write for themselves. A cruise depends on a stack of brittle illusions: that food is free, rather than prepaid; that wood is wood; that the pool is a pool, rather than a wading tub a few inches deep. (A volume of water large enough to swim in would have to be placed down in the hold, not an upper deck, to avoid destabilizing the vessel.) And so if the ship has a heart it can perhaps be found in the Red Room, the versatile theater designed by WORKac. It, too, can be whatever performers want it to be. Seats get deployed on movable risers, the stage retracts, an overhead lighting grid can shine on any corner, and the walls — red, layered, backlit, and wavy — contribute to the excitement. "You might see a fashion show with the audience on both sides, then come back for a rock concert with a mosh pit, and the next night it's a regular theater," says Dan Wood, one of the firm's founders.
Wood and his partner (in life and business), Amale Andraos, had lofty goals for their first foray into ship design. Before getting the assignment nearly a decade ago, Wood had coincidentally taught an architecture studio inspired by Le Corbusier's fascination with ocean liners in the 1920s. The guru of modern architecture aspired to translate the streamlined efficiency of naval design into onshore housing. A century later, Wood saw cruise ships as deeply democratic places, where people of many races, ages, and economic classes come together, potentially a source of lessons for the contemporary city.
When it came time to work on an actual vessel, Wood and Andraos hoped to push the core technologies toward greater sustainability, an effort as paradoxical as the concept of clean coal. "We were asking whether we could reinvent a system at that scale," Andraos says. "But that ship had sailed." They soon discovered that cruise-ship design is shackled by a matrix of international regulations, shipyard practices, and pre-certified materials. All the architects involved in the project had to be schooled by the Genoese guru of naval architecture, Giacomo Mortola, who has more than 70 new or renovated cruise ships under his belt. They learned that a vessel is made of steel plates like Lego pieces, assembled in multiple shipyards at once. Chunks of Scarlet Lady were fabricated in Romania, then towed to Genoa and welded together.
A signed contract triggers an unstoppable process in which every delay or deviation from the norm has a price, ranging from huge to prohibitive. "Timing is extremely important," says Mortola. "One delay causes others, and then they start to overlap." Virgin played a risky game by recruiting so many disparate designers — "A lot of prima donnas and big egos," Mortola says — and then confronting them with the basic truth that all their imaginative flights had to fit in the same steel box. But that cage is not much more unwieldy or restrictive than a land-bound city. Le Corbusier wanted architects to see ships as examples of unadulterated engineering, beautiful in their bareness. Today's architects might study Scarlet Lady for the opposite lesson: to see how much freedom can flourish within rigid constraints.