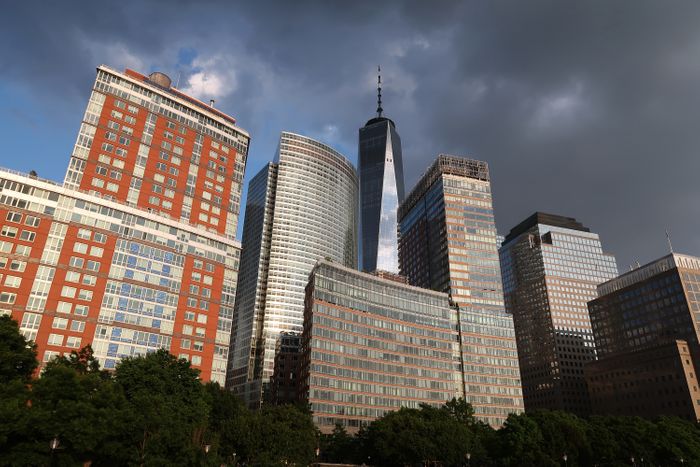 Photo: Gary Hershorn/Corbis via Getty Images
Battery Park City is hardly the neighborhood that comes to mind when you hear the phrase "affordable housing." Its 18 condo buildings on 92 acres sit right next to the Financial District. The median household income is now $212,000 a year, and it ticks up to $235,000 for owner-occupied units, according to the 2019 American Community Survey. Leonardo DiCaprio, Tyra Banks, and Sacha Baron Cohen have lived in Riverhouse, where a penthouse was recently listed for $18 million. Even in the area's much less chic buildings like Liberty House, a red-brick condo built in the 1980s, two-bedrooms trade for around $1 million. Although there are a handful of designated affordable rentals in the complex, it's a pretty upscale place.
The land underneath it all belongs to the State of New York, and property owners pay the Battery Park City Authority rent, payments in lieu of taxes, or PILOT and maintenance fees. That's an uncommon but not unheard-of arrangement in New York City, where some 100 residential buildings rent, rather than own, their land, including the condos on Roosevelt Island and in Brooklyn Bridge Park. And for several years, condo owners in Battery Park City have been fighting to renegotiate the ground lease. Lately, they have taken to a new line of argument: that property values nearby have gone so high that their neighborhood has, in fact, become a middle-class affordable-housing enclave, in danger of being wiped out by high ground rents. "What we've been seeing is an exodus of working families and no new working families can buy into the neighborhood anymore," said John Dellaportas, an attorney who lives in Liberty House. "The Authority is completely undermining their mission to create affordable homeownership. It's a betrayal of the public and a betrayal of the homeowners who were traditionally working class."
Although most of the condos in Battery Park City are less than halfway into the ground lease (which doesn't expire until 2069), and the rent on that land is set through at least 2039, residents are seeking a new global lease amendment for all 18 buildings that limits annual increases to the same amount as the city's rent-stabilized apartments. They're also asking to extend the term of the ground lease 99 years beyond 2069. (It may seem to casual observers that 2039 is too far off to matter much, but if you're buying an apartment with an eye toward living there for a decade or more, it really isn't.) This summer, Assemblymember Yuh-Line Niou, a progressive who has defined her top priorities as housing rights and economic justice, introduced a bill that would do both of those things. "BPC units should stay affordable!" Niou told a crowd of homeowners at a rally last spring.
Of course, they aren't actually affordable, at least not by any traditional metrics, only by the brutal comparative logic of the Manhattan market. Which raises some sticky questions: Who gets to claim the mantle of affordable housing? Does the general unaffordability of New York make those claims more or less valid? And is rent stabilization an affordable-housing program or something else — a right that all New Yorkers should be entitled to?
Adding to the thorniness of the issue, ground rents from Battery Park City pay into an affordable-housing fund that the city uses for projects like the Eliza in Inwood and Casa Celina in the Bronx. At the Eliza, the income caps are much more clearly intended for working-class families, set at $51,540 for a household of three. "It's very valuable money, because the city doesn't have much flexible money to spend on affordable housing," said Vicki Been, who headed up the HPD and worked as a deputy mayor during the de Blasio administration before returning to NYU's Furman Center. "The fund allows the city to finance affordable-housing developers who can move quickly to ensure long-term affordability of portfolios that are reaching the end of their affordability restrictions." In other words, reducing the Battery Park City ground rents would also reduce the amount of money going to truly affordable housing around the city.
The Authority says that the ground lease for 12 of the 18 buildings, which was last renegotiated in 2011 by Sheldon Silver — the once-powerful assemblyman who died, disgraced and in prison, this January — is more than fair, generous even. Under the deal, which covered all Battery Park City condos in existence at the time (six have been added since, but have other agreements), condo owners agreed to pay $525 million in ground lease rents over 30 years, saving property owners an estimated $280 million. "Saving" because the way that the leases were originally set up, the rent is scheduled to reset to 6 percent of the land's market value (and that's as though it were a pristine, undeveloped waterfront parcel) every 15 years. Though in theory this seems like a logical way to make sure that rents reflect the value of the land, in reality, 6 percent works out to an impossibly high number, something that everyone, the Authority included, acknowledges. The resets mean that there is always a looming threat of a rent spike, even as there is, essentially, zero chance that it will spike to 6 percent of market value.
Pat Smith, the president of the Homeowners Coalition, which represents all 18 condos (about 3,900 units total), said that even without the 6 percent spike, the current increases are unsustainable. Homeowners' costs already cover PILOT, debt service on the land, maintaining the neighborhood's 36 acres of parkland (which homeowners point out is open to and enjoyed by the public), resiliency measures (which are significant and ongoing) needed to prevent flooding, and the affordable-housing fund. With those expenses, he says, even minimal increases are burdensome. The Coalition and the Battery Alliance, an activist group of homeowners that is "fighting to save affordable homeownership in Battery Park City," characterize the current ground rents as exorbitant, but say they're not looking to reduce rents, just to limit future increases to a reasonable level. "A sustainable amount, similar to what the city and state governments impose on private landlords," said Dellaportas, who co-founded the Alliance with Dan Akkerman, a lawyer who lives at Hudson View West. "Why shouldn't the state follow the standards it sets for private landlords? Live up to its own ideals and limit the increases to the same amount as the rent-stabilization board."
In the past few months, Akkerman claims, several seniors in his building, including a retired physician's assistant, have been driven out by the high carrying costs. (In the past, the Authority has proposed a flip tax in exchange for reducing carrying costs, but it never gained traction with residents.) Dellaportas and Akkerman point out that rent-regulated tenants are not means-tested, although the average household income of tenants in them, $44,560, is a lot lower than those of the average Battery Park City resident. Still, "rent stabilization is not an affordability standard — it's not meant to be an affordable-housing program," said Cea Weaver, a tenants' rights advocate with Housing Justice for All, who is now fighting for New York to pass Good Cause Eviction, which would create a framework for all tenants to fight against unreasonable increases.
Besides, by New York City standards, Dellaportas argues, anyplace where condos routinely sell for under a million is affordable. "It creates an opportunity today for someone to enter the real-estate market and not be in the perpetual cycle of renting," he said. But by that logic, every neighborhood in New York City is affordable. The cheapest Battery Park City studio on StreetEasy right now is $510,000; that's about $100,000 less than the least expensive one in Tribeca, but a lot more than you'll pay on the Upper East Side, where a studio on East 63rd Street is currently listed for $235,000. If Battery Park City weren't on a land lease — or if condo owners were able to strike a deal that removed the uncertainty that normally hangs over renewals — sales prices would most likely go up, not down. Apartments in buildings with land leases trade at a discount — at least 25 percent, brokers say.
"The intent of the Battery Park City Authority when it was established and the general point of the state is to support affordable housing — housing that a working family can afford to pay for," said Akkerman. But while it's true that revenues generated by Battery Park City were always intended to create affordable housing, between conception and inception, the plan of where that affordable housing would be located changed. In the mid-1960s, Governor Nelson A. Rockefeller and Mayor John V. Lindsay wanted to avoid building a "Riviera on the Hudson," and initially, two-thirds of the 15,000 units set to rise in Battery Park City were intended to be for people with low and moderate income, according to the New York Times. "If you are going to use public land and public money, you have an obligation to be sure that it is racially and economically integrated or at least benefits people of all classes," the former borough president, Percy E. Sutton, told the Times in 2001. But that utopian vision was dropped during the fiscal crisis of the 1970s, and in the '80s, when condo and office construction was flourishing, a different plan emerged: "Allow an exclusive community to be developed, but use money generated by it to finance affordable housing elsewhere in the city." By the time they were built, the condos of Battery Park City were intended to fund affordable housing, not be affordable housing.
Which doesn't mean some of those condos aren't arguably, de facto affordable-ish. Or that housing needs to be affordable for residents to make a case that rent hikes have been unreasonable or are untenable. Still, dubious though the claim to affordability may be, it's brought elected officials over to the cause — Assemblymember Niou, who sponsored the bill, and City Councilmember Chris Marte, both progressives, have rallied in support of the condo owners. Been, though, was doubtful they'd get much sympathy from the general public. The city regularly gets pushback for affordable projects with units for households earning 130 percent of AMI — the highest income band that's eligible — which is $139,000 for a family of three. "Frankly, I don't understand their argument that they qualify. The average income of families in those buildings is way above the median income for New York City," she said. "If the city were to finance housing for people making $235,000 a year, it would be pilloried. It would just be ridiculous."