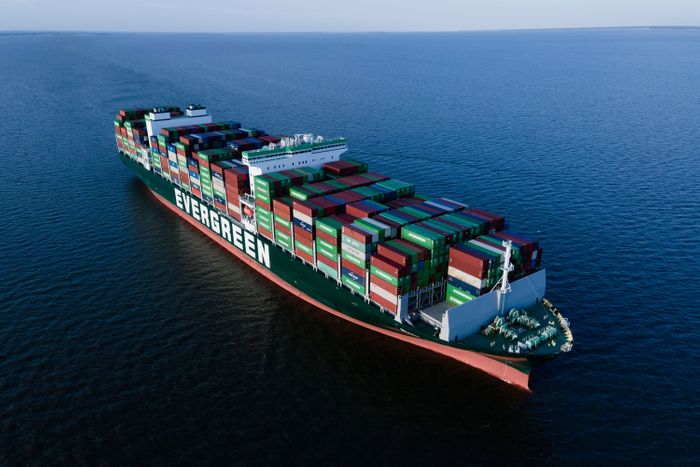 Oh no.
Photo: Julio Cortez/AP/Shutterstock
The cargo ship Ever Forward has mired itself in the dismal waters of the Chesapeake Bay, halting about halfway between Baltimore and Annapolis. Its status is listed as "aground"; its speed, "zero knots."
The big-boy boat's bad quandary is triggering dreamlike flashbacks to almost exactly one year ago, when its even-larger cousin ship the Ever Given halted the supply of plastic treasures around the globe by gumming up the Suez Canal. This dramatic event captivated the world's imagination because many of us were very sad and lonely. Now we have a catastrophic global war to worry about.
We can likely rest easy. No offense to people of the Eastern Seaboard, but the Chesapeake Bay is no Suez Canal. (Although it is home to endangered sturgeon!) Most of the few ships in the bay currently are at anchor or at port, according to Marine Traffic dot com; this bad day for one ship's people should not ruin the anticipated arrival of your highly flammable polyurethane couch.
Our supply chain will not be undone by this boat. Instead, sweat about the realignment of the Russia-China axis.
Students of the coronavirus-pandemic era will recall that the Evergreen Marine Corporation, a subsidiary of the Evergreen Group, likes to name many of its approximately 160 ships similarly, so there are boats out there named the Ever Chaste and the Ever Lucid and the Ever Libra and the Ever Uranus.