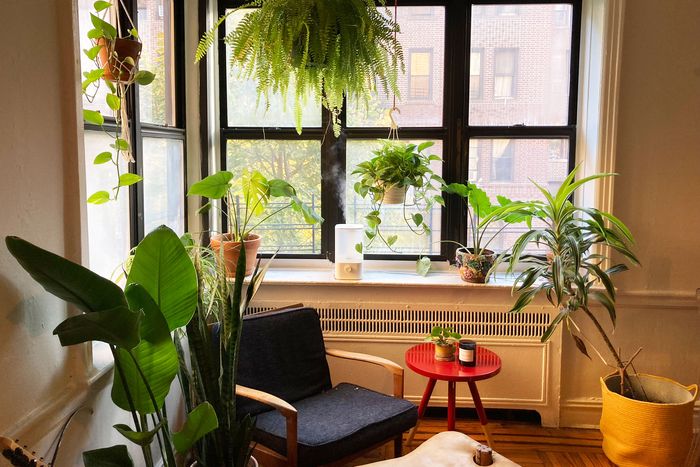 As I've grown older, my tastes have changed, but my reliance on Craigslist has not. I've found and lost apartments there, bought wealthy people's lightly used couches and neighbors' dusty air-conditioning units. It might come as no surprise, then, that at the beginning of the pandemic, I mindlessly started entering plant in the search bar and scrolling without any real purpose.
Each plant was a tiny vignette: A fiddle leaf going dirt cheap in Tribeca — too tall and cumbersome to fit in a moving truck as its owner abandoned the kind of luxury building that emptied as case numbers rose. Corn plants collecting dust in midtown waiting rooms, posted by the office administrators tasked with unloading them. Plant Craigslist became a way to pass time in isolation and, I started to realize, experience strangers' and the city's strangeness as the streets grew quiet around me. In the early weeks of March 2020, there were very few ways to encounter the lives of others casually, but each listing provided little glimpses.
Titles started to feel revealing in their own way. "Real plant": a sparse description given to what, I guess, was a real plant. A cactus listed as a "friendly 'hand'" that looked exactly as you would expect — cartoonish fingers stretched to meet the light. The squat "potted plant" featuring a photo blurred to the point of simply suggesting vegetation, as if it couldn't sit still long enough for a clear shot.
The pandemic wore on, and I kept scrolling. It was rare that I bought something, but those purchases now feel reminiscent of a different time. A plant stand I picked up in Clinton Hill from a woman named Barbi became a stool later that day when I visited a friend for a stoop hang. I moved twice during the first 18 months of the pandemic, and the plants I collected during that time reflected just how much had changed as I went from a dark railroad flat with three roommates to a one-bedroom with south-facing windows that captured the sun at all hours. The sequencing felt satisfyingly coherent — as my life filled with light, the plants grew into the space.
Earlier in the pandemic, there was a certain cadence to the listings — like the whole city was having a stressfully distanced fire sale — but the "For Sale" section has always been about transition. If someone is selling a plant, I've found, it usually means they're going through something. Over the past two years, you could almost chart time passing as the listings settled back into more familiar types of change: breakups, new jobs, even just accepting that you have too many plants. (There's no question that I should be cutting back, but I've taken on another garden's slogan when it comes to welcoming new plants: When you're here, you're family.) Even as I've returned to the brick-and-mortar plant shops I used to frequent, I keep an eye on Craigslist. I still love a deal and still want to snoop on the lives of other New Yorkers.
Last fall, I bought a two-foot-tall elephant-ear plant off Craigslist from a woman in Crown Heights. It was a warm day, so I brought it home in my bike bag, with the flat leaves sticking out of the top, rustling in the breeze. The plant has somehow managed to survive the dry winter heat of my apartment and seems like it might last, but I've let go of certainty over the past couple of years. (To quote an ad for an unknown plant sprouting out of a tennis ball left in the rain, "Maby you'll have a tree one day or rose you never know.") There may come a time when I'll have to move into a place with smaller windows or leave the city altogether. If I do, though, I'll know how to find my beloved greenery a new home — and let someone else gossip about me in the process.