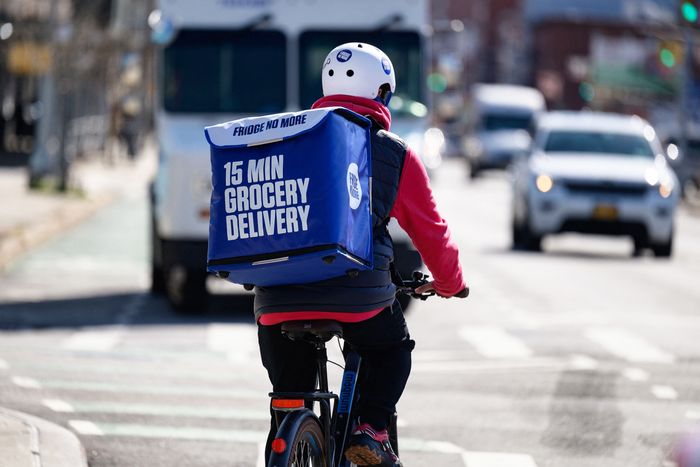 Photo: Angela Weiss/AFP via Getty Images
Do Russian investors hate American grocery stores? In the weeks since the U.S. began sanctions against Russia, two Russian-backed 15-minute grocery-delivery apps have collapsed in New York City. The first, Buyk — "orders are collected within 2 minutes and then delivered within another 5-10 minutes," according to the website — furloughed 98 percent of its employees last week after losing funding; the second, Fridge No More, ended operations this week after a deal to be acquired by DoorDash suddenly fell through. (Fridge No More's only tweet so far today was inexplicably of a kiwi.) These apps, which don't have delivery minimums, take (or took) grocery delivery to the extreme, allowing customers to order a single banana or roll of toilet paper and have it arrive at their door faster than a pizza would. The model is unsustainable, and cruel from a labor perspective, but it's also just a bit absurd.
And, at least for now, two of the companies have failed. "Most people suspect it's a political reason," a source told Insider of the end of Fridge No More, referring to Russia's war on Ukraine. Employees at the start-up weren't exactly surprised, with one telling the New York Post, "It just happened at Buyk last week, so we already knew the story." The Post reported that Buyk staff members were told they were going to receive their last paychecks on time only if the company found a buyer, and delivery couriers learned about the furlough by email.
The rise of ultrafast grocery-delivery apps over the past year has brought up safety issues for couriers who have such short windows to complete the job and led to questions about the impact on bodegas and deadening retail spaces that are now operating as "dark" storage hubs. But even as these start-ups collapse, a throng of apps like GoPuff, JOKR, Gorillas, and 1520 live on to carry out the mission of getting customers a pint of milk before their coffee is done brewing.