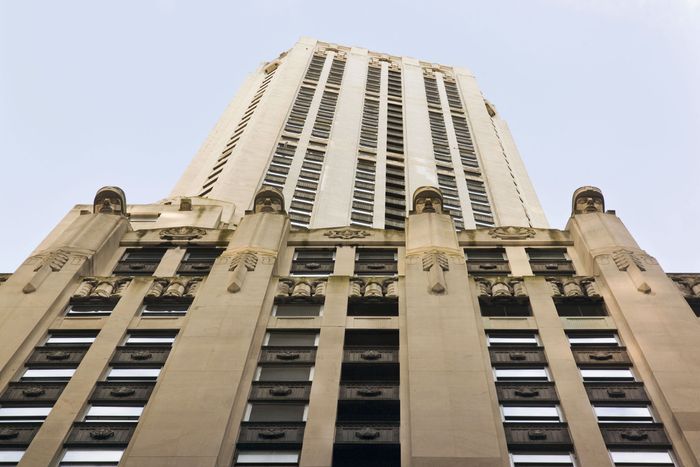 Photo: Angelo Hornak/Alamy Stock Photo
An ongoing elevator malfunction has turned a luxury high-rise in the Financial District into a 59-story walk-up. On Monday, the New York Times reported that residents of 20 Exchange Place have been dealing with extensive elevator-service outages above the 15th floor since November. This has been incredibly bad news for people on floors 16 to 59.
Sara Irvine, who lives on the 43rd floor and has arthritis, told the Times that she has had to stock up on groceries to try to limit her errands in and out of the building: "There were some nights where there was no way to get dinner. I would just eat crackers or something." A nurse who lives on the 48th floor, coming home after a 12-hour shift, started crying when she was told by the doorman that the elevators were out. The building has been flooded with one-star Yelp reviews complaining about the elevator situation.
The building, which used to be the City Bank-Farmers Trust Company Building, completed its conversion to residential apartments in 2015 when the building's owners, DTH Capital, added a final 221 luxury units. (Some units in the building, the Times noted, are rent-stabilized.) StreetEasy's rental history of the building shows an average monthly rent of $3,316.
When the elevators do "work," the situation can be just as stressful. As the Times reported, residents "said they had experienced sudden jolts during elevator rides. In one instance, the elevator shuddered to a stop and then began descending too quickly, Ms. Irvine said." The owners say this is because of "safety stop" mechanisms, which I'm sure is meant to be reassuring.
No one seems to quite know what the root of the problem is. The building's owners say Con Edison must help resolve the issue, while Con Edison says there is "no indication that our power supply is deficient or compromised." Yet for some reason the elevator's operating boards just keep burning out. (The building's owners have been offering to temporarily relocate some tenants, allowed them to break their leases, and rent concessions are apparently "forthcoming"; they've also "hired couriers to deliver packages up flights of stairs and offered laundry service." )
A one-bedroom apartment is currently listed as "available immediately" for $4,669 on the building's website (crucially, the floor is not specified). "Do yourself a favor and move into a building where you can actually utilize your apartment unit," one Yelp reviewer wrote. "Currently writing this review while trapped in an elevator hanging hundreds of feet in the air."