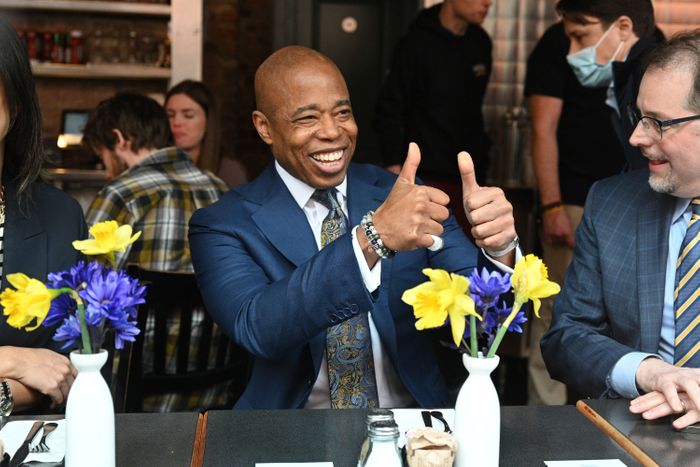 Photo: Erik Pendzich/Shutterstock
Who needs vaccine mandates when you have a great attitude? Today, after his office suspended the Key2NYC policy that required proof of vaccination at indoor venues, Eric Adams took a "reopening" tour around the East Village. It looked like a lot of fun. The mayor ate a huge lunch at Veselka, gently placed his left foot on a skateboard, planned to treat himself to a spa day, promised to get his nose pierced, and held a dog.
Adams also grinned as he held up a napkin on which he had scribbled "LIFT THE MANDATES." (Good news for him — he did!)
During his joyous day out, Adams told reporters that he was okay with unvaccinated people frequenting businesses:
Aside from the concerning fact that our mayor is a try-hard activities person who has the energy to do all these things in a single afternoon, people still have legitimate questions about the city's plan to keep immunocompromised people and children under the age of 5 safe. But there's only one thing Adams is worried about New Yorkers catching right now — a good time!