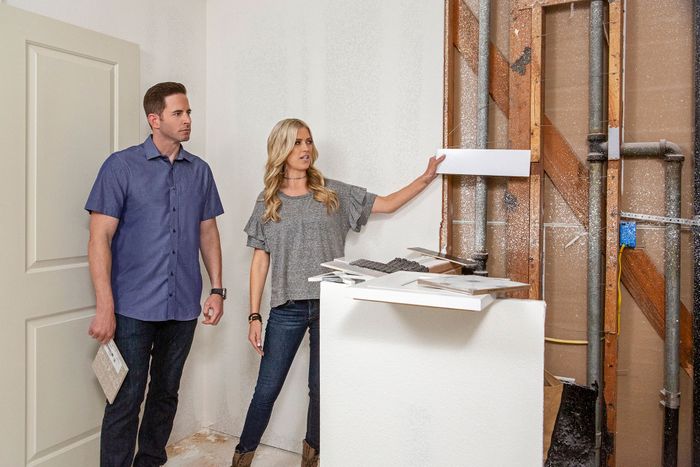 After ten seasons, the show ended abruptly.
Photo: Courtesy of HGTV
The first episode of Flip or Flop opens with Tarek El Moussa on a brown microsuede couch, leaning intently over his laptop while scanning foreclosures on Bing. The viewer sees what he sees: a screen open to a property's tax assessment, open loans, and auction date. His then-wife, Christina Haack, reads a newspaper nearby. "This is interesting," she says. "It's a curbside auction."
The opening bid is $170,000, and it starts in an hour and a half; they'll need to rush if they're going to make it to Santa Ana in time. "Every other flipper in Orange County probably has their eyes on it too," El Moussa tells the camera in a confessional, enunciating with nervous effort. Haack asks their young daughter if she wants to "go to an auction with Mommy and Daddy" — "outside!" she says coaxingly — and then they're off.
Flip or Flop debuted on HGTV in 2013 as millions of low- and middle-income families were still riding out the aftershocks of the Great Recession. El Moussa and Haack are flippers in Southern California who are alternately presented as hapless and cunning in their efforts to turn a quick profit while navigating the same landscape of immiseration. In recent years, as HGTV has leaned harder into "God and country" nostalgia in its real-estate programming, Flip or Flop stood out for its unintentional candor about housing as a commodity. There were no sweet young couples looking for forever homes, no downtowns to be "revitalized" — just ambient scumminess as El Moussa and Haack perform back-of-the-envelope cost projections and conclude with a big reveal of total profits. Airing its last episode this week after ten seasons, Flip or Flop asked a simple question: What if the foreclosure crisis actually rocked?
Early episodes in particular relied on the parasitic nature of the couple's work as a device to build tension. El Moussa and Haack appraised other flippers as competitors, weighing their strengths and weaknesses in bidding. ("This guy always bids high," Haack says mechanically at one auction.) They strategized to sneak into degraded properties, which often still show traces of former owners in abandoned sofas and kitchen gadgets. The idea that someone once lived there — that maybe it's even tragic that they don't anymore — never occurs to anyone. The fact of their emptiness and potential for resale is the point, even in the episode descriptions:
Tarek and Christina have had their eyes on a short sale in Anaheim Hills for about a month, when suddenly it goes to foreclosure auction, so they jump on it for $430K.
Tarek and Christina come across a bank-owned listing which has been on the market for fewer than 24 hours and is only accepting offers until 5 p.m. the very same day.
Tarek and Christina snoop a foreclosure in Yorba Linda, CA.
Later seasons would move away from this explicit kind of ghoulishness, swapping out foreclosure auctions for more subdued language around the couple having a "lead" on a great deal. But the beating heart of the show never changed all that much.
El Moussa and Haack were seemingly in business together first, demonstrating an almost dazzling lack of chemistry as a married couple. Chip and Joanna Gaines bickered affectionately, while Erin and Ben Napier embraced a more adoring style of marital performance, but the El Moussas' family life always felt incidental. Their onscreen rapport was something closer to mild tolerance as they discussed (almost invariably beige) tile selections.
Flip or Flop pulled consistently strong ratings, but — maybe because of this genre-defying commitment to affectless central characters or a thesis built on the misfortune of distressed homeowners just outside the screen — it never found quite the same place in the culture. (Fixer Upper, once the crown jewel of HGTV's programming, debuted just a month after Flip or Flop, in May 2013.)
On Discovery+, where the show's back catalogue now lives, there are discrete channels on which a person can stream every episode ever made of HGTV's most popular shows: You can watch Fixer Upper on a continuous loop, or House Hunters International, or Property Brothers, and, separately, a Property Brothers spinoff called Buying and Selling. Flip or Flop, instead, shares its real estate, alternating with episodes of Chopped on a channel called Chopped & Flipped. (The pairing is kind of perfect: Chopped, itself a black sheep, was once central to Food Network's brand but now lives in Guy Fieri's meaty shadow.)
It's almost fitting, then, that Flip or Flop went out without so much as a whimper. The end of the series was announced abruptly this week, owing to rumored tensions on the set between the former couple and their new partners. The final scene, much like the entire series, is perfectly charmless. In an exchange that awkwardly cuts to their significant others waiting in separate cars (this episode is now canonically a Selling Sunset crossover event), Haack proposes going their separate ways in the business. El Moussa agrees. They say a few words about what a journey it's been before driving off. Flip or Flop is over, but the work isn't: Foreclosures are on the rise.