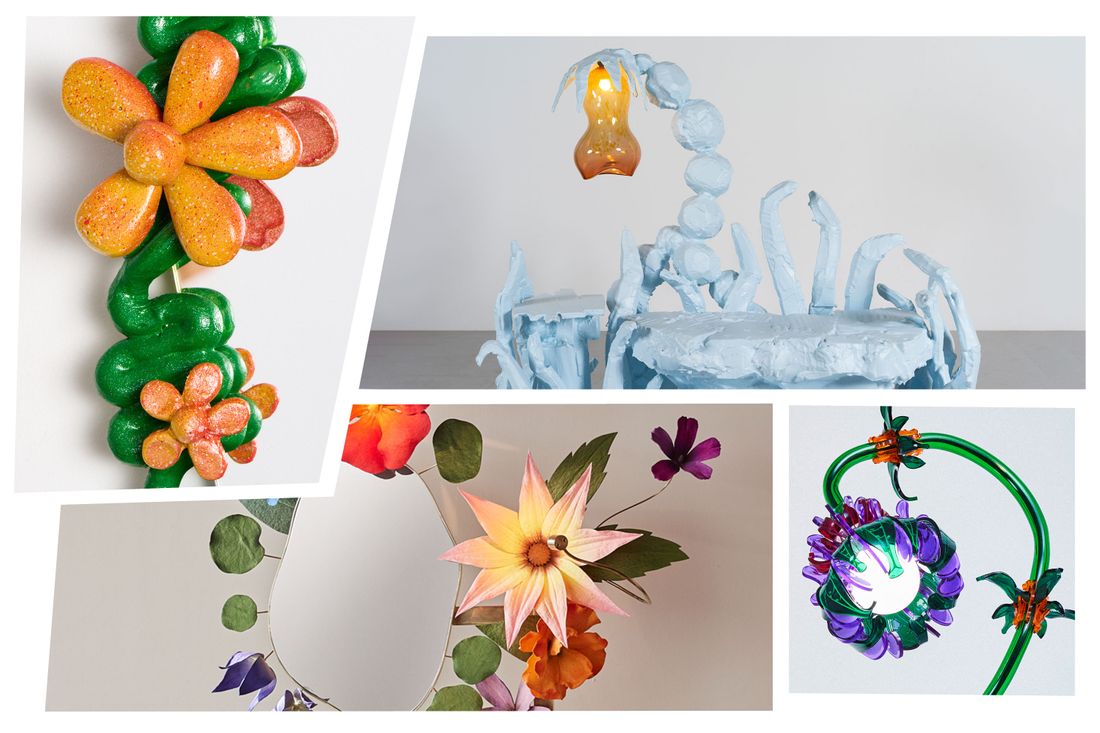 Photo: Balarama Heller, Eric Petschek, Bertrand Huet courtesy of Friedman Benda and Leo Orta, Jonathan Hökklo courtesy of Head Hi
There's a tournament of roses, so to speak, happening in design right now. Flowers are simply everywhere. In her new solo show at R & Company, Katie Stout has cast a credenza and chandeliers out of bronze — the first time she's used the material — and adorned it with pastel ceramic and glass flowers. At Head Hi's third annual lamp show, Hannah Bigeleisen presented her marble-painted plaster Petal sconce and Bryce Peterson heat-bent acrylic to make his cartoonish Bloomin' Lumen table lamp. It's a trend that's been growing since late last year, most notably at Design Miami/, where Pelle presented its Lure Eden light post — made of an illuminated bronze pole, trays, mirror, and dozens of leaves and flowers all sculpted from cotton — and Salon 94 decked out its booth in the late sculptor Gloria Kisch's massive painted stainless-steel flowers, which she made in the years before her death in 2014.
Flowers are a perennial presence in design, reappearing every few years. And right now, this trend feels so fresh, especially after seeing way too many wiggles and squiggles, too much beige boucle, and the often eye-piercing discordance of maximalism. These aren't the twee and romantic flowers of cottagecore, though — they're more exaggerated, more visceral, and sometimes more surreal. Take Leo Orta's Winter Walk, which is now on view at Friedman Benda. The powder-blue piece — a combination table, chair, and lamp with a glass shade that looks like a bellflower — feels like it's been plucked from a dream. In their collaborative piece In the Ether — a floor lamp forged from metal and glass — the Tbilisi-based design firm Rooms and photographer Alexi-Meskhishvili riffed on a blue rose, which symbolizes their friendship and nostalgia for the Soviet floral graphics that adorned special-occasion greeting they recall from their childhoods.
Throughout history, flowers have long held symbolic value. People have used them when words fail them; the Victorians had entire dictionaries devoted to what they mean. Even when they're less coded, though, they reliably convey the meaning of spring, recovery, and rebirth. Given the dormancy and darkness of the past few years, these pieces offer the vibrancy and optimism we so desperately need.