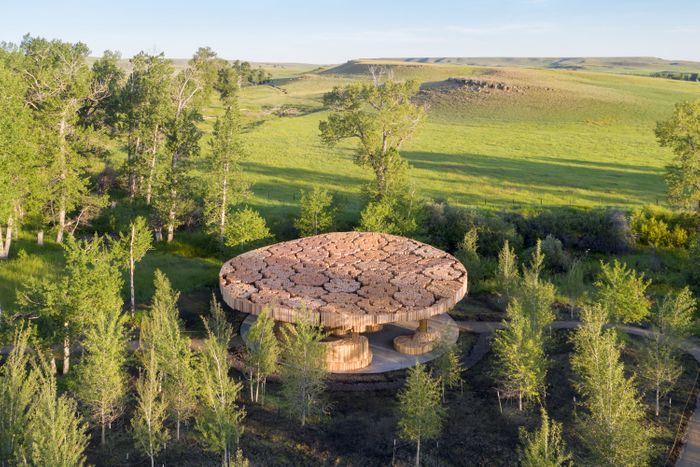 Keré's Serpentine Pavilion in Montana.
Photo: courtesy of Tippet Rise/Iwan Baan. Photo by Iwan Baan.
I met Francis Keré one summer morning in 2019 on a ranch in Montana. Coppery light filtered through the wooden pavilion that he had tucked into a gentle culvert. We sat on an undulating bench beneath a canopy of rough logs that were suspended vertically, like a levitating forest. He told me about the first time he left Burkina Faso, where he grew up in a village with no electricity, no roads, no schools, and no running water. Landing in Berlin, he recalled, was like being teleported to the moon, a thrilling but terrifying experience. "The buildings! The climate! It was big, big, big!" he marveled.
Now 56, Keré, the son of an illiterate village chief, has become the first African-born winner of architecture's prestigious Pritzker Prize. Long before that, though, he was famous for work that few enthusiasts had ever seen. Though he remained in Germany to study and establish his studio, he has returned often to the town where he was born, transforming it into a showcase for architecture's power to reshape and preserve. Gando, a four-hour drive from the capital, Ouagadougou (there's a road now), is home to the collection that made his reputation: three one-story school buildings and a row of teachers' housing, all built out of handmade clay bricks. His list of works lies well off the usual architectural-pilgrimage routes: a national park in Mali, a medical center in rural Léo, Burkina Faso, a tech campus on the shores of Lake Turkana in Kenya, a German cultural center in Dakar. The irony of his career has been that though his work honors craftsmanship; depends on local earth, stone, and wood; and celebrates community participation and vernacular traditions, Keré's celebrity is based almost entirely on a global circuit of disembodied images offering fantasies of distant treasures. Photos of sunlight raining through the perforated roof of the Gando school library and dappling the beaten-earth floor, an orderly row of boxlike doctors' quarters curving around a plaza, low-slung structures in harmony with green-and-ochre plains — these visions of well-ventilated simplicity have entranced people who live behind sealed windows in steel-and-concrete cities.
So it was with a certain degree of skepticism that I approached Xylem, his open-sided arbor at Tippet Rise, an arts center an hour's travel from Billings, Montana. Once I entered, I was entranced. The design had been like a set of treasure-hunt instructions. Woodworkers had to collect standing dead trees — no logging allowed — from forests near Yellowstone National Park. Keré specified the diameters and lengths of the poles, which were then grouped in bundles, held together with long screws, and threaded through a steel honeycomb. These simple elements came together in a work of staggering subtlety. Inside, you inhabit a surreal zone between two hilly landscapes: Benches, also made from standing logs, resolve into a continuous contoured terrain; the canopy above dips and lifts so that roof, ceiling, and structure are all part of the same undulating form. To this day, when a doctor is taking my blood pressure and tells me to think of something calming, I picture myself sitting in Xylem.
It's typical of Keré that he leaned heavily on local experts, including the timber-framing builders Chris Gunn and Laura Viklund, based in Cody, Wyoming. And it's not coincidental that his first permanent North American project is in the middle of nowhere, because his approach is a difficult fit with the industrialized practices of Western cities. Though his Berlin studio is compact — just a dozen architects or so — for his African projects he relies on a vast supply of labor that passes through a web of trainee programs in Burkina Faso. "Sometimes we may be 200 brickmakers, bricklayers, woodworkers," he told me. "Now we have a branch specifically for working with eucalyptus wood." He once described the process of laying a Keré floor: Men pound the stone-and-clay composite with heavy mallets, women wet it and then beat it smooth with pallets, and a finishing crew polishes the surface by hand with rocks until it's "very fine, like a baby's bottom."
The Pritzker's prestige carries the most weight in parts of the world where such practices are considered out of date. That luster will create new demands for his talent, and it's hard to imagine him specifying prefabricated façade panels from China for an office building in Manhattan. Westerners urgently need to learn from that disjunction. Hazardous shipping, war, and a pandemic have snarled the supply chain of building materials. Conventional industrial-style construction has become a rolling environmental disaster. Technically advanced buildings outlive their purpose and sit unused or get torn down. Expensive air-conditioning systems age into public-health liabilities. Design gets co-opted as the dressing on a global money-laundering operation. Along comes an architect who, against crushing odds, shows the world how to build cheaply, beautifully, joyfully, and well; if we can't make room for him in our cities, then it's our cities that should change.