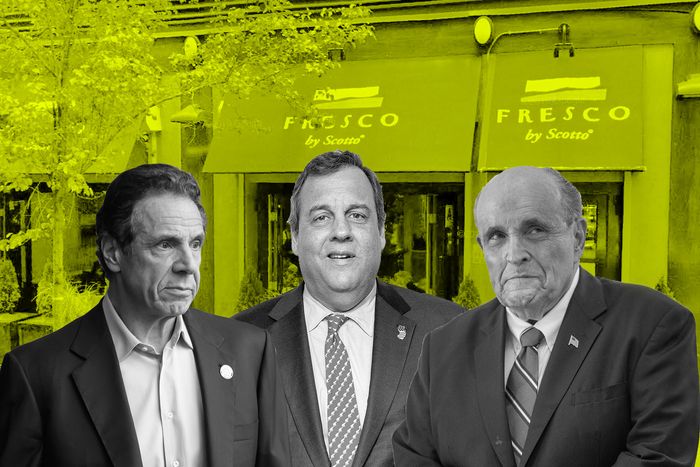 Photo-Illustration: Curbed; Photos: Google Maps, Getty Images, Shutterstock
Fresco by Scotto, an Italian restaurant on West 52nd Street, has been a favorite of power players since it opened in 1993 — "a home-away-from-home for a loyal troop of powermongers and dabblers, judges, and wags" — as New York put it, where handshakes and shoulder squeezes are as much a part of the experience as the Margherita pizza and Caesar salad. But lately Scotto has seen a parade of disgraced political figures who cannot, apparently, keep away from one of their favorite restaurants. In late February, Donald Trump defender Rudy Giuliani and Trump apostate Michael Cohen both arrived for dinner at the restaurant (since other VIPs had taken their tables, the men were forced to dine close together). A few weeks later, it was the disgusting former governors Andrew Cuomo and Chris Christie, who enjoyed a chummy lunch date. "Seventy percent of the time, they were in a serious conversation — so much so that the servers didn't approach," a source told the New York Post. "The other 30 percent of the time they were laughing."
Why are all the horrible men eating at Fresco by Scotto lately? Because, it seems, they've always eaten there and see no reason to stop, shame not being a quality any of them is known for. Whether facing disbarment, an attorney general's report finding overwhelming evidence of sexual harrassment against 11 women, a prison sentence for lying to Congress, or the fallout from Bridgegate, these are not people who embrace humility or repentence.
The restaurant is run by the Scotto family — Good Day New York anchor Rosanna Scotto; her two siblings; their mother, Marion; and (until his death last year) patriarch Anthony M. Scotto, the former head of the longshoreman's union who went to prison in 1981 for labor racketeering (he served three years). The family was said to have mob ties — when he and Marion, née Anastasio (her father was known as Tough Tony, king of the Brooklyn docks), were married in 1957, a number of organized-crime honchos were guests at the couple's Plaza Hotel reception, according to the New York Times. But Tony Scotto was seen as "a new breed" when he took over from his father-in-law, known for his soft speech, tailored suits, and political connections (he toured Brooklyn with Jimmy Carter during the 1976 presidential campaign).
What makes Fresco by Scotto so hard to resist? The food is good (the kitchen is now run by former Pastis chef Ben Kacmarcik). But the real draw is the schmoozing. Former mayor Abe Beame dined there into his 90s with a crew of ancient machers; Mayor Eric Adams recently had lunch there (zucchini chips and pasta primavera; no seafood, though); and the restaurant hosted Katie Couric, Kelly Ripa, Steve Madden, and Donny Deutsch for its reopening lunch last June. A few days later, Andrew Cuomo, still governor although under something of a cloud, came for dinner, shaking hands with real-estate developer Bruce Ratner on his way out. Jonathan Tisch, David Dinkins, George Pataki, Barbara Walters, Al D'Amato (speaking of horrible men), and Matt Lauer (ditto) have all been regulars.
Who wants to schmooze with these guys right now? Quite a few people, it seems. The Post reported that Cuomo and Christie "sat in the middle of the dining room … allowing patrons to approach and shake hands." Giuliani got a greeting from Bill Thompson, the former comptroller, who "went over to say hello." Cohen, meanwhile, "went around the restaurant, shaking hands with other diners, while giving Rudy a wide berth."