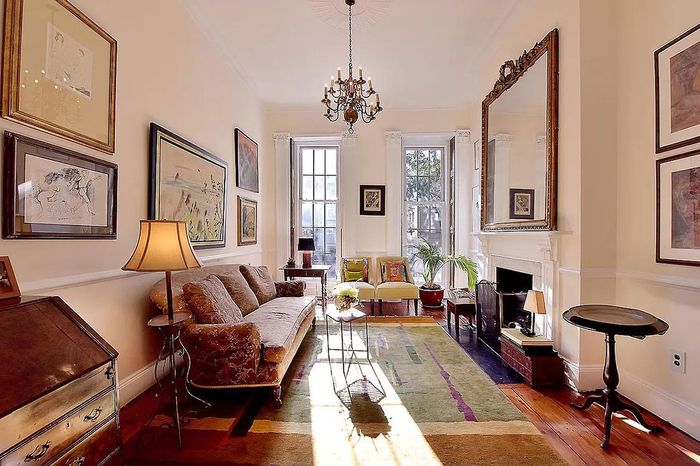 Photo: Milton White and Benjamin Qui
Since 1968, the Greek Revival townhouse at 161 West 13th Street has belonged to the family of George Pitt, who, as his son Alexander says, was "very much the Don Draper of Greenwich Village." Pitt, the son of two Ukrainian immigrants, started his career at the New York Times and went on to found Spectrum Associates, which became a leading travel-production company that shot commercials and films abroad.
Some of the pieces inside the three-unit house were actually hauled back from Pitt's trips: The main bedroom's massive wooden antique door was originally part of a Mexican church, there are vibrant floral tiles from Mexico and Portugal covering several bathrooms floor-to-ceiling, and the décor ranges from artworks by Rufino Tamayo and Marc Chagall to an extremely heavy-metal chess set from Ireland.
The two one-bedroom apartments on the upper levels are always rented out (as they are now, though the whole house is set to be delivered vacant this year). Unlike the downstairs duplex, which has an original brick wall in every room and dark exposed ceiling beams practically everywhere, the upstairs floors are slightly more conventionally appealing — with wood window shutters and two decorative brick fireplaces each. The top-floor apartment was known to Alexander as the "fertility flat" — as many previous tenants were couples who conceived there and then moved on to larger apartments in the city.
The garden duplex was occasionally rented out as well. Billy Crystal lived there in 1984 while he was a cast member on Saturday Night Live; after that came David Mamet.