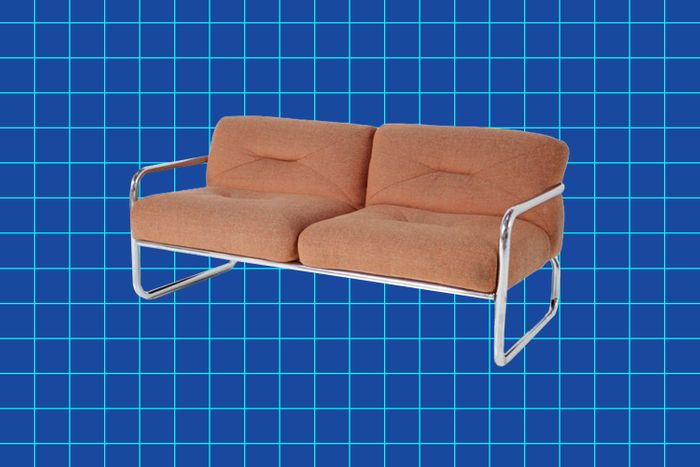 Photo-Illustration: Curbed; Photo: Retailer
There's been a development in our investigation of Harry Styles's mysterious couch. If you'll recall, after his new album was announced, I, as a lover of couches and knowledge, reached out to Styles's publicist to find out more about the burnt-orange couch — where it was from, who designed it — hanging from the ceiling. I was told that the team would not disclose that information. Intrigue.
But the Styles fandom came through. Soon after the piece was posted, they dug up what seemed to be the couch on Superhire, a furniture-and-prop company based in London. It has the same chrome-arm frame and the same particular dimple in the cushions. I needed to know — was it the couch? Was it solely a prop, or was it a real couch a person could buy somewhere? Simple questions.
I called Superhire. "Oh yeah, I know that one," the woman who answered the phone said. Hope sprang anew. I asked if it was a designer couch. "It isn't; that was ours. It used to have a different covering, but we re-covered it," she said, adding that it was the only one of its kind they had. "It's been here for years." She didn't have any other information about the couch. When I asked if it was indeed the one used in Harry's House, she realized I wasn't actually trying to rent ("hire") the couch as a prop. "Well, if you're not hiring, I don't have time to talk to you, sorry," she said and hung up.
Why won't anyone talk to me about Harry's couch?