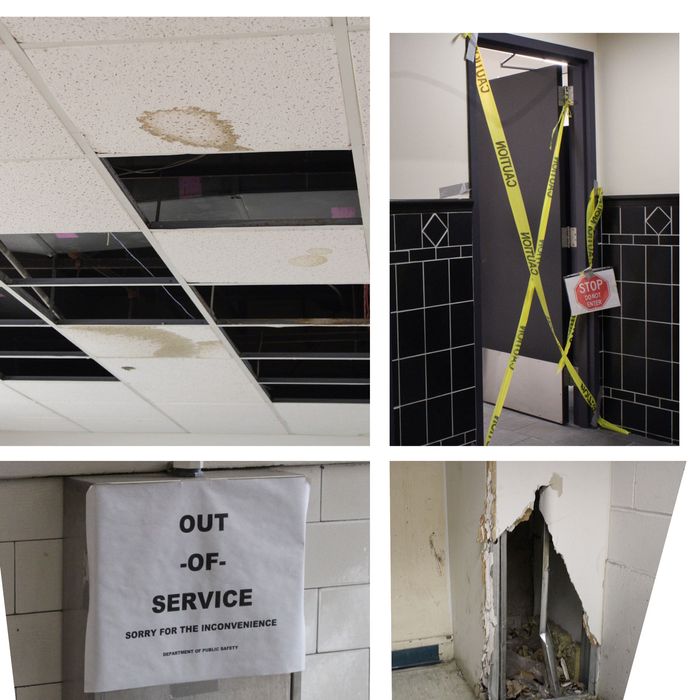 In early March, it looked as if the main campus of Hunter College, the so-called crown jewel of CUNY, was overrun by rats. State Assemblyman Zohran K. Mamdani tweeted that a student told him no one was allowed to eat below the sixth floor in one building because the infestation was so bad. But Jen Gaboury, a gender studies professor at the school, says this isn't true: There's actually a full-on mouse infestation, she says, and rodent species don't like to share the same space. The campus, which dominates the corner of 68th and Lexington, has so many mice that Gaboury flips over her keyboard every morning to let the droppings fall out, and students watch the rodents running around while class is in session. The ubiquity of mice is almost the least of the issues plaguing a school that is in an astonishing state of disrepair.
For example, there's something wrong with the drop ceiling in nearly every room at Hunter. Gaboury was teaching a class when "a ceiling tile started to drip, and then all of a sudden it crumbled and fell partly on a student's head and onto her notebook," she said. Gaboury had "a big reaction," as she called it: "I gasped and stood up and started to say things and make noise, in shock." But the student just sat there. "She had a look on her face that haunts me," Gaboury said. It was the look of someone who expected her classroom ceiling to fall on her head. CUNY schools were never supposed to be that way: The university system was the first free public college in the country when it was founded in 1847. In 1970, CUNY adopted an open-admissions policy, offering a free college education to any graduate of New York City public schools. But the long history of disinvestment at CUNY started not long after that as the city's finances spiraled. Between 2008 and 2016, per-student funding from the state fell by 16 percent, and Governor Andrew Cuomo attempted to cut $500 million from the CUNY budget that year.
Governor Kathy Hochul finally seems to have realized that the city's public colleges need significant help. In her initial 2023 budget proposal, Hochul earmarked the most money for CUNY since Eliot Spitzer was in office (and that budget fell apart after he was forced to resign). But the nearly $793 million in capital funding, which includes so-called critical maintenance, won't be enough to actually fix Hunter and the other 24 CUNY campuses. CUNY's capital needs are $1.247 billion for 2023, and Hunter's capital needs alone amount to $240 million. "When we've been disinvested in for so long, it's like throwing dirt into a hole in the ground," Gaboury said. "We're actually in crisis, and you can't keep duct-taping things together forever." Ahead of April 1, the final budget deadline, a coalition of union staff, students, and community groups called CUNY Rising Alliance (which was was formed in 2016 when Cuomo proposed slashing the CUNY budget) are pushing for more: a New Deal for CUNY that would not only repair Hunter and other campuses but fund the system's own expansion plans, hire more teachers, and bring back free tuition. The five-year plan asks for $1.7 billion on the operating side and $5.6 billion in capital funding. The coalition launched a #CrumblingCUNY Twitter campaign to encourage staff and students to post photos of the conditions on campuses.
There's plenty of crumbling to document at Hunter. The Tudor-style Thomas Hunter Hall, which was completed in 1913, is the oldest structure on the campus but was long considered unique and rather charming. In 2008, Christopher Gray wrote in his New York Times Streetscapes column, "The space has been roughly used and has little actual ornament, but everything is deliciously intact, patinaed like an old oak table."
"I call it an abandoned building," junior Tatiana Mercer said of Thomas Hunter Hall. Despite the neglect, it is used for many purposes, housing classrooms, lecture halls, the dance department, and a student union that opened in 2019. Not only are the tiles smashed, but there are broken windows, plumbing, and other building guts showing through broken drywall as well as so much peeling paint in the stairwells that the walls look shaggy. "I have to emphasize that there are holes in the ceilings — like actual holes," she said. "You can see the pipes."
According to the school, that's by design. "The missing ceiling tiles and holes in walls are usually the result of making repairs to the systems behind the walls," a press rep from Hunter said. "The tiles and holes are replaced and repaired after the work on the systems has been completed. It is also a strategy for making sure that these locations dry out properly after a leak has occurred."
Things aren't much better in the newer buildings on campus: the WPA-funded North Building, which was completed in 1940, and two concrete modernist towers that opened in 1984, the West and East Buildings, designed by Ulrich Franzen and Associates. The ventilation system is so bad in the North Building that staff often work with their office windows open, one administrator said, and the bathrooms and water fountains are routinely without water in the East and West Buildings. In at least one instance, plants started growing from underneath the bottle-filling tray of a fountain. It's a stark contrast to the city's private universities. At NYU, for example, 60 percent of the buildings are at least 50 years old, but the university actually has the funding to maintain them.
Mercer transferred from LaGuardia College to Hunter last year, and while it was immediately clear Hunter was in worse shape than her old school, she didn't initially see the broken stuff as anything more than incidental. But that changed this semester when she was on campus more and tried to study at the third-floor library of the East Building one day. "I went in, and the first thing I saw was a message that the outlets were broken and not working at one of the tables — and the note was like, 'We submitted multiple orders to fix it.'" It wasn't just that things were broken, Mercer realized, but that no one could get them fixed even if they wanted to. And it wasn't just broken outlets; printers are perennially broken or malfunctioning, and students never know when they might run into a busted escalator or have to wait 12 minutes for an elevator to get to a class on the upper floors. Add this all up, and the decrepit state of the building is more than an inconvenience but a real barrier to getting an education.
The escalator and elevator issues cause accessibility issues, too, according to an administrator who wished to remain anonymous. "I'm immune compromised. I'm avoiding the too small and overcrowded elevators when at all possible, but I'm also disabled, and when the escalator is suddenly stairs, it definitely causes issues," she said.
#CrumblingCUNY and the broader New Deal for CUNY campaign have been an outlet for students like Mercer, a member of Hunter's Young Democratic Socialists of America chapter. But even students who haven't been involved in the campaign have other venues to laugh at and commiserate about it. The student behind the self-explanatory Instagram account Hunter Cursed Images sees the horrible state of the campus as a way to create a sort of anti-school school spirit at Hunter, which is very much a commuter school without a ton of community among the student body. "We can all collectively agree to hate on the school together," he said.
When Hunter Cursed Images started four years ago, the images — a video of a dropped hard-boiled egg endlessly rolling at the bottom of an escalator, a folded-up MetroCard used as a replacement bolt in a busted bathroom stall lock — came from a group of friends, but now he accepts strangers' submissions. "Submissions vary from wacky signs in the bathroom to good stuff like broken ceilings," he said.
The page has grown more popular since the beginning of the semester, when Hunter made the nearly complete return to in-person classes. "When you leave this school for a year and a half, you expect some upgrades," he said. Hunter officials provided a list of 24 projects that were completed during that time, ranging from renovating the second-floor bathroom in Thomas Hunter Hall to fixing storm damage from Hurricane Ida (another ten are still in the works). Even a boiler problem in the West Building that, for at least 18 years, has left the upper-floor bathrooms without any water a few days out of every month was fixed. But that's not apparent walking down the hallways. "All over the place, you still have holes in the wall covered up with cardboard," the Hunter Cursed Images student said. "I can't imagine being pumped to come back to be greeted by this."
With just over a week before the budget deadline, it doesn't look as if the entire New Deal for CUNY will become a reality just yet, but the coalition is celebrating a significant increase in the operating budget that the New York State Assembly and Senate included in their bills — about $500 million, which roughly doubled Hochul's proposed operating budget. It's not everything they asked for, but the funding will go toward campaign priorities such as improved teacher-student and counselor-student ratios. The capital funding is much more up in the air: The State Senate bill offers an additional $10 million for specific energy projects, while the assembly bill includes an extra $1.2 billion to fund expansion only. Between now and April 1, when everything has to be finalized, they're hoping to hold onto that $500 million operating budget and to get as much capital cash as possible in the final bill.
But no matter how much new cash comes through, the student behind Hunter Cursed Images isn't expecting much to change at this point. "It's more funny than anything," he said about the decrepit campus. "Hunter has this reputation as being somewhat prestigious, but then you get here and you're terrified by all of this. We made our choices by coming here — I can't be cynical about it. All I can do is snap a photo and laugh about it."
Update: An earlier version of this story referred to tiles in Thomas Hunter Hall as damaged. The tiles in fact were removed in order to be replaced.