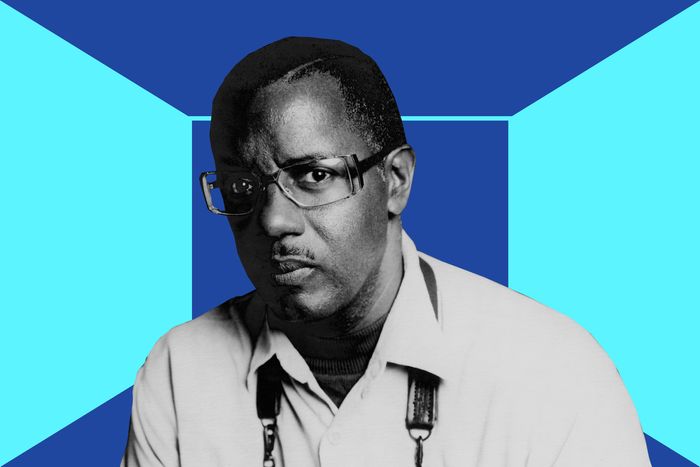 Photo-Illustration: Curbed; Photo: Barron Clairborne
New York's "21 Questions" column is back with an eye on creative New Yorkers. The Brooklyn-born and Flatbush-raised photographer Jamel Shabazz first picked up a camera when he was 15 years old and has been documenting city life ever since. He's best known for his images of hip-hop culture in the 1980s. An outdoor exhibition of his work is currently on view in Prospect Park: My Oasis, and a retrospective of his career, Jamel Shabazz: Eyes on the Street, opens at the Bronx Museum of the Arts in April.
Name: Jamel Shabazz
Age: 61
Neighborhood: Town of Hempstead
Occupation: Visual storyteller, photographer, and curator
What's hanging above your couch?
A photograph I call Man and Dog that I took on the Lower East Side, on Delancey and Orchard Street, in 1980. It's an image that really defined my career. My father always told me to have my camera out and ready despite the weather conditions, and here I am, a young man, 21 years old walking on a rainy day, and I happen upon this moment where this gentleman was shown the strength of his dog. The photograph also mirrors the relationship I have with my dog, a very similar pit bull, right now.
What's the first job you had in New York? 
I was 16 years old, and my mother got me a job working as a stock boy in Key Food, the local supermarket on Coney Island Avenue.
What color are you always drawn to?
Earth tones — green and brown. I've always been a natural type of person.
What work of art or artifact are you most surprised you own?
I have a gelatin silver print of a James Van Der Zee photograph of a man and a woman in racoon coats taken in Harlem in 1932. The photograph captivated me as a young child and was in a book called Black in White America by Leonard Freed.
Which New Yorker would you want to hang out with?
Spike Lee. You know, we come from a similar generation. We live not too far from each other. I would like to hang out with him and learn about his process and experience. He wanted me to consult on a film he was working on, then COVID hit. Hopefully the opportunity to collaborate will come back, where I could work as a consultant and set photographer.
What's the last thing you made with your hands?
A collage with my surplus photographs going back to the 1970s and 1980s. It looks like a puzzle, and the pieces are my life. COVID has allowed me to really go back into my archive and travel back to a time that doesn't exist anymore. It's healing for me to do that. I don't go out as much as I once did, so if I want to visit Central Park, Prospect Park, or Coney Island, I have thousands of photographs that take me back.
Is there one thing you own multiple versions of?
Black in White America. I have the original copy that came out in 1961, a paperback of the revised edition, and another signed revised issue that was given to me by Freed's wife, Bridget.
My father had the signed book on our coffee table back in 1968, when I was 8 years old. That book introduced me to a world outside of my Brooklyn community. It's a visual diary of Leonard Freed's experience here in New York and in the segregated south. It introduced me to a world that I was unfamiliar with. I was introduced to racism for the first time and Jim Crow. It enlightened me to a lot at a very early stage in my life. Later on, it taught me the power of photography. My father passed the book onto me and told me that if I wanna really advance in photography, it's very imperative that I study Freed.
What New York City museum do you always go back to?
The Brooklyn Museum. It's the very first museum that I ever went to in my life as a young child. It was my first introduction to the art world. I go back to look at the various shows. I like the little restaurant they have there and just the whole vibration — seeing diverse people from around the city, around the country, and around the world.
What do you always have next to your computer? 
A painting I commissioned of two photographs: one of my grandfather and one of his brother when they served in the military in WWII. It's important to me to be reminded of where I come from. I also have a beautiful poster my wife gave me on our first date more than 30 years ago, and it's called "The Teacher." That poster serves as a reminder of my responsibility as an artist and as a teacher to make a difference in the world.
Where is the best view of the city?
The J train, as the sun is about to rise or set, on a ride from Brooklyn over the Williamsburg bridge. It's always a delight for me as a photographer to look at the city, the landscape, and the Hudson river.
What building or object do you want to redesign every time you see it?
The boardwalk at Coney island. You know, it has this historic relevance, but I'd love to just give it a whole new look. Have a dog park and a bookstore and other cafes — things of that nature.
What's one thing you would change about your field?
Nothing, absolutely nothing. 
If you could live anywhere in New York City, where would it be?
I like the Kensington area of Brooklyn and the colonial houses, the library, the cafes, and it's close to Prospect Park — one of my favorite places.
What would you hoard, if it stopped being produced?
I would hoard film. Despite me enjoying digital photography, film is close to my heart. I would buy a whole bunch of HP 500 black and white film, which I've used throughout my photographic career and has rich blacks and grays.
What do you do to get out of a creative rut? 
I spend a lot of time by the ocean. I love going out to the beach and just meditating, regardless of the seasons. On Saturdays I like to turn off all the technology — no television, no radio, no phone — and just embrace the silence, burn some sage, and just reflect on my life.
Where was your first NYC apartment and how much was the rent? 
It was in the Midwood section of Brooklyn, a few blocks from Brooklyn College, back in 1984. The rent at that time for a one-bedroom apartment was about $350. It was a large building and I lived on the fifth floor.
Where in the city do you go to be alone?
I still like Prospect Park. 585 acres of natural landscape and I love all seasons. My aunt would take me to the lake when I was growing up. Back in the day, I would just go and just walk the paths and sometimes sit on the hill by the lake and just write or reflect on my journey.
Worst piece of career advice you've ever gotten? 
I've gotten two pieces of career advice from two photographers, and one told me not to pose my subjects. You know, I come from a place where you just can't take a person's picture without asking. To me, it's not right; it's rude, it's disrespectful. People look at my photographs and they just see posing, but really it's a conversation. I wanna know who you are because I feel that we met on this path of life for a reason. The photograph becomes evidence of the conversation. And it creates good energy too. I remember one time taking a person's picture without permission and the way he looked at me really bothered me because he was disgusted. I said I would never do that again.
What have you given away to someone that you wish you could get back?
I can't really recall anything, honestly. I give a lot of prints away to people, and I'm always happy to be doing it.
What's your favorite NYC restaurant and regular order? 
My favorite restaurant doesn't exist anymore. It was a vegetarian place called the Zen Palate, in the theater district in Manhattan. I would go with my wife on numerous occasions, and my favorite dish was called Orange Sensation. My wife is a great chef, so now I just eat her food.
What descriptive phrase do you want on your obit headline?
Here lies a man who worked throughout his life to create images that will bring healing into the world.