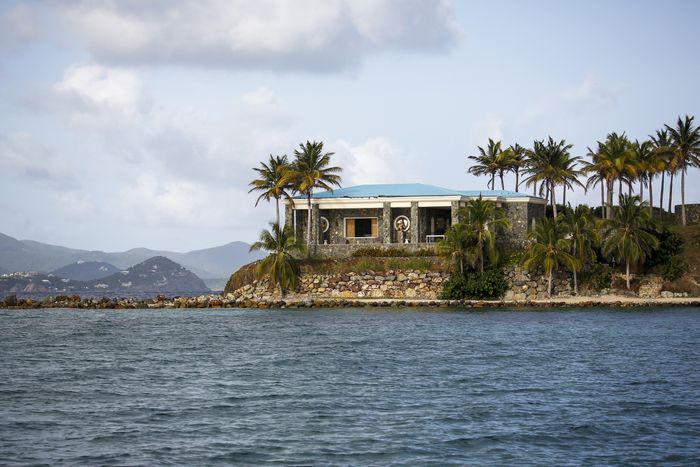 One of the many structures on Little St. James.
Photo: Marco Bello/Bloomberg via Getty Images
This week, Great and Little St. James, Jeffrey Epstein's private islands in the Caribbean, went on the market for $125 million. They are the last of the so-called financier's luxury properties to be listed since he died in prison in 2019. The 70-acre Little St. James is infamously known as "Pedophile Island," where Epstein and his associates brought and sexually assaulted girls as young as 11, according to Virgin Islands prosecutors. In at least one case, a young woman who'd been sexually abused tried to escape by swimming through shark-infested waters to nearby St. Thomas. Little St. James has numerous structures, including a main residential compound, gym, tiki hut, music pavilion, and four guest villas, in addition to two pools and three private beaches. Great St. James is 160 acres of mostly undeveloped land and, according to court documents, was purchased on behalf of Epstein, making it harder for girls that he brought to Little St. James to escape. With that kind of history, it seems hard to believe anyone would want to pay $125 million to call the property home, but someone definitely will.
Stigmatized real estate almost always sells eventually, especially property in the top tier of the luxury market. After all, places where unsettling events took place usually come with a steep discount. The Heaven's Gate house, a 9,000-square-foot mansion in an upscale neighborhood of San Diego, sold for $668,000 in 1999 — about half the price of what the owner, who rented the property to the doomsday cult, had paid for it five years earlier. Neighbors bought the house, and then promptly razed it, a common fate of notorious properties in prime locations — like the Sharon Tate house in L.A. As most people associate a house more strongly than the land it stands on with a heinous history, tearing the house down makes the property more palatable to future buyers.
Discounts and demolition have characterized the two Epstein properties that have already sold (out of five in his portfolio). His Upper East Side townhouse, a 50-foot-wide mansion located on what is considered one of the best blocks in the city, went for $51 million to a former Goldman Sachs executive, a considerable discount from the asking price of $88 million. Epstein's Palm Beach estate also traded at a discount, but a far less dramatic one — a developer bought it for $18 million, $4 million under the listing price. He then knocked down the compound, which was not particularly charming and, after the town rejected his plans for a spec mansion, sold the waterfront lot to a venture capitalist for a profit, at $25.8 million. Epstein's Paris apartment, an 8,000-square-foot space overlooking the Arc de Triomphe and listed for $13.5 million, has yet to sell, but it only went on the market in November and these things typically take a little time. The profits from these sales were being used to compensate Epstein's victims, but the program stopped in August 2021 after paying out approximately $121 million to more than 135 women. The proceeds of future sales will be used to settle outstanding lawsuits and the costs of the estate's operations, according to The Wall Street Journal.
The private islands and Epstein's remote New Mexico ranch, listed for $27.5 million in July, are a more difficult sell than luxury properties in hot markets like Manhattan or Palm Beach. Both are large, multibuilding compounds in remote areas, and such properties already draw from a much smaller pool of buyers. Private islands are a particularly niche luxury market and, unlike most high-end real estate, are not considered good investments. "If I hear from a buyer considering an island as an investment, I pretty much immediately tell them that's not the way to look at it," Knight Frank partner Edward de Mallet Morgan told Mansion Global. "It's very much a luxury acquisition, and depending on how you manage it, more of a liability than an asset." Another broker told the website that the typical sales turnaround time was between one and five years — and that's for a slice of tropical paradise without an extensively documented history of sexual assault on the premises.
Private islands are popular with celebrities, but it's unlikely that a movie star or top-tier athlete would want to take on the negative publicity associated with buying "Pedophile Island." Nonetheless, someone rich will no doubt eventually buy the islands, although there's a good chance that almost everything there, including the incredibly weird striped music pavilion, will end up demolished.