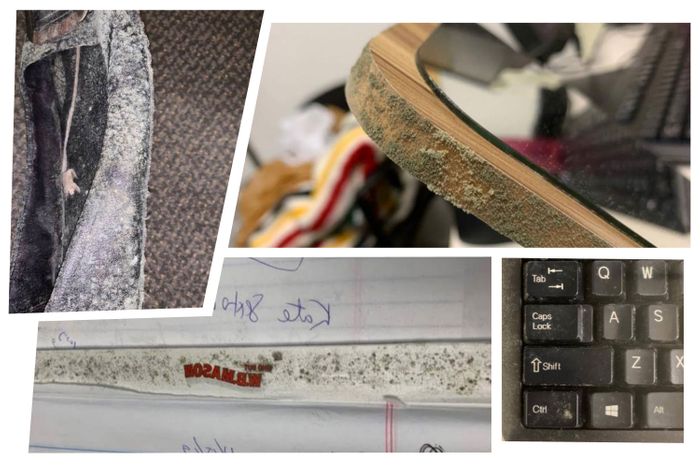 These photos, one of which was described by a mold assessor as "moldy shoe," are several gross images in
this inspection
that Legal Aid filed in court on Tuesday.
Photo: Airtek Environmental, Kings County Clerk
The Legal Aid Society, an organization famous for suing other people's bad landlords, is now suing its own. As amNY reported, when Legal Aid first returned to its six floors of Brooklyn offices in the summer of 2020, staffers found a nightmare mold infestation that had taken over their headquarters. Over the past two years, the nonprofit has been battling with its landlord, the real-estate firm Leser Group, to fix the problem, which one Department of Health inspector called the worst he had ever seen. (A terrifying description, given that New York is disgusting.)
"Mold was found in nearly every office, on the walls, floors, carpeting, furniture, computer equipment such as keyboards and monitors and on Legal Aid's employees' personal items of clothing," the complaint reads. After sending its employees back to working remotely, Legal Aid hired environmental consultants to investigate.
In January 2021, Legal Aid's landlord claimed to have fixed the HVAC system that was the root of the issue, and staffers returned to the office. But in June, the mold returned, with the aforementioned DOH inspector finding more than 30 square feet of mold, according to the lawsuit.
A spokesperson for Leser Group told amNY that the mold condition has been "fully remediated" and blamed Legal Aid Society for the issues: "It is regrettable that the Legal Aid Society, a tenant in the space without incident for over 20 years, is facing its own problems in getting its employees to return to the office, has taken to making highly inaccurate statements about the property and the lease." An audacious stand to take against a moldy office full of tenant lawyers.