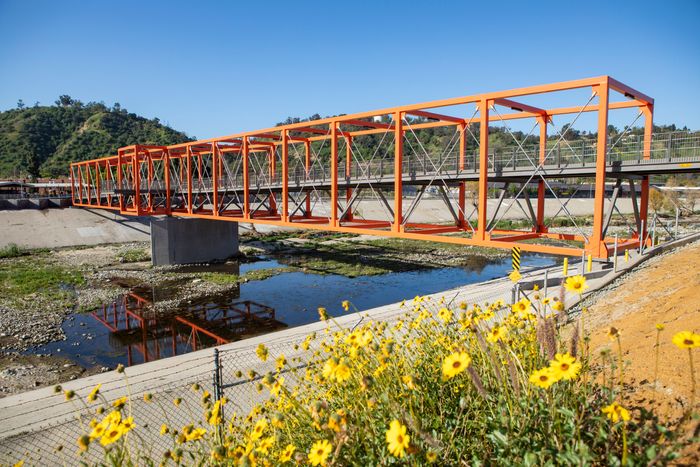 L.A.'s new Taylor Yard Bridge is one of three new car-free bridges to recently open over the L.A. River.
Photo: Fawad Assadullah/Office of Mayor Eric Garcetti
On Monday morning, as herons and egrets picked over gravel-strewn pools mirroring the clear blue skies, a few dozen people walked across the Los Angeles River. The journey from Cypress Park to Elysian Valley — over the hill from Dodger Stadium, just past downtown — once required a 2.5-mile trek along wide, notoriously deadly streets. It is now a pleasant ten-minute stroll, thanks to the newly opened Taylor Yard Bridge, a 400-foot traffic-cone-orange steel box-truss span.
There are three new car-free bridges on a widely used four-mile corridor of the L.A. River — one of the few places where it is a meandering naturalized channel not fully encased in a concrete chute — and this morning was a chance to honor all three at once. Standing before a sign that read "Bridging Communities" in the same bright orange as the bridge, elected officials from every level of government — city, county, and state — gave speech after speech about connection. California assemblymember Wendy Carillo cited the "walkable, livable green open space our communities need." L.A. city councilmember Gil Cedillo called it "a win for everyone" that "brings neighborhoods together."
Listening to the speeches from that morning, one might have gotten the impression that we were entering a new era for the city's nondrivers. But even though these bridges make photogenic backdrops for elected officials' selfies, the river remains plenty difficult to get to, over, or around. Lovely as they are, our city's three newest connections are still bridges to nowhere.
Crossing the L.A. River in a car is extremely easy. A driver can navigate over dozens of handsome historic bridges, which nonresidents may recognize from every car commercial ever made. Walking or biking is a different story. Virtually all of the older crossings are for cars, and even if they are technically accessible to walkers and bikers, they're treacherous. Along this part of the river in particular, known as the Glendale Narrows, the water is crisscrossed by multiple freeways requiring the negotiation of various on- and off-ramps, several bridges with multiple lanes for cars that are terrifying even if you're on a sidewalk, and no dedicated east-west cycling route. These new pieces of infrastructure were sold as ways to improve access to the river along a bustling, crowded stretch where everyone from coffee-sipping strollers to kayakers humping their boats to the put-in point might share a path not much wider than a freeway lane.
What they built are three extremely expensive crossings — the total cost of all three bridges ballooned from around $14 million to $47 million (paid for with funds from taxpayers, local donors, L.A.'s transit agency, and one equestrian enthusiast) — that may get you over the river itself but will leave you stranded on the other side.
I know this because on a recent afternoon, I tested all three bridges, each of which is connected by a path on the western bank, on bike and on foot. I started from the north, at the North Atwater Multi-Modal Bridge, a 325-foot cable-stayed design with a white, skeletal-looking fin that evokes, but doesn't quite achieve, the effect of a Santiago Calatrava knockoff. Crossing the bridge itself is a pleasant enough experience, with views of sandpipers alighting on sandbars and a delightful, old-timey tactile sensation from the wooden floorboards below. But there's an entire second half of the bridge that's off-limits to humans, with six-foot vertical wood slats fencing off a separate rubber-paved surface that's lined with giant springlike shocks to absorb vibrations. That's because this bridge is primarily designed for horse access to Griffith Park trails from the adjacent equestrian district to the east, where homes are zoned for stables with dedicated riding paths, including horseback-height beg buttons installed to help them cross at intersections.
After you cross the bridge, the only way to access the park is by slogging your feet or dragging your bike through a sandy underpass below the thunderous I-5 freeway. This path might be easy for horses, but it was not easy for me and would be impossible for someone using a wheelchair or pushing a stroller or cart, who would need to navigate an additional 1.5 miles down to another car bridge to get to the same place in the park.
Just south of the horse bridge is the Red Car Pedestrian Bridge, which opened in January 2020 and is easily the least aesthetically pleasing of the three new builds. Located in the shadow of the dramatic 1928 Gothic Revival towers of the Glendale-Hyperion Viaduct — slightly less dramatic since the historic street lamps were recently stolen — the bridge is little more than a paved span. It features a handrail-height ribbon of red, nodding to the fact that the bridge is built on the pylons that, until 1959, guided the Red Car trolley line over the river. Crossing the bridge itself is fine, but there's no safe place to keep biking and walking on the eastern bank. While the actual Red Car continued past the river channel, hugging the bluffs to the east to connect downtown L.A. to Glendale, crossing the Red Car bridge simply leaves you abandoned on the other side of the river, with no way to cross a tangle of very wide, very fast streets. I think I would have preferred that these pylons be reclaimed by a new rail line barreling down Glendale Boulevard instead.
Downriver from the Red Car bridge, the water bows to the east to snake along a railway corridor and a string of recently completed and in-the-works parks. Along this stretch of the river, there were no crossings whatsoever until this week. A home in Elysian Valley, also known as Frogtown, is about 550 feet from a home in Cypress Park, but to travel between them without a car meant using a nearby bridge designed for cars — 17 minutes on a bike, 49 minutes by transit, or an hour walking. The Taylor Yard Bridge's being located here is significant because it represents the first time these neighbors can actually call themselves neighbors. Its stunning design is up to the task. When I first saw its orange squares slide into view as I came around the bend — the trestle design nods to the nearby railroad without feeling pointedly nostalgic — I gasped, emotional as I imagined people from each side making that connection for the first time.
As I walked the bridge with its architect, Zoltan Pali of SPF:a, who collaborated with designer Walter Hood on the landscaping, he noted how the path slopes ever so gradually up through the squares, which creates an almost cinematic feeling of strolling through the frame rate of a stop-motion film. And on the eastern side, as I was delighted to discover, this bridge really does get you places. I zipped under the railroad tracks on a new access road with smooth sidewalks and a somewhat painless connection to a relatively quiet cycling route. A new master plan, which this bridge and a coming-soon adjacent park are part of, would make this the standard, not the exception, for all 51 miles of the river's route: easy car-free access to the river from both sides, with safe walking and biking paths blissfully integrated into neighborhoods. I exhaled for the first time since starting my bridge tour. This is how it's supposed to work.
That feeling quickly dissipated. Within a few minutes, I got stuck on the same L.A. streets, heaving a deep sigh as I got too spooked to ride with traffic and pedaled onto the sidewalk. As I rode back over the river on a different bridge, one made for cars without any bike infrastructure, whatever optimism I had gleaned evaporated. The bridges being celebrated that morning weren't enough. Just in the time that L.A.'s three bridges have been under construction, Portland opened a major car-free bridge over the Willamette River and a second car-free bridge over its 405 freeway, and it's poised to open another one this year. Each is connected to a citywide network of safe, accessible, dedicated walking and biking paths. They're built to take you where you want to go and ensure you're safe once you get there.
Instead, L.A.'s Taylor Yard Bridge just exposes the distance between the people who say they care about walking and biking in L.A. and the people who actually walk and bike in L.A. The ribbon-cutting invitation (which I did not receive) provided attendees with driving directions only. Meanwhile, people who arrived from the west that morning and actually came to the car-free bridge using car-free modes of transportation found themselves locked out, as the ceremony took place on the eastern landing. At the end of the event, after giving their speeches about the role of walking and biking connections in reducing traffic and smog, the elected officials each walked back to their SUVs and drove away.