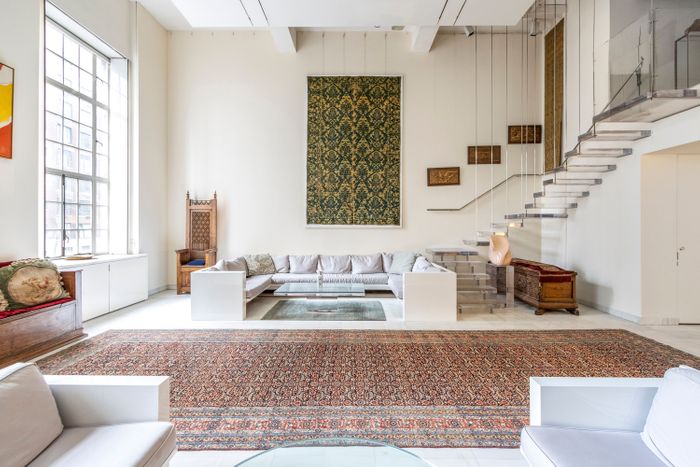 Photo: Courtesy of Brown Harris Stevens
The 22-story limestone co-op at 322 East 57th Street — nicknamed the Mr. Chow building, after the long-standing restaurant on the ground floor — has only 20 units. Almost all are duplexes (the last two units are triplexes at the very top) — which means that every apartment in the building has a two-story living room with 18-foot ceilings and enormous casement windows.
Named one of the city's "Top 10 Apartment Buildings" by the New York Times in 1977, the co-op was originally designed as a studio hotel in 1929. Some of the notable people who have lived there: Lily Pons, Tamara de Lempicka, Orson Welles, and Clay Felker, who was living on floors six and seven when he founded New York Magazine in 1968.
The unit currently on the market for $3,500,000 sits just under Felker's, on floors four and five. The interior style is, well, teasingly diverse. The living room skews minimal with white marble floors and an acrylic floating staircase (a clean canvas for the owner's Iranian art collection). Upstairs, one bedroom has beige carpeting and mirrored ceilings, while another is all wood (floors, paneling, and a wall of built-in bookshelves). The kitchen is somewhat rustic, with wood shelves and a butcher-block counter. Then there's the main bathroom, which is done almost entirely in blue marble.
The apartment was owned by a late renowned neurosurgeon for more than 50 years. "He bought it for $130,000 back then, with only $150,000 in the bank," says listing agent Maria Serena Torresy. "That would not fly today."