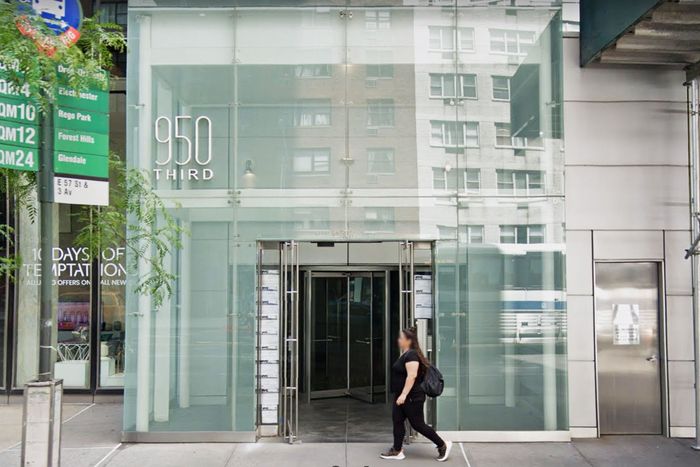 As a general rule, air rights — a building's unused development rights, which are calculated by the square foot and can be transferred to an adjacent buildable lot — are sold, not rented. Since their purpose is to allow a property owner to build higher than would otherwise be allowed, once they've been used, they can't be returned. At least not without cutting off the top of a building. So the owners of 950 Third Avenue, who have been leasing their air rights for 55 years, clearly feel they have the upper hand. "It is not possible to reverse the transfer of air rights, therefore there will be no return," owner Naomi Altholz wrote in an email to JAB USA, a German design company that owns the air rights, according to The Real Deal.
Altholz is currently leasing the air rights that enabled a developer to build the 32-story midtown tower in the 1970s for about $122,000 a year. This was a modest sum 25 years ago, but the amount will spike in 2025. Last year, Altholz announced that she didn't intend to renew her lease or give back the air rights, which JAB said amounted to a "flagrant theft" in court filings. They're asking for the court to award them $75 million in payment for what amounts to about 78,000 square feet of air rights. (This is roughly what Altholz paid for the entire building in 2010; although she bought it from her siblings, so she may have gotten a deal).
Is this a hardball rent negotiation tactic on the part of 950 Third? Yet another wealthy deadbeat tenant? Or the least diplomatic way ever to float a possible sale? It's not as if Altholz is a newcomer to real estate; she is married to a German real-estate developer, her parents were real-estate developers in Germany, and her brother, Axel Stawski, is a New York City landlord and developer (and the previous owner of 950 Third). Whatever the case, 950 Third may want to tread carefully. While it's rare for buildings to have their tops cut off for air-rights violations, it does happen. In 1991, the developer of a 31-story building on East 96th Street was forced to trim the structure to 19 stories (the developers attributed the overbuilding to an error on a city map). More recently, 200 Amsterdam on the Upper West Side has been caught in a lengthy court battle over the legality of its air-rights assemblage. At one point, a judge ordered the developer to remove the top 20 floors, but it now seems that the project will be allowed to remain at its full 52-story height. And in 2019, the developers of a 30-story tower on the Upper East Side had to redesign the nearly completed structure after community groups successfully argued it was larger than zoning allowed by as many as five stories.