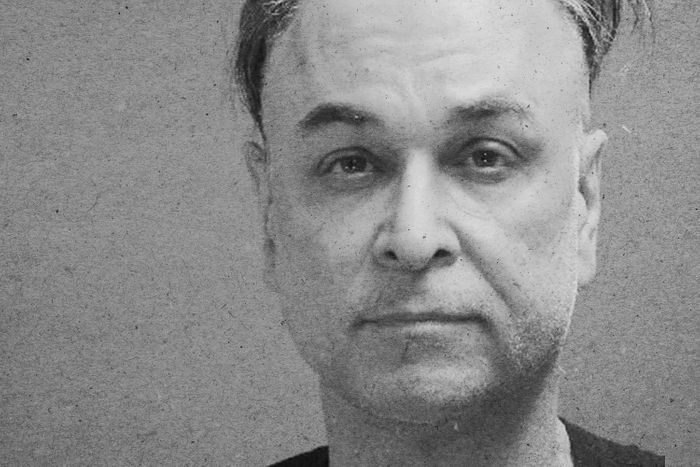 Gary Cabana, the suspect currently held in Philadelphia waiting extradition to New York City.
Photo-Illustration: Curbed; Photo: Uncredited/AP/Shutterstock
By his own account, Gary Cabana usually felt better after a trip to the movies. "My apologies folks," he wrote in February on Twitter, where the 60-year-old New Yorker obsessively shared film and television reviews, posted about awards shows, and ranted about politics under the moniker Cine in the City. Cabana said he "had a lil meltdown about 9 hrs ago." "I did what I always do when I need to chill out," he wrote. "I went to the movies. It's amazing what a nearly century-old movie can do to alter your perspective."
A month later, one of these trips to the movies ended in real-life horror. On March 12, reportedly after being turned away from an afternoon screening of the 1938 Katharine Hepburn and Cary Grant comedy Bringing Up Baby at the Museum of Modern Art, Cabana leaped over the reception desk and stabbed two young workers who were taking tickets in the lobby, plunging a knife repeatedly into their collarbones and sides. He then somehow avoided capture as news of the terrifying "MoMA Stabber" went viral. On the run, Cabana appeared to drop hints about himself on his old Instagram posts, describing himself as an actor and a narcissist; he claimed to have thrown the knife he used into the river and to have fled to Mar-a-Lago to confront Donald Trump, then that he had left the country using his credit cards. Three days later, he was arrested, found sleeping on a park bench in Philadelphia after setting fire to his room at a Best Western.
The MoMA Stabber quickly became yet another installment in a growing genre of New York–specific crime horror stories that have taken hold in the city during the pandemic: people being pushed onto subway tracks, attacked with hammers, followed into their apartments and murdered. This one had an added element of absurdity, with a suspect named like a lounge singer goading the public with Instagram comments about "the big D*CK of MoMA who believes the lies of little old ladies." But otherwise, it had a familiar perpetrator: Cabana was a "deranged homeless man," to quote the New York Post, who, the publication said, lived in a "midtown homeless shelter."
Cabana's housing status became a meaningful plot point once it was discovered that his most recent address was at a West 43rd Street building called the Times Square, owned and operated by an affordable-housing provider called Breaking Ground. The Daily Mail called it a "charity run shelter for formerly homeless people or people who are mentally ill." The New York Times quoted an unnamed resident who said that more of the building had been occupied by formerly homeless people in recent years, as if in reference to Cabana. Other outlets said that Cabana had recently become homeless after losing his job as a Broadway usher during the pandemic. It took just a week for the MoMA Stabber to be funneled into a March 20 Post op-ed assailing "Democratic state legislative leaders who resist any attempt at bail reform." The narrative had quickly solidified that Cabana was likely yet another dangerous person with unstable housing or no housing at all, at loose in the city, ready to snap at any moment.
Except Cabana's housing situation seems to be the most stable thing about him. "I mean, he was living in the same apartment for 20 years," says a friend of Cabana's who has known him since they were both theater students at Missouri State University in the 1990s. She saw the news reports that he had lost his job and had started staying at a homeless shelter, "and I was just like, That's not true," she says. "He lived in a small apartment. He had cats.'"
The Times Square is not a shelter; it is the largest supportive-housing residence in the country, and the first in New York City, created when housing advocates took over the dilapidated Woodstock hotel in the 1970s in a crime-ridden, forgotten Times Square. In 1990, Breaking Ground purchased the building and fully renovated it, as the neighborhood became the tourist destination it is now. The building houses over 650 people in small SRO-style apartments; tenants pay rent based on what they can afford. Breaking Ground offers access to health care, employment coaching, and mental-health counseling on-site (thus "supportive housing") through social-services partners. Residents can also see a psychiatrist, who can dispense medication. While some of the tenants are formerly unhoused, others live in subsidized housing because of physical disability, mental illness, or other issues. Breaking Ground did not divulge details about Cabana's medical history, but Curbed can report that Cabana was a tenant in the Times Square for more than two decades, in good standing.
His Missouri State friend says Cabana moved to the city in the early 2000s, when he told her he "spent time in Bellevue" — but nothing more than that. "It was a nervous-breakdown kind of thing," as far as she can recall. In one of the Facebook posts he wrote after the attack, Cabana said that "Bipolar is a tough road to hoe," but he had not disclosed any kind of specific disorder to the friends I spoke to.
Since moving into the Times Square, Cabana's whole life seems to have been the city's thriving theater and film scenes. He told friends he worked as an usher at various theaters when shows were on, and when he wasn't doing that, he was watching them or going to the movies. "He was fun-loving, and he was happy, because whenever I was around him, we were going to see movies," says another friend who met Cabana through a meetup for cinephiles all the way back in 2005. "He really loved watching and reviewing movies and theatrical productions." Cabana's Cine in the City Twitter account is a prolific record of his obsessions: He wrote about crying during a Bob Fosse documentary at Lincoln Center and how the first Broadway show he won tickets to in a lottery was a production of Rent. He kept a blog called The Reel Reviewer and more recently started a Patreon, on which he voraciously posted reviews, recommendations, and trivia. When his cinephile friend would visit, they would go see a show or double feature, then dissect it for hours while walking around the city or staying up late in a diner. He was always "scraping by" financially, she says, but the money he could spare, he spent on tickets and memberships.
The shutdown of Broadway and movie theaters in 2020 seems to have precipitated a kind of manic turn, Cabana's friends tell me. "When the pandemic hit," his cinephile friend says, "it ruined his livelihood and his creative outlets. He had nowhere to go. That's when he started to get really antagonistic and upset about the tourists that wouldn't wear masks. He wasn't saying, 'Oh, I'm scared to get infected.' He was saying, 'You're keeping me from having a job and having my creative outlet because you're not following the rules.'" In September, Cabana tweeted about the time period in which theaters were closed: "Hellz YEAH it hurt!!" he wrote. "I literally LIVE for movies & Bway theater, and the GD Covid took BOTH for over a YEAR!! Year & a half for the Bway?? Why, because 1st stupid mofo's wouldn't mask-up last Fall and NOW peoples won't take the vaccine #Fthoseaholes." In December, it would hurt again, when Omicron caused multiple Broadway productions to shutter temporarily. Cabana's political musings on Trump supporters, whom he blamed for the COVID-19 pandemic, became even more aggressive: "It's very very simple how to get rid of the racist white supremacists in your life," he wrote a few months earlier. "Just invite them to a big party and POISON THE FUCKING PUNCH BOWL and set the house on fire as U walk out the door."
Cabana's cinephile friend says she doesn't know whether he had a bipolar disorder but confirmed that he had lost income from ushering gigs. "If he really is bipolar, I thought, Well, crap. Maybe he was on medication and he can't afford it," she tells me. "Maybe he lost his medical, or maybe he never was on medication but his bipolar got worse." Cabana's icon on his LinkedIn page, where he goes by Joe Cabana, has the green "#OpenToWork" banner, though he also lists working as an usher and as a customer-service representative at the Nederlander Theatres for 17 years as his current job.
The past few months show a murky pattern of escalating confrontations in those reopened places Cabana loved. The Post reports that the police were called after two incidents at the Nederlander in recent months. Cabana was supposedly let go in November, though it's unclear why (the Nederlander would not comment on the Post's claims). Cabana allegedly punched a manager there in the face and sent threatening messages to a representative at the International Alliance of Theatrical Stage Employees union. He reportedly sent the theater's labor liaison a dead rat in a box. In February, he was also removed from the theater at the French Institute Alliance Française, in what the institution would describe only as an "incident." ("We contacted the authorities and revoked his membership immediately," FIAF said.) A musician named Wes Bourland, who first told Gothamist that there were "stories about this guy all over the theater community," said Cabana was posting aggressive tweets aimed at local performers.
In isolation, Cabana's experience of the city seems to have become his own kind of war zone, one increasingly hostile to his enjoyment of the movies and the theater. "He lived alone, and we weren't able to come up, our little circle of friends who were trying to keep him connected to the past and stuff like that," says Cabana's friend from Missouri. "To just let him know that he had people that cared about him." Online, he created a version of Manhattan that was constantly menacing him: After the incident at the French Institute in February, he retweeted himself from another account he appears to have run, Times Quare Loqweeta, one that identifies as a London-based sex worker and uses "she/they" pronouns. This account retweeted Cabana's and ranted about having "just picked up a friend of mine AT RIKERS??" "Yeah, he left a movie after being irritated by 1 of FIAF's NAZI house mgrs who actually tried to grab my friend WHILE THE MOVIE WAS GOING ON," Cabana wrote about himself (public records do not indicate he was actually arrested).
"That's heartbreaking," his cinephile friend said when I told her about Cabana's second identity. "He made his own support network." After the knife attack, Times Quare Loqweeta tweeted in support of the MoMA Stabber: "If Warhol were alive this guy would become a STAR at THE FACTORY and be immediately bailed out & exonerated for his crimes AS ART!"
Cabana is now undergoing a psychiatric evaluation ordered by a Philadelphia judge and awaits extradition back to New York. Meanwhile, the Post is still referring to him as a "deranged homeless man" days before Eric Adams announced that the city would remove the makeshift structures and personal items of hundreds of unhoused people living in dozens of encampments across New York over the next two weeks. At a recent NYPD breakfast, the mayor cited rampant homelessness and rising crime as the reason New York has become a "laughingstock of the globe" — but Cabana's decline doesn't fit into these attempts to connect the city's homelessness crisis with violence. What provoked Gary Cabana doesn't seem to have had much to do with his housing situation at all. Instead, what he lost was the theater — another layer of vital city infrastructure devastated during the pandemic, especially for those clinging to the financial margins with few other outlets for pleasure or relaxation. These "third spaces" of theaters, concert halls, and cabarets, the public-private venues that are neither home nor work, are a form of shelter, too.
When his MoMA membership was allegedly revoked after previous behavioral incidents (the museum would not comment on what exactly happened), and he was barred from the theater that Saturday afternoon, it seems to have triggered Cabana to cast himself as the lead in his own gritty movie about a city under siege. When he was arrested in Philadelphia, as he was led away in handcuffs, he boasted to the press, "I'm public enemy No. 1."