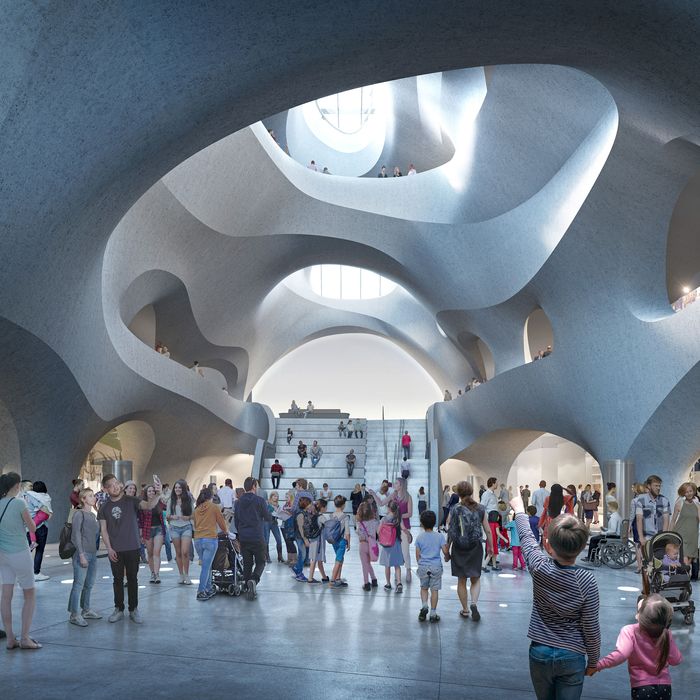 Rendering of the atrium in the Richard Gilder Center for Science, Education, and Innovation designed by Studio Gang.
Art: Studio Gang, Courtesy of the American Museum of Natural History
In many ways, New York is still living on the capital from investments made lifetimes ago. Two of the most ambitious cultural construction projects now under way, the renovation of Geffen Hall and the extension of the American Museum of Natural History, are updates of updates of institutions created in the mid-19th century. Both are wrestling with the same set of dilemmas: how to be forward-looking custodians of the past; how to transform and expand without violating the cityscape; how to grow more efficient but not more generic; how to avoid slipping from up-to-date right into dated. Lincoln Center and the New York Philharmonic have subsumed all those questions under one fundamental decision: to create an entirely new, technically advanced symphony hall inside the existing shell, a process akin to dumping out and repacking a half-billion-dollar suitcase. The museum has set itself an even more complex and delicate challenge, maneuvering a new segment into a beloved but chaotic agglomeration of buildings.
Less than a year out from its planned opening sometime next winter, the $431 million Richard Gilder Center for Science, Education, and Innovation, designed by Studio Gang, is shaping up to be a crucial addition to the city's life. The new incarnation will include a great wall of bugs, a library with windows, and a vast, digitally tricked-out theater. An immense atrium should supply cavernous awe (and steady event-space rental fees). And yet the cumulative impact is still tricky to gauge. In renderings, the new Columbus Avenue portal appears squishy and white, as if a pair of thumbs had pressed a hollow into a giant marshmallow. In its current larval stage, handmade and clay-gray and bumpy, it could be a work by a less gaudy Gaudí cousin. The curves are there, inviting but rough. The raw concrete façade has a crude fortified cast that picks up the toughness of the neighboring old sections, though without the softening of their reddish stone. The windows, not yet glassed-in, are gashes in the distressed fabric, as if the building were being constructed and ravaged at the same time. Soon, the exterior will acquire a coat of the same pale-pink granite that gives the Central Park West façade its classical sobriety. The rock is timeless, but new computer-controlled milling techniques can produce curved and faceted panels to cover the structure in a malleable membrane of stone. The process should yield an artifact like fossilized muscle, a fixed record of motion.
Science and technology are shaping large parts of the city's physical layout, from Columbia's new Manhattanville campus to Cornell Tech to Google's new real estate on Pier 57. Governors Island stands ready to receive a climate-science research center. But a natural-history museum is a different species of institution, a scholars' redoubt crossed with a zone of enchantment, a public service, and a repository of discoveries past. This mixture of missions has yielded an endearing hodgepodge of architectural styles. It began with a Victorian Gothic structure, designed by Calvert Vaux and J. Wrey Mould, rising in solitary splendor from the hilly rubble of the Upper West Side. No sooner had the doors opened in 1877 than the building was already considered confining and obsolete. Trustees started searching for a more durable plan that could accommodate with dignity and clarity the ever-multiplying store of scientific knowledge and the curious population of a burgeoning metropolis.
They settled on a plan by Josiah Cleaveland Cady, a massive four-by-four-block enclosure with four courtyards, a central tower, and turrets at every corner. In drawings, the complex appeared ready to welcome royals or repulse invaders. Construction began with the handsome West 77th Street façade — after which the plan was set aside, leaving the museum to grow bit by bit, scabbing itself over with expedient interventions. (One of Gang's slickest tricks was to open a window onto a new view of Vaux's original stand-alone building, which had been all but swallowed up by later additions: architecture as archaeology.)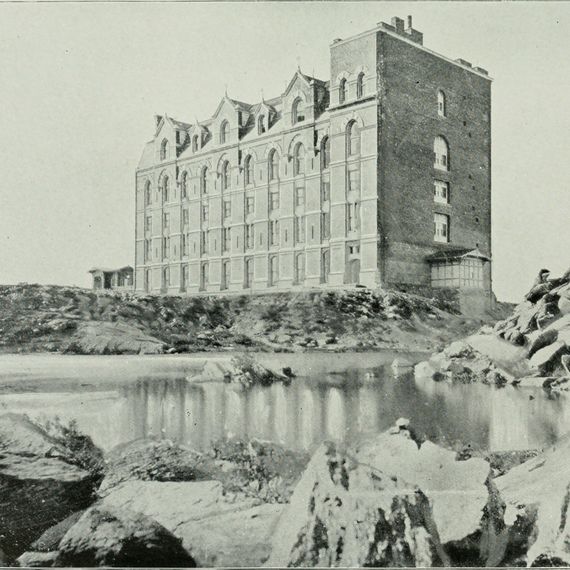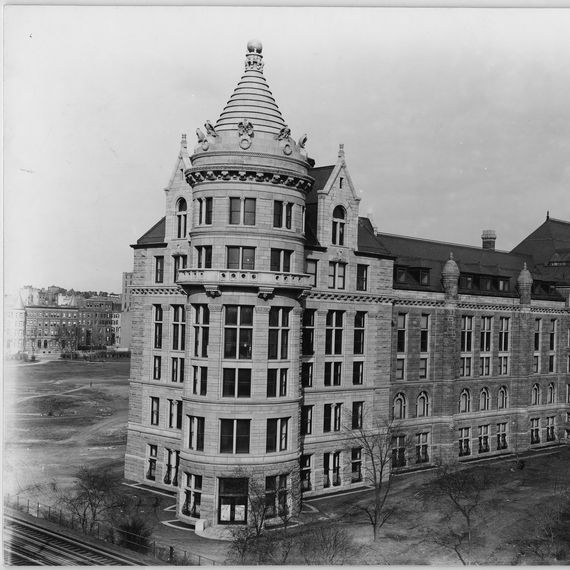 Scientific developments and design fashion move at different speeds, which has left the complex always slightly out of step. "In the 1920s the museum seemed to be searching for a way to intrigue a public for whom Darwin's revelations no longer seemed as interesting as Freud's," wrote Robert A.M. Stern, Gregory Gilmartin, and Thomas Mellins in New York 1930. A decade later, a more modestly inclined museum eked out the Art Deco Hayden Planetarium, before going quiescent. In the 1940s, the board came dangerously close to plowing ahead with a design by Aymar Embury II and Eliel Saarinen that would have palisaded the entire campus in glowering penitentiary walls.
The metaphor of museum as palace, bastion, or monument always sat uncomfortably with an institution dedicated to curiosity and delight. Generations of children didn't care: They scampered down stone-sided hallways, fixating on the dino skeletons. If would-be ichthyologists or astronomers were daunted by the sheer rock walls, the numbers don't show it: 5 million people visit the museum each (non-COVID) year. One of Studio Gang's tasks is to manage those crowds. Most of the new wing is a surgical insertion that reaches deep into the complex, linking buildings that had merely coexisted and organizing traffic among them to eliminate cul-de-sacs and reduce the number of visitors wandering, lost, down forgotten hallways.
The next major addition was the 2000 Rose Center for Earth and Space, the orb in a glass cube designed by Polshek Architects (later renamed Ennead) that replaced the Hayden Planetarium. That belated glass house was pretty much the only modernist entry in this ad hoc collection of styles. Perhaps to compensate for the museum's having skipped so much of the 20th century, Gang's design invokes two major concrete-based movements: thin-shell structures that gave us lithe and fluid buildings like Saarinen's TWA Terminal and the kind of brutalist colossi that have proven almost, but not quite, indestructible.
Concrete usually comes in two flavors: precast units, molded in factories and trucked to the site for assembly, and poured in place, which is the typical way of fabricating floor slabs, foundations, and columns. Gang opted for a third way: shotcrete, a mixture sprayed at high pressure out of a nozzle onto forms fashioned out of rebar and wire. Regularly used for swimming pools and tunnels, here it becomes an expressive sculptural medium. Instead of creating a traditional, multilayered cage of column and beams, with weatherproof layers on the outside and smooth finishes within, the architects have unified walls, ceilings, columns, and bridges into a continuous, cavelike structure. In a few places, workers have already brought the walls to their finished state, which is raw, unpainted, and rough to the touch. Such deliberate lack of polish in a building this refined represents a statement: Brawn is back.
It's too soon to judge whether the Gilder Center will be able to deliver on its ambitions, or if the word "innovation" in its title turns out to be simply a euphemism for "confusion." I worry that Gang's flowing, plastic forms might represent a certain mushiness in the goals. But even after years of planning, design, delays, and construction, the project couldn't be more urgent. This next chapter comes along at a time when science is as politically volatile as it was a century ago, when creationists and evolutionists battled it out in court. The museum's president, Ellen Futter, launched the project back in what now seems like a practically Paleolithic political era (2014) by invoking "a real gap in the public understanding of science." Eight years, one pandemic, and a collapsing ice shelf later, that reads like an anodyne understatement, not a call to arms. Making scientific knowledge immediate, engaging, crystalline, and available has become a matter of survival for us all.