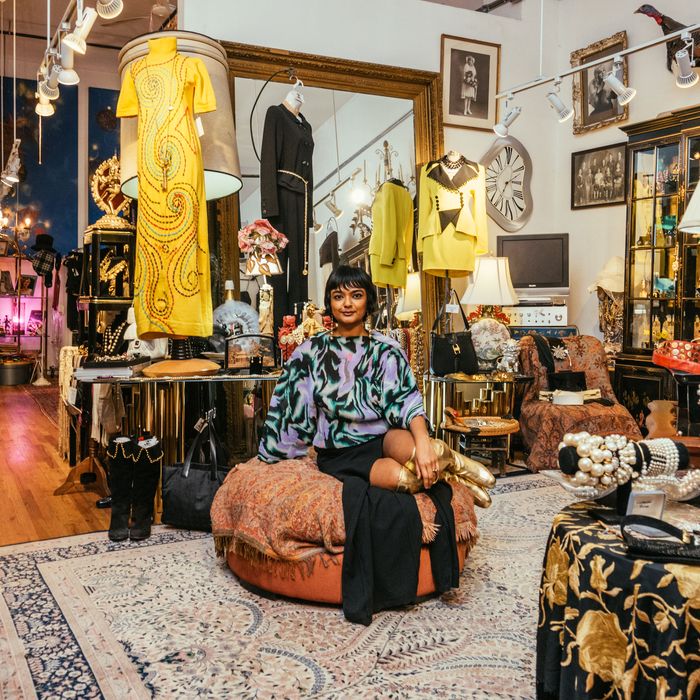 The Williamsburg-based writer and perfumer Tanaïs at Le Grand Strip.
Photo: DeSean McClinton-Holland
The writer and perfumer Tanaïs is something of a rarity in Williamsburg: a long-term resident. "There's a lot of newness in this neighborhood," they said. But since graduating college and moving into their apartment in 2008, they've created a home wholly unlike the austere new builds outside. Their interior Williamsburg is vibrant and warm with massive built-in bookshelves, a turquoise wall, and a vintage map of India hanging alongside artisan pottery and Tanaïs's own fragrances.
Their new book, In Sensorium: Notes for My People, was written there — but not by design. It was meant to revolve around a perfume-making journey on the Ganges, Meghna, and Padma river system that winds through India and Bangladesh. But the pandemic made those plans impossible, so Tanaïs instead turned to perfumery and historic records to reconstruct a sense of place from afar. The East River, just blocks away from their apartment, is nothing like those massive, border-crossing waterways, but the ferries that circulate from Manhattan down to the Rockaways remind them of the boats their family in Bangladesh often travel on.
There's no shortage of things to do in North Williamsburg, but the busyness can make it difficult to find solitude. "It's hard to have secrets in a neighborhood like this," Tanaïs said. "Whatever its reputation, it's different if you actually make a home here. You have to find pockets of quotidian life." The area's waterfront, its many vintage stores, and the businesses that have held on for years — like the printing shop where they print bound drafts of their works-in-progress — are all part of Tanaïs's Williamsburg.
Orient Grove
2 Orient Ave., at Metropolitan Ave.
The walk from my apartment to my studio is 20 or 30 minutes, and it's super-meditative for me to move my way through East Williamsburg and see the neighborhood. I walk past this garden on my way there. You know the way all the trees look in the summertime, that moment in the summer when you're like, Oh my God, everything's lush and alive and growing and blooming? Those moments when you feel completely energized by green? This garden has been that for me — it's like a secret garden on Metropolitan Avenue. I almost don't want to touch it; I just know that it's there and being tended to. I want to have a little incognito moment and move on.
Rabbits Vintage Fashion
120 Havemeyer St., at Grand St.
One of my favorite pastimes is vintage shopping, and I've been very fortunate to have wonderful, curated, beautiful vintage in my neighborhood. Rabbits is owned by this incredible Japanese woman whose name is Saori Kuno. It's very much her point of view: The aesthetic is chic New York meets a very kind of tailored Tokyo vintage — kimonos, gorgeous silk pieces. I have a beautiful pair of black leather gloves from there.
Le Grand Strip
197 Grand St., at Driggs Ave.
Le Grand Strip has a lot of hot French vintage poster girl, New Wave–babe clothes and jewelry. It's very glamorous. My most beloved find is this Morgane Le Fay sheer nude chiffon ensemble — it's a dress, it has a scarf, there's this little capelet. And what's so beautiful about this piece is when we hear the word nude, nude has not always included my skin tone, you know? And when you find nude lace or nude sheer fabric that is caramel brown, that matches your skin tone — I buy it. It feels like wearing a sari. When I found it, CC, the owner, this amazing French woman, was like, "You have to have this. This was made for you." Sometimes things call to you.
Internet Garage
218 Bedford Ave., at 5th St.
It's part of a little mini-mall underneath the Chabad, and it's where I print anything I need to print, like drafts of my book. It's this OG spot in the neighborhood that makes me think, I want it to be there forever for me to print my books and what I'm working on forever.
The person who runs this shop is an icon — Serge. He is an incredible cartoonist, and he's drawing all day. His artwork is all over the walls of this place: drawings of these very intricate high-fantasy worlds on huge sheets of paper. He'll hand you your prints and be really excited for you: "What are you working on? This is what I'm working on." And that exchange always brings a smile to my face, to see an artist just comfortably working, to see what he's creating and see him happily interacting with all the visitors and tourists and regulars who come through an internet cafe.
Shobha
76 N 4th St., at Wythe Ave.
Hair removal or hair shaping is such a ritual; you just feel completely renewed and transformed when you shape your eyebrows. It kind of makes you feel like you've totally had a makeover even though it's just a couple of hairs being pulled in a strategic manner. Shobha is luxe, it's comfortable — maybe a little uncomfortable, too, but I feel like that's comforting as well. Because you're like, My thing's going to be on point. [Laughs.] I don't need to be perfectly comfortable.
Spoonbill & Sugartown
218 Bedford Ave., at 5th St.
They have such interesting books, and of course there's the main table on the front. I remember when my first novel was on that table, I was like, Oh my God, people can find my book. The stock kind of ranges from the esoteric to the design focused to books of philosophy and cool essays and just the moment — the culture. I just bought a Malcolm X biography called The Dead Are Arising for my partner for our anniversary. We usually get each other gifts from there.
Domino Park
15 River St., at 1st St.
I walk here a couple times a week. This area used to be empty lots and construction, and now it's highly developed and full of designer urban planning. I can't help but remember how it used to be, and I miss the rawness of it. But I'm grateful for the comfort … I love how so many people can enjoy this space. It's a place to kind of find solitude but be among people at the same time.
A few weeks ago, there was a fire in one of the buildings in Manhattan, and everyone on this side of the river was watching that side of the river. You think about what the skyline used to be, and you think about the Twin Towers, and you just get really pensive and mourn the city as it used to be. I feel a whole swirl of emotions being there.
Bunna Cafe
1084 Flushing Ave., at Knickerbocker Ave.
I've been with my partner for ten years. Bunna has definitely been our go-to to have that beautiful meal at home for birthdays and anniversaries. You break bread with Ethiopian food because you're dipping into the same shared plate. So it's a very bonding experience. I love the shai — the way that it's spiced with cardamom and that particular blend of Ethiopian tea — and the vegan feast for two with injera. The misir wot is incredible; it's a deeply fragrant spiced red-lentil stew.
Caracas Arepa Bar
291 Grand St., at Roebling St.
I always get the La Mulata arepa: cheese, black beans, jalapeño peppers, plantains. Delicious. In the backyard, there's a tree; it's beautiful to have a courtyard moment in our neighborhood. My partner's a regular, I'm a regular, and the staff is incredible — super-friendly and lovely people. To know that it's still thriving in my neighborhood gives me a sense of continuation and normalcy in a time when that's not a given. Residents in Williamsburg come and go, but certain businesses are owned by people who are trying to build some kind of legacy. They're trying to stay here for as long as I am.
East River Bar
97 S 6th St., at Berry St.
When we were reemerging and looking for a place to do my partner's birthday, we were like, "What's like outdoors but not experiential marketing energy and not too expensive?" And we realized, "Oh, perfect, East River Bar." It has a gorgeous backyard where you can sit for hours. There's no theme besides the fact that it's a bar by the East River. It just hits all the notes.
If you live here, you want to go to places like that. Not where it's popping with the hottest new whatever. I just want simplicity. I crave that.