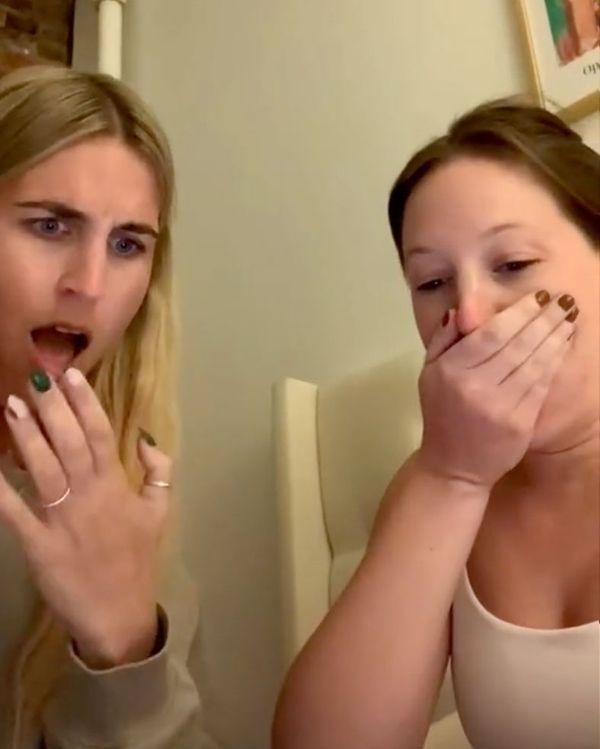 The incredulous and appalled face of @camptaylur in reaction to #nyc #rent increases.
Photo: @camptaylur/TikTok
TikTok is an app that relishes suspense ("POV your mom has the weirdest hobby in the world") and reveals (photos of carrots dressed up to look like little people), so it makes sense that it's become the platform of choice for New York City tenants reacting to their astronomical rent hikes.
"I just got my new lease and guess what they're raising my rent 48 percent and it's fucking legal," one woman says before laughing maniacally into the camera. "My life is great, I haven't had four emotional breakdowns this week." Another TikTok is captioned, "tell me you just got your NYC rent increase notice without telling MEEEE," as two women are filmed reviewing the new terms of a lease. They scream when it's revealed their rent is going up $1,000. (One of them laugh-cries as the other puts it plainly: "She cannot afford.")
The deranged cackle is a recurring theme. Another woman smiles and laughs, the sun on her face in little stripes from the blinds, as we learn that her rent is going up from $2,500 to $4,360 (which is a deal compared to the woman facing a jump from $2,500 to $4,950):
There's a perverse draw to these videos, which document the absurdity and despair that is the city's current rental market. Manhattan rents in December were the highest ever recorded for that month, and overall the median rent for a one-bedroom in the five boroughs increased by 25 percent over the last year.
The comments have become a forum for a miserable kind of renters' camaraderie. Others see them as a glimpse into their future: "It's fine," one TikToker captions her post as she serenely sips on her iced coffee: "Seeing videos of NYC rent increases knowing you're next."