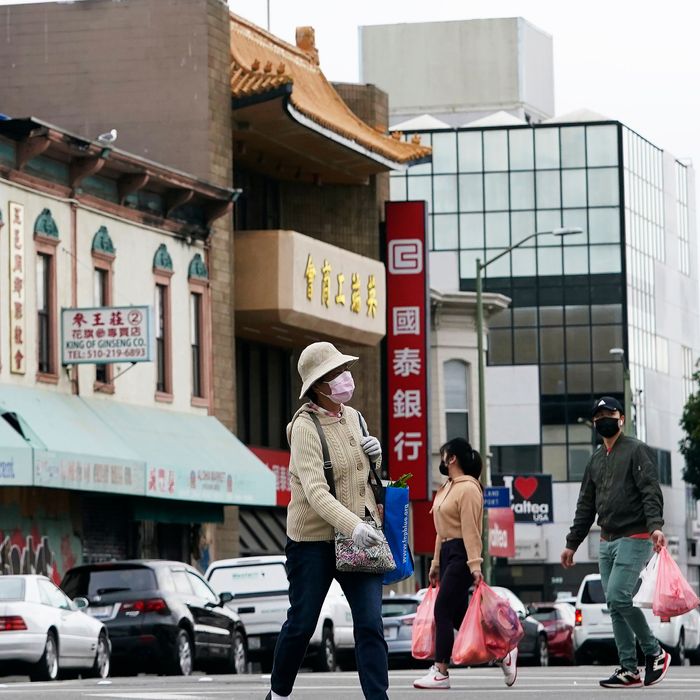 Photo: Jeff Chiu/AP/Shutterstock
On a Sunday evening in Oakland Chinatown, two Asian men in their 20s and 30s hurried down the sidewalk with Zoe Li, an Asian woman in her late 60s who was dressed all in black, her face covered in a black mask. The street, normally crowded with merchants and visitors, was quiet and empty. The two men, Derek Ko and Sam Li, had responded to Zoe's request for chaperones to accompany her on the two-block walk from her cooking-appliance store to her car. It wasn't the distance she needed help with. She told them that the week before, a group of people had spit on her while she walked alone down the same stretch of sidewalk. After the young men dropped Li off at her car, they went their separate ways. Their shift had come to an end.
Ko and Li are volunteers with Compassion in Oakland, a group that formed last February to accompany Asian seniors in Chinatown. It's part of a new wave of mutual-aid organizations in the Bay Area responding to the high-profile attacks on Asian Americans in the region. Hundreds of individuals have poured in from the Bay Area region, including Vallejo and San Jose, to patrol the city's Chinatown. Compassion in Oakland is one of the newest groups, expanding from a viral Instagram post by one local resident into an organization with hundreds of trained volunteers in just a few months. Its rapid rise and its diverse demographic makeup has raised many questions. But the primary one remains: Who keeps Chinatown safe?
Compassion in Oakland began when 26-year-old Jacob Azevedo, who works graveyard shifts several blocks from Chinatown, decided he had seen too many videos of attacks against Asian American elders on the streets. Azevedo, who identifies as Latino, started walking around Chinatown with his pit bull after his shift ended. But he needed help, so he posted on Instagram, "I will be in the Chinatown area offering myself to ANYONE (business owner, employee, or shopper) who it would make them feel more at ease if they had someone walk with them." His post quickly went viral, and hundreds of strangers asked to join him. For Azevedo, who had "never organized anything larger than a birthday party," the response was overwhelming.
Azevedo began by setting up an email account for the group. Then he focused on what has taken the most time and commitment: gaining the support of organizations in Chinatown, a community known to be tight-knit and wary of outsiders.
He met with Carl Chan, president of the Oakland Chinatown Chamber of Commerce, to facilitate introductions with merchants. As someone active with the chamber for 35 years, Chan has been the de facto spokesperson for Oakland Chinatown, often appearing at the podium at press conferences and Stop Asian Hate protests, coordinating patrol groups, and generally pulling strings here and there on behalf of the chamber. Some call him the "mayor of Oakland Chinatown."
Chan was wary at first. He initially promoted another patrol mostly managed by elderly Chinese residents and retired merchants. But sensing the Compassion in Oakland founder was sincere, Chan agreed to field the outpouring of initial calls from the media asking for Azevedo He also permitted Azevedo to stamp the chamber's logo on the group's patrol badges to boost its credibility.
As hundreds of emails from the public poured in, Azevedo created an online form for volunteers; the group doesn't have any requirements beyond a recent negative COVID-19 test result and a completed vaccination card. He selected four people in their 20s and 30s to lead Compassion in Oakland with him, including Ko, all of whom had experience in community organizations and nonprofits.
A few weeks after his wildly popular Instagram post, Azevedo raised more than $12,000 to purchase personal-safety alarms for the Chinatown community. In the first months of operation, Compassion in Oakland raised more than $100,000. Azevedo promised in his fundraiser that "any excess funds will be going back into the community based off recommendations from the Chamber president."
Some long-term residents were uncomfortable with all the money flooding into the group. "Because Compassion hasn't had a consistent presence, people in Chinatown feel a little uneasy about it," said Jennifer Li, a native New Yorker now living in Oakland Chinatown. Joanna Au, another Oakland resident, couldn't help but be a little suspicious of all the people coming to Chinatown claiming they wanted to help. "I just feel like people would want something out of it that benefits them," she said. So she observed Compassion in Oakland over several weeks and mingled with the young volunteers. "Who would have thought these young kids want to help and dedicate their time to do this?" she said. For her part, Au heard merchants wanted more of a security presence on the street and raised more than $110,000 to hire a group of private armed security guards for Chinatown.
Ko knows that longterm Chinatown residents have questions about the group. Despite this, he said, "I don't feel like we're outsiders." He added, "Are we being invited to people's houses? No, that's not going to happen. But people are openly reaching out to us and asking us for assistance or more open to approaching us." While Azevedo has stepped back from the group, Compassion in Oakland continues to patrol the neighborhood; every week, the leaders sift through volunteer applications, train people, and organize them into "pods" to patrol Chinatown. The organization has around 100 active members as of January, and the group's hotline has received more than a hundred requests for chaperones from Chinatown residents and workers including those who seek help in Chinese, English, Vietnamese, and Korean.
So far, volunteers haven't confronted any life-threatening situations, though they have encountered strangers yelling racial slurs at Asian people on the streets. Pod leader Amy Wong, a 28-year-old art director at a finance tech company, described one incident in which there was "a man that was screaming anti-Asian epithets in the street, and it became this whole scene." Fortunately, after volunteers jumped in to mediate and talked to him, he left the area.
As in many community-based safety efforts, the group isn't united on whether to involve law enforcement. From the beginning, several volunteers, including Jennifer Li, have raised concerns at meetings about bringing police into the process. "I literally got shot in the back by OPD while marching for George Floyd in Chinatown because they just fired a bunch of rounds into Chinatown, and they actually hit a Chinatown elder," she said. "I was so pissed because they were not cognizant of their surroundings. And there's no language competency. So it's like, what's the point of me calling the police?"
But Chan and other community leaders have been calling for more police presence and, in fact, welcomed the increased presence of California Highway Patrol.
Last April, a man punched Chan in the head while he was on his way to visit a victim of another Chinatown attack. Chan identified 25-year-old James Lee Ramsey out of a police lineup and said the incident was a hate crime, but the Alameda County District Attorney's Office dropped that charge, and Ramsey was sentenced to three years in a plea deal. "Unfortunately, this crime should be considered a hate crime, but the hate crime was dropped for him admitting his guilt for the other" charge, Chan said. The attack led Chan to urge California governor Gavin Newsom last August to declare a state of emergency in the city of Oakland and increase the local- and highway-police presence. But Chan's enthusiasm for more police presence isn't shared by all the members of Compassion in Oakland.
"I'm very aware of the anti-police sentiments," Ko said. He added that the leadership isn't leaning one way or the other on the issue and wants to be transparent with volunteers on when exactly they would call police for help. "One of the first things we told them is we do work with law enforcement," Ko said. "We're working with them as needed and as appropriate. We're not just going to call the cops on anybody. The whole point of us escorting people is to prevent anything from happening anyway."
At the first volunteer meeting last February, Ko gave a presentation on "Alertness on the Streets," the group's model of behavior while in Chinatown. The group referenced a color-coded self-defense methodology used by the Department of Homeland Security and in military training called the Homeland Security Advisory System. But Ko is wary about drawing connections between Compassion in Oakland and the DHS. "I don't want to have that association, but it is a valid system to train people to be more aware and alert when they're on the streets," he said. "We're just going to be in a constant state of vigilance."
As a child, Karson Kwan used to accompany his grandparents on shopping excursions in Oakland Chinatown. Now he is a 24-year-old sales engineer at a software company and volunteers as a pod leader with Compassion in Oakland. On one trip, Kwan and five Compassion in Oakland volunteers walked an elderly man home. It reminded him of walking with his grandparents down the same streets years ago.
But the community he once knew no longer exists. "There would be somewhat of a restaurant scene in Chinatown back in the day in 2013," said Kwan. "Nowadays we don't even think about going to Chinatown to eat because we're afraid. I've seen businesses close as soon as the sun goes down." The district lost 70 to 90 percent of its businesses at the start of the pandemic, according to the chamber of commerce. Local news outlets reported a 30 percent increase in reported violent crime in Chinatown from mid-November 2020 to early February 2021. Even Shan Dong, a culinary institution in the neighborhood, is reconsidering whether to stay open after 30 years. "We were hoping that one day this area would blossom," said Charles Hung, the manager of Shan Dong. "But nowadays we feel like this community is deteriorating to a point that maybe we should relocate or call a retirement."
Kenneth Lam, who co-owns a floral shop with his wife in the area, said many businesses close several hours earlier than they did pre-pandemic, leaving the streets eerily silent. "Chinatown is kind of like a ghost town now," said Lam. "People are afraid because they hear stories of all the violence and drive-by robberies." Lam and his wife were the victims of a high-profile attempted robbery in late January. Despite their attack and others being shared on a Chinatown-merchant whisper network, the couple finished their shift at their shop and returned to work the following day.
Because many crimes go unreported, it's hard to know how high crime is in Oakland Chinatown. Nationally, the statistics are grim: The Center for the Study of Hate and Extremism found that anti-Asian hate crimes reported to police departments across the nation increased roughly 150 percent in 2020 from the previous year. Another effort led by Stop AAPI Hate to track anti-Asian hate crimes produced over 11,000 self-reported incidents from March 2020 to December 2021.
For a decade, Janet Cheung has been a de facto resource for local crime victims as a librarian at the Asian Branch of the Oakland Public Library in Chinatown. She has met many crime victims seeking to report incidents. "We actually don't have security in the library now, which is why the Compassion in Oakland is a great volunteer service," Cheung told me in April. "Lately, I have been telling the staff if they don't feel safe, they can certainly make the phone call and schedule for these volunteers to walk with them."
Still, many older Chinatown community members remain ambivalent about the chaperone services. "The older generation doesn't want to bother people and be seen as weak and vulnerable," said Jay, a merchant in her early 20s who asked to keep her last name private. She works in a shop where some employees park farther away to avoid paying for parking meters and dealing with parking restrictions. She saw the need for Compassion in Oakland but wasn't entirely convinced. "They might want to take advantage of it because they're not trying to get attacked," Jay said, but "there's people who have been taking the bus by themselves for years who've been doing fine."
Winnie Tam, a 23-year-old San Francisco resident, bumped into Compassion in Oakland volunteer David Zhong in Chinatown while on a shopping trip with her grandmother, an Oakland resident. She said language barriers were one reason her grandmother would hesitate to talk to strangers — even if they were lending a hand like Compassion in Oakland. But she herself plans on volunteering.
For most Oakland Chinatown community members, peace of mind is more important than worries about whether groups coming into their neighborhood are from the community. "Mentally, they make us feel safer," said Hung. It's reassuring to him to see the different patrols walking in the neighborhood. But Cheung said she hopes "we don't need this long-term. If we need this long-term, that means the Oakland and Asian communities are really suffering."