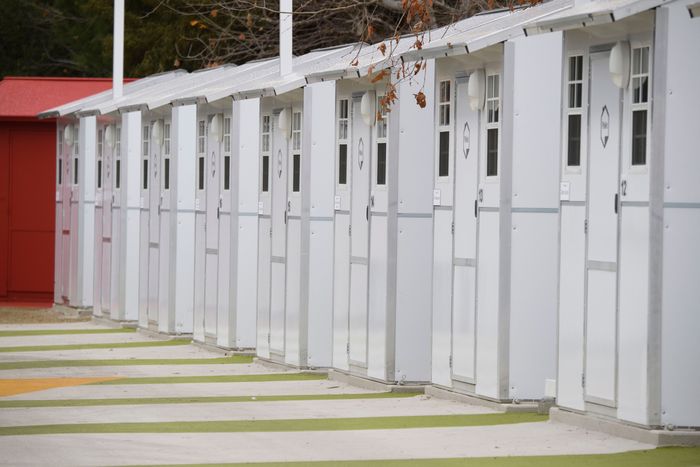 Photo: Patrick T. Fallon/AFP via Getty Images
Black smoke billowed over Oakland, California, on Monday as a major fire at a tiny-home village near Lake Merritt claimed three 64-square-foot shelters and the belongings of three residents. No one was hurt, but Tammy Michell, who had just moved into her home in December, said she barely made it out as the "walls were melting" around her. "I lost everything," Michell told The Mercury News. The structures, made by a Seattle-area company called Pallet, are currently being used as shelter for formerly unhoused residents in at least 70 villages in the U.S., according to a representative for the company. In the wake of the disaster in Oakland, however, advocates, city officials, and residents of the tiny homes are asking about the safety of these units — and the long-term feasibility of tiny homes as a solution to the housing crisis.
Oakland officials say the cause of the fire is still under investigation, but this isn't the first time this has happened. In October 2020, four Pallet shelters burned down and two were badly damaged in the Los Guilicos Village in Santa Rosa, California, when a wildfire encroached on the 60-shelter property. In December 2020, 20 Pallet shelters burned down in the Ramsey Street Village in Banning, California, displacing 40 people. After the Banning fire, Pallet changed the materials used to make the shelters from high-density polyethylene to a fiberglass-reinforced plastic with foam insulation. The company denied the change was related to the fires. "It's more durable and stands up better with sun exposure," Pallet founder Amy King told Invisible People when asked about the new material. "It has nothing to do with flammability and everything to do with the panel itself being equally weighted on both sides." (A fire marshal I spoke with said that the two types of materials are not dramatically different when it comes to fire resistance.)
Pallet's shelters are equipped with smoke detectors, CO monitors, fire extinguishers, and an emergency exit panel, the company's spokesperson Brandon Bills says. Those things are important, says Lauren Andrade, a fire marshal in California's Orange County, but her concern is more about the very small spaces inside the shelters, which, in some cities, house two people. "If it's packed to the top, that will put out a lot of BTUs and spread quicker," she says. "Is there someone checking in on the fire loads inside them?"
Even though Pallet works with cities to set up villages, setting safety regulations, including physically siting the structures, is left to the cities themselves. Blocked pathways between Pallet shelters have been a concern at the Oakland site before. "There's been instances where our teams have been over there and identified paths that need to be cleared," says Michael Hunt, chief of staff for the Oakland Fire Department. "We will be looking closely at the distances between those structures." In Los Angeles, which is currently housing hundreds of people in Pallet shelters, the structures aren't large enough to qualify as official housing units, so they are installed under an emergency ordinance. Documents show L.A. officials tried to squeeze more units onto a parcel by narrowing the distance between shelters, but fire marshals required the shelters to be ten feet apart. The city also requires other fire access elements like a 20-foot lane down the center of the site, says Michael Lehrer, who has designed several Pallet shelter villages for L.A. "They make designing it harder, and they might even reduce the number of units that are buildable," he told me. "But such requirements are not negotiable."
Fire isn't the only danger that people living in informal housing face, but it's definitely the most common, where survival depends on the ability to cook and stay warm. In L.A., home of the largest unsheltered homeless population in the country, encampment fires made up one-half of all fires that the LAFD responded to during the first quarter of 2021. After a series of deadly fires in the Bay Area, people in encampments began installing their own smoke detectors and fire extinguishers.
In California, where cities are doubling down on the criminalization of homelessness without creating enough permanent units for the unhoused, the tiny-home fix is hardly sustainable. "Everyone acknowledges that there's nowhere to move to from these shelters. And if it's not permanent housing, it doesn't actually solve homelessness," Shayla Myers of the Legal Aid Foundation of Los Angeles told me last year. Andrade has similar concerns about what these tiny homes are actually solving: "They say it's a temporary thing, but is it really temporary?" she asks. "Is this homeless problem going anywhere or are they just doing this to make people go away?"