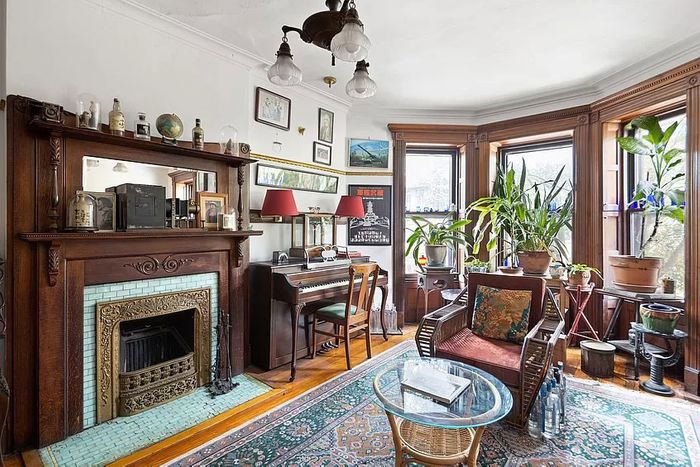 Photo: Jimi Sweet courtesy of AP Realty Group NY LTD
This Center Slope townhouse has only had two owners since it was built in 1894. Its most recent steward is the family of Brooklyn-born architect, writer, and historian Elliot Willensky. Just a few of the things Willensky worked on after moving here in 1967: co-authoring the first AIA Guide to New York City; designing street banners as director of design for the Parks, Recreation, and Cultural Affairs Department (the signs still dot the neighborhood); and leading the charge on creating the Park Slope Historic District (the official designation report from 1973 called out Willensky's own house for the "handsome L-shaped stoop" and the "rather tweedy texture" of its brown-orange brick-and-stone façade).
Over the last 55 years, the home's abundance of original details has been excellently maintained. There's a tremendous amount of intricate woodworking in particular, including massive pier mirrors, a huge built-in china cabinet and quadruple-tiered fireplace mantel in the dining room, pocket doors, and wainscoting (even in the bathroom). Each of the four bedrooms across the top two floors has a dressing area with a built-in wood-and-marble vanity and trifold mirrors.
The family did make a couple of daring updates in the early '70s, when the house was also reconfigured into a two-unit property (a garden-level one-bedroom and an owner's triplex). First, they added a full bathroom on the top floor and installed Kohler's new all-black set (toilet, sink, tub). "It was literally a show-and-tell moment at school," says Willensky's son, Marcus, who grew up in the house and went to P.S. 321 up the block. "We had my whole class of 30 kids come and look at it."
Then there was the deck they put in on the third floor, off the rear bedroom, where the parents would drink cocktails and smoke cigarettes. "It was the first such deck anywhere between 2nd and 3rd Street, period," says Marcus Willensky. "My dad thought big."