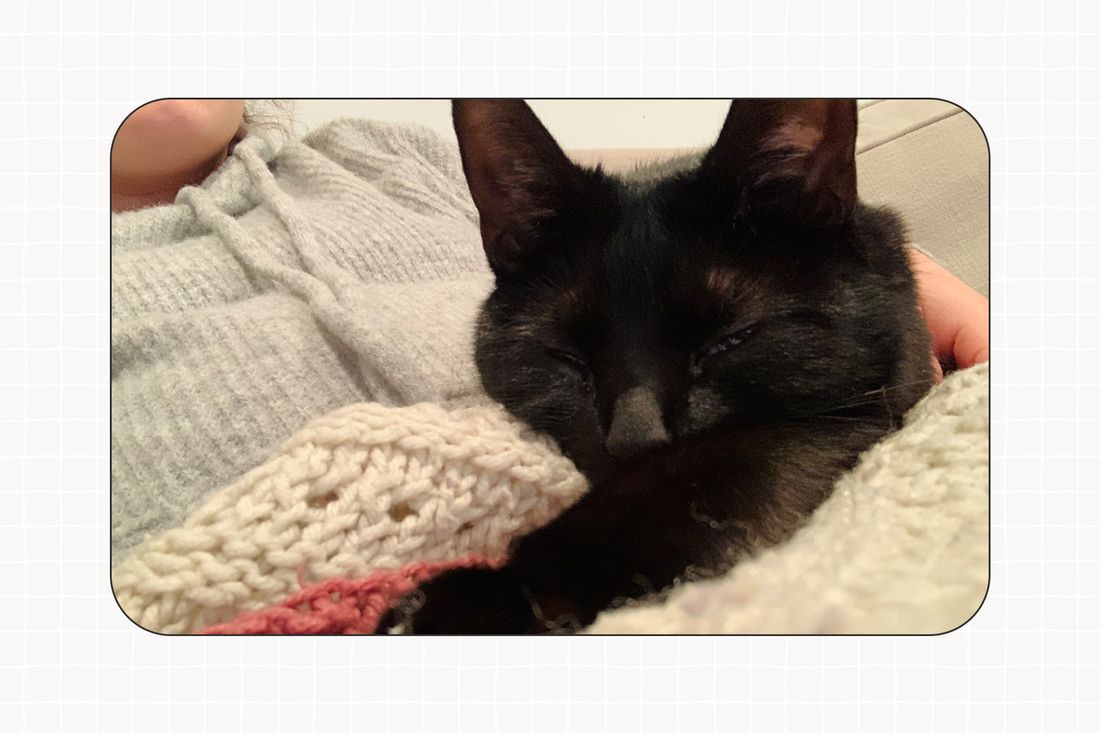 Photo: Courtesy of Marcy Bosco
I've always been a pet person. Not having a cat in the family has never been an option. My husband and I got our cat, Penny, four years ago, when we were living in a small, one-bedroom apartment in Astoria. We literally took Penny in off the street. She was very much a street cat then, but she was so happy to be somewhere warm with plenty of food.
We put her litter box under our little kitchen table, which was really the only option, but the litter got everywhere, and it made our kitchen smell like a cat. My husband would always joke, "We're becoming those people who don't realize how bad it smells in here." Once you have a pet, you're immune to that smell until you have people over and end up really embarrassed.
Last year, we moved to a house upstate, and we've been playing the game of "where can we put this litter box where it will smell the least?" We still don't have a great place for it, but we recently started using Rocco & Roxie's Litter Box Odor Eliminator to keep our house fresh. It's made such a big difference.
Despite having had pets my whole life, I'd never considered using a deodorizer before, but our litter box is in our guest bathroom. My husband and I often use that bathroom when we're working from home, and since we started using the Rocco & Roxie deodorizer, I can't smell a thing — even after Penny's been in there. I never thought I would be the person to use multiple products in a litter box, but this has been so well worth it.
My husband is usually the one who deals with the litter box, and he just sprinkles the deodorizer on top and doesn't even need to mix it in. A little goes a long way. We'll use it once a week and not detect much of a smell at all. Now, we've even started using it in our garbage can, and it's been just as effective there. It seems like it'll deodorize pretty much anything, so next, we're going to try it on our daughter's diaper pail.
Since the deodorizer has been so effective — and since we're first-time homeowners and parents who have plenty of other messes to clean up — we decided to try the rest of Rocco & Roxie's cleaning products, too.
First up: tackling a few of the unpleasant rug stains that pet people know all too well. Penny is pretty clean, but when she's stressed, she'll do her business on the rug — any rug. We just got a brand new bedroom rug, for example, so of course she's already used that a couple of times.
I tried Rocco & Roxie's Pro Strength Stain & Odor Eliminator on two of the stains (one newer and one older), and I was really impressed. I'm always nervous about trying new cleaning products in case they're toxic or have a weird smell. But with the Rocco & Roxie spray, I found that I just needed a tiny amount. I took a white cloth and started blotting, and the stains came up almost right away. Even that older stain that I was ready to pretend was part of the rug pattern is mostly out.
After spot-treating with the spray, I deep-cleaned the rugs with Rocco & Roxie's Oxy Carpet Shampoo. It was my first time using a carpet shampooer, and wow, did we need it. You add a couple ounces of shampoo to the cleaner, spray the rugs, and vacuum. I'm not kidding when I say the dirty water jug was black. It's a high-traffic rug, and the white parts were looking dingy. Now I can see why! Add carpet shampooer to the long list of things I didn't know I needed as an adult. I liked that Rocco & Roxie's shampoo was a gentler, nontoxic formula, especially with my daughter and cat around. Penny is constantly belly-flopping on it, my 20-month old is clumsy, and they're forever giving those rugs a face plant. Knowing that there are no harsh chemicals in the shampoo goes a long way for peace of mind. It's also supposed to help keep rugs cleaner for longer, which is a big selling point when you never know when the next mess is going to happen.
These new products came just in the nick of time, when we're about to host my in-laws. Most of them are pet people, too, so they're gracious enough not to comment on the litter box smell or Penny's accidents. But it's one less thing for me to worry about. Now, back to spoiling this cat who (mostly) loves us instead.
Rocco & Roxie products are available online at Amazon, Target, Walmart, and PetSmart, and at hundreds of stores nationwide.
This advertising content was produced in collaboration between Vox Creative and our sponsor, without involvement from Vox Media editorial staff.