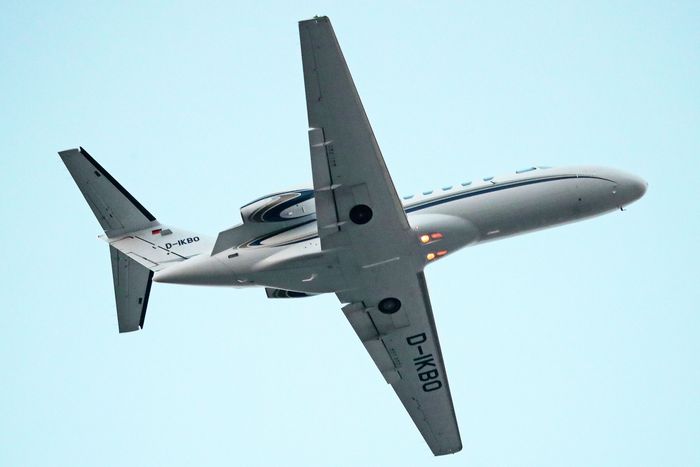 A Cessna 525A CitationJet 2 Plus takes off from the Barcelona airport in January.
Photo: Urbanandsport/NurPhoto via Getty Images
During last night's State of the Union address, President Biden said the United States was going after Russian oligarchs by "joining with our European allies" to locate and seize yachts, luxury apartments, and private jets. On that last point, the president could also just talk to the 19-year-old in Florida who's already tracking them. Since Sunday, Jack Sweeney has been monitoring the airborne movement of these oligarchs — including one who took off moments ago from Teterboro, New Jersey — and publicizing them on an automated Twitter account. Now he's adding emissions information to each new trip.
Russian billionaires who are enriched by fossil-fuel extraction happen to love private jets, and their fates are ultimately linked. (As Alex Pareene wrote today, "Defeating Russia, by necessity, requires defeating fossil capital.") While Sweeney's most recent project is narrowly targeted at Russia, a vast majority of the world's private jets are owned by oligarchs who live right here in the U.S.: over 13,700 private jets, the largest fleet of any nation. Sweeney tracks some of those as well: He previously created dedicated accounts to follow the planet-destroying private trips of Bill Gates, Jeff Bezos, and Elon Musk. Maybe Biden should think about seizing those, too?