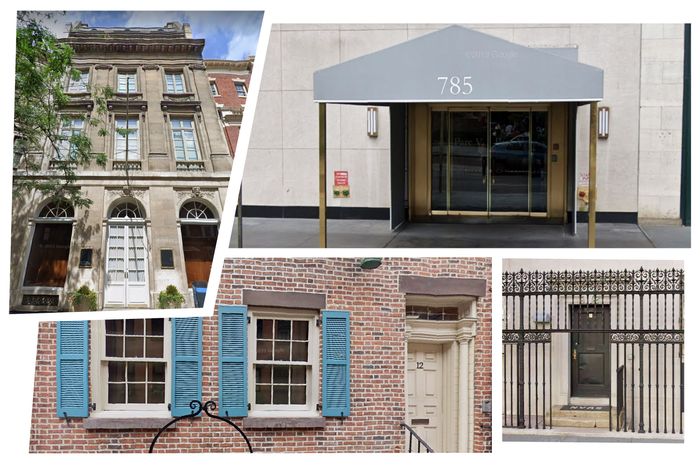 During the last real-estate boom, Russian oligarchs snapped up trophy properties in New York like so many Cartier trinkets. At the time, there were concerns about billionaires hiding ill-gotten gains in opulent real estate and a law soon made it harder to use shell companies to obscure the identity of buyers. But many Russian oligarchs never bothered with that kind of discretion — they often put flashy real-estate purchases in their own names or in those of their family members, so it didn't much put them off Manhattan apartments. Now it appears that sanctions are coming, and calls for the U.S. government to seize properties belonging to cronies of Vladimir Putin are getting louder. (In London, Mayor Sadiq Khan has similarly called for about 100 property seizures.)
The U.S., so far, has targeted a handful of Putin's closest advisers but largely not the ultrawealthy individuals whose fortunes are parked in American assets: sports teams, tech start-ups, super-tall apartments. Earlier this week, the New York Post put together a map of New York real estate owned by Russian oligarchs, but only one, the aluminum magnate Oleg Deripaska, is on the sanctioned list (he has since taken to Twitter to call for peace). Another, Roman Abramovich, is on the "Navalny" list of 35 people — named for Kremlin critic and poisoning survivor Alexei Navalny — whose assets the leaders of the Congressional Caucus Against Foreign Corruption and Kleptocracy say should be seized. Many have or have had ties to Putin, though not necessarily recent ones, which is true of essentially everyone who made their fortunes from the privatization of Russia. Some, like Len Blavatnik, have made an effort to distance themselves from the regime.
It seems unlikely that the U.S. government will grab all the assets of all the rich Russians out there, some of whom are now American citizens — but what assets they are! Tastes vary, of course: Some oligarchs have gone straight for whatever the most expensive condo on the market is (Dmitry Rybolovlev's $88 million penthouse at 15 Central Park West), whereas others preferred townhouses (Abramovich was so fond of them he bought four in a row on East 75th Street) and still others apparently appreciated the challenge of going before a co-op board (just imagine the contents of Len Blavatnik's board package for 998 Fifth) — but only to an extent. Oligarchs' real-estate purchases tend to have certain things in common: They often set price records, are rarely what you would call understated, and they're all in Manhattan. (Brooklyn is a fine place to own a sports team, apparently, but they wouldn't want to live there, with the exception of Alexander Rovt.) Not that anyone lives at most of these properties anyway, of course. Except, maybe, Rybolovlev's 20-something daughter, when she's in New York.
Roman Abramovich
One of Russia's richest billionaires, a former member of the Russian parliament, and the owner of the Chelsea Football Club (as well as a $170 million mansion in London), Abramovich may soon be banned from Britain. He divested himself from his New York real-estate holdings in 2018. Sort of. (The deeds for $92.3 million in Manhattan property — those four townhouses on East 75th Street that he'd planned to turn into a megamansion and a modest co-op nearby) were transferred to his ex-wife, Dasha Zhukova. (A former model turned real-estate developer, Zhukova, who is now married to Greek shipping heir Stavros Niarchos, is also very into art.)
Abramovich intended to combine 11, 13, and 15 East 75th Street, located in the Upper East Side historic district, into a megamansion, a plan that shockingly won Landmarks Preservation Commission approval. (That's the same Landmarks commission that once fined a man for putting fake ivy on his Greenwich Village townhouse.) Later, Abramovich purchased 9 East 75th and rethought his plan, shifting the design to combine numbers 9, 11, and 13. The megamansion was to have a pool spanning nearly the entire width of the buildings and a bidet in every full bathroom. The Post pointed out that Abramovich's deed transfer to his ex, Zhukova, a Putin critic with whom he has two children, happened just before a previous round of Russian sanctions. Along with the four townhouses, she also took over Abramovich's comparatively petite $900,000 co-op on the fourth floor of nearby 215 East 73rd Street (a staff apartment? an office?). Abramovich, who still has two yachts and Portuguese and Israeli citizenship, has allegedly been asked to lead Ukrainian-Russian peace talks.
Len Blavatnik
Blavatnik, one of the richest men in the U.K. and the U.S. — he is a citizen of both countries and has kept Putin at arm's length, unlike his former business partner Viktor Vekselberg — made his fortune in aluminum and was once called the Madonna of billionaire investors, reinventing himself all the time. He fled the Soviet Union as a young man — he was born in Odessa, Ukraine — returning to Russia in the late 1990s and profiting off the wave of privatization; in the years since he's invested in everything from Hamilton to Tory Burch and Spotify. Blavatnik has the most impressive and extensive New York real-estate holdings of the billionaires: five properties on the Upper East Side as well as a compound on Dune Road in Bridgehampton, into which he's reportedly sunk $200 million over many years.
He's been in the Manhattan real-estate game for decades and may actually live in one of the many homes he owns here — several townhouses and co-ops in good Upper East Side buildings. The co-ops, in particular, aren't an easy thing for a former Soviet billionaire to buy, although he's also been thwarted by several boards. In 2004, Blavatnik had a contract out on an 18-room duplex at 740 Park that had belonged to the Japanese government when billionaire David Koch "took it out from under his nose. I'm sure they preferred me," Koch boasted in Michael Gross's book 740 Park. Blavatnik had collected "really nice letters," a broker with knowledge of the deal told Gross, but "they didn't want him." In 2006, he spent $27 million to buy a sprawling fourth-floor apartment at 998 Fifth — after which the board blocked his attempt to buy an adjacent duplex that had gone on the market for $25 million. "By combining apartments, Mr. Blavatnik could have added 6,000 square feet to his own unit and created a full-floor apartment," according to the New York Times. But "the co-op board indicated that it would not approve combining the apartments."
Blavatnik still owns the apartment he did get there, city records indicate, but in 2014, he went on to buy Woody Johnson's 14-room duplex at 834 Fifth for a record-setting $80 million — $5 million over the asking price, setting a co-op record. (There were rumors that the sale only closed because a friend of Johnson's was the co-op board chair.) He owns several townhouses as well — 2 East 63rd Street, a huge 75-foot-wide townhouse he bought from the New York Academy of Sciences in 2005 and has apparently let languish ever since. In 2007, the year his co-op expansion plans were blocked, he bought 15 East 64th Street from Edgar Bronfman for $51 million (and also bought Bronfman's company, Warner Music, for $3.3 billion).
When Bronfman owned the mansion it had a "2.5-story indoor piazza with secret stairways, a bronze-shaded waxed-steel vestibule, a master bedroom and children's playroom with balconies, plus a glass-floored library terrace," according to the New York Observer. But that wasn't enough for Blavatnik, who went on to buy the townhouse two doors down, 19 East 64th Street, in 2018, paying a then-record $90 million for what had been the Wildenstein family art gallery. Blavatnik sued the Wildenstein family the year before for allegedly backing out of a $79 million handshake deal. The lawsuit was dismissed in court, but he got the house, which has double-height ceilings and gilded wood paneling from an 18th-century Parisian townhouse, a year later after the first buyer, the Chinese conglomerate HNA, ran into financial troubles and quietly re-listed it for $10.5 million more than they'd paid. A triple-mansion combo could be on the horizon — the townhouse between Blavatnik's two properties seems to be a rental.
Oleg Deripaska
Another metals-broker billionaire and the only oligarch on this list barred from entering the U.S., Deripaska was investigated for money-laundering and "threatening the lives of business rivals," among other things. He's also the only oligarch to own a quaint townhouse in the Village, 12 Gay Street, which he bought about 15 years ago for the almost quaint price of $4.5 million. The Village townhouse, a former speakeasy known as the Pirate's Den that Mayor Jimmy Walker bought for his mistress, is said to be haunted by a ghost in top hat and tails. Not to mention by the FBI, which raided it and Deripaska's 11,000-square-foot Washington, D.C., home last October. That one has a scary presence, too: neighbor Kellyanne Conway.
Ownership of those two buildings is now in the name of Deripaska's relatives, as is 11 East 64th Street, which Deripaska bought for $42.5 million in 2008. The 29-foot townhouse is just down the street from Blavatnik's, and was also a Wildenstein family property. Owned by art dealer Daniel Wildenstein, it once housed his son Alec and his epically plastic-surgery-obsessed wife, Jocelyn, on the third floor; his younger brother Guy and his wife, Kristina, on the fourth floor; and the children and their nanny on the fifth. A cozy arrangement until Alec and Jocelyn's dramatic breakup: Jocelyn came home late one night to find Alec in a towel with a naked blonde; he responded by pulling a 9-mm. pistol on her. She lost the house and all her staff in the divorce, but got a $2.5 billion settlement. That FBI raid seems tame by comparison.
Valery and Olga Kogan
Kogan is the co-owner of Moscow's Domodedovo Airport — the largest airport in Eastern Europe — and also the owner a quarter-billion-dollar, 69,000-square-foot mansion in Israel designed in the style of the White House (which looks as bonkers as it sounds). Kogan and his wife, Olga, also own several properties in New York at 15 Central Park West, 515 Park Avenue (apparently they're big Zeckendorf fans), and a four-bedroom apartment at the Plaza Hotel they tried to sell for $45 million a few years ago. This was not just another generic Plaza investment unit, but the kind of place you'd expect from people who built the most opulent mansion in Israel: It incorporated one of the building's turrets and had a wood-paneled study, a bathroom with floor-to-ceiling imported onyx and "elaborate gold detailing on the doors, wall panels, and even around the television set," according to the Journal. Who wouldn't want some gilt trim around the TV? But the timing of the listing was unfortunate: It went on the market about a month before New York City went into lockdown, and the Kogans took it off that summer.
It's not the first time the couple has experienced real-estate woes: Their plan to replace a 19,000-square-foot mansion in Greenwich with a 27,000-square-foot one ran into considerable local opposition. Eventually, they won town approval to build a 21,000-square-foot home, which they voluntarily downsized to 17,500 square feet, allegedly to make nice with the neighbors. In the English countryside, their daughter, Darina, also irked some villagers when she and her hedge-funder husband announced plans to augment their Georgian mansion, located in a tiny Cotswolds town (pop. 510), with an additional two dozen houses and a conference center–wedding hall.
Alexei Kuzmichev
The co-founder of Alfa Bank, the largest private bank in Russia, Kuzmichev also controls Alfa group (which has interests in natural resources, banking and telecom) with partners Mikhail Fridman and German Khan. Fridman has been sanctioned by the E.U. and the U.S. has sanctioned Alfa Bank, but not Kuzmichev, whose housing tastes incline to new construction condos with prewar finishes (a popular choice among oligarchs). In 2016 Kuzmichev paid $42 million for a 10,000-square-foot condo on the first four floors (of seven) of the old Atterbury Mansion at 33 East 74th Street. The apartment had 12 foot ceilings, a limestone foyer, a private elevator and a terrace off the first floor. The house, which was purchased by developer Daniel E. Straus from the Whitney museum, is part of a nine-building assemblage turned into ten "devastatingly vast" condos with entry chambers built into many of the rooms. "The landmarked façades of the buildings were restored, but the insides were gutted and are being combined," according to a 2016 Wall Street Journal article. A project after Abramovich's own heart.
It wasn't enough for Kuzmichev, who also paid $15.5 million for a 3,800-square-foot apartment in the building next door, planning to combine the spaces into one even more immense apartment.
Eugene Shvidler
The best friend and partner of Roman Abramovich and a long-time American citizen, Shvidler was involved in several oil-trading outfits and is chairman of Millhouse LLC, an investment vehicle that is said to be under Abramovich's control. Not nearly the showboat some of his fellow billionaires are, Shvidler appears to own only one $24.5 million penthouse in the city, a mere duplex that he bought from David Geffen in 2018. It's a relatively tasteful 5,000-square-foot two-bedroom at the Park V, a co-op on Fifth Avenue, reconfigured by Charles Gwathmey with "exposures on all four sides and views of Central Park," The Wall Street Journal once reported. It also had a soundproof screening room with a projectionist's booth. Geffen, meanwhile, stayed in the building, moving upstairs to a better apartment, the $54 million penthouse he bought from socialite Denise Rich.
Shvidler's relatively modest Manhattan real-estate holdings are complemented by a $14.5 million home in Aspen, Colorado; a $37 million home in London; and a château and vineyard in Bordeaux, according to The Real Deal.  He also has a 370-foot superyacht, a gift from Abramovich, that he docked in front of the Statue of Liberty for two months in the summer of 2017, ruining countless tourist photos.
Dmitry Rybolovlev
Many people in the U.S. first heard the name of the Russian fertilizer king when he bought a Palm Beach house, Maison de l'Amitié, from Donald Trump for $95 million in 2008. It was the single most expensive property sold in the town, and it later became its most expensive teardown, after Rybolovlev decided to knock down the mansion and divide the plot into three two-acre parcels. "I showed him five big oceanfront homes," Carol Digges, a real-estate broker who represented Rybolovlev told the Times. "But he said, 'I want something more grand, something bigger.'" However, he also said the property was an investment and that he never intended to live there.
Rybolovlev had taken his potassium company public the year before and cashed out in 2010 for $6.5 billion. After that, he spent a lot more money. In late 2011, he paid $88 million for Sandy Weill's 15 Central Park West penthouse, a record sum at the time and one that set off the trophy craze of the mid-2010s. The ten-room penthouse has a wraparound terrace, an elliptical bedroom and 17 closets. Weill had commissioned interior designer Mica Ertegün, who worked with building architect Robert A.M. Stern to configure it with "a Versailles-like enfilade of grand rooms with views," according to a 2010 Architectural Digest story about the apartment. From his headquarters across the park, Weill "was able to monitor the progress with binoculars." But Rybolovlev didn't intend to live there either. He said he bought it for his daughter, a college student in the U.S. at the time, to stay in when she visited New York. (There was speculation that he was trying to hide assets from his wife during the most expensive divorce ever.) Where does Rybolovlev actually live? Maybe in Monaco, where he owns the La Belle Époque triplex penthouse (the site of banker Edward Safra's 1999 death). Or maybe on his private Greek island, Skorpios.
*Editor's note, March 3: This post has been updated to clarify that Len Blavatnik grew up in Soviet Ukraine rather than Russia.