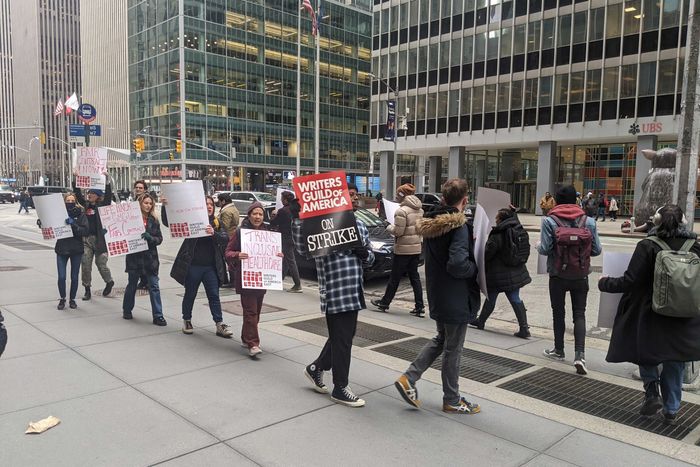 Throughout today, @gmgunion has shared photos from the picket line on Twitter.
Photo: @gmgunion/Twitter
This morning, the New York–based staff from the websites Jezebel, Gizmodo, Jalopnik, Kotaku, Lifehacker, and the Root showed up at the offices of parent company G/O Media on the Avenue of the Americas. But instead of heading to their desks to type up blogs and eat sad desk salads, they remained outside. Like many media workers, they have largely been working from home since March 2020, and today they went on strike, in part because the company wants them in the office four days a week.
Of course, there are other reasons for the strike — the union lists health-care coverage and raises on its strike website — but two out of the six issues have to do with where work gets done. It appears that G/O is not only "insisting" on a return to the office (with work-from-home days subject to a manager's approval), but may also require some workers who have been remote since before the pandemic to relocate to New York (similar to what happened with sister site AV Club). The union doesn't want either to happen.
The question of when media workers should get back to newsrooms first became a point of contention last year. The unions at Meredith, Condé Nast, and Hearst all got into spats with management over return-to-office plans (Meredith and Condé are represented by the NewsGuild; Hearst and GMG Union are both part of the Writers Guild of America, East, of which I am also a member). Finally, in November, the National Labor Relations Board ruled that such plans must be negotiated with the unions. And that's how such plans keep getting made and remade, as successive COVID waves have delayed a full return to the office — through bargaining. That is, until today.
While the mayor and the governor desperately want everyone to get back to pre-pandemic working life, that still hasn't happened, despite the Omicron wave subsiding and nearly all city and state COVID precautions coming to an end. According to the Back to Work Barometer maintained by the office-security company Kastle, New York City offices across industries are at just 30 percent of capacity right now.
The staff showed up in force on the picket line today — after all, this is the first open-ended action by a digital newsroom since Gawker first voted to unionize in 2015. But the office may now be largely symbolic as a target: According to people on the picket line, no one saw Jim Spanfeller, the CEO of G/O (and notorious "herb") at the office today. One might guess that he's still working from home.