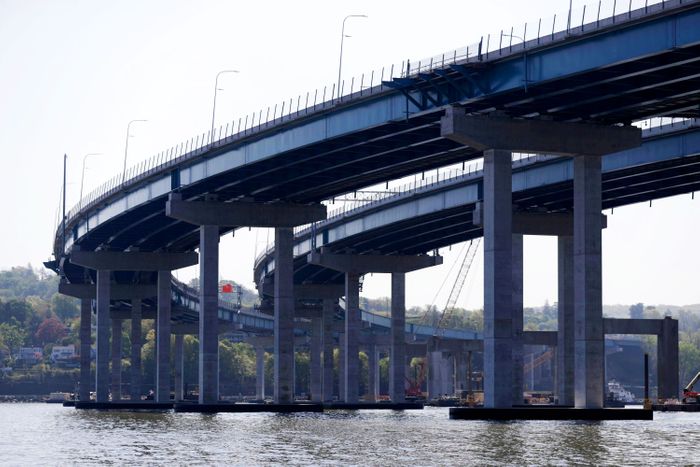 Photo: Julio Cortez/AP/Shutterstock
In 2017, then-Governor Andrew M. Cuomo replaced the Governor Malcolm Wilson Tappan Zee Bridge — the Tappan Zee Bridge to its friends — with a new bridge that he named the Governor Mario M. Cuomo Bridge after his dad, Mario M. Cuomo (normal). This angered fans of both the name Tappan Zee (a combination of Indigenous and Dutch words) and Malcolm Wilson (another former governor). Then there was a short respite as New York became consumed by other problems (a global pandemic, rats).
Jump to August 2021, when Cuomo (Andrew) resigned as governor following reports of sexual harassment and the debate over the bridge (Mario) returned. Two bills were introduced — one that would rename the bridge the Tappan Zee Bridge through track changes and a "compromise" that would rename it the Governor Mario M. Cuomo Tappan Zee Bridge. As one local resident said about combining the names at the time, "I don't think the name would stay in the signs. There are too many letters."
Now the bridge fight is back. While Cuomo (Andrew) teases his return to politics, New York State politicians are once again calling for the bridge's name (Mario) to be changed. "With Andrew Cuomo in the early stages of a political comeback, it's clear that we need to immediately restore the name of the Tappan Zee Bridge," Assemblyman Michael Lawler, sponsor of the first bill, told the New York Post. By running around trying to rehabilitate his name, Cuomo (Andrew) has inadvertently reinvigorated a rare bipartisan effort to take the name (Cuomo) down.