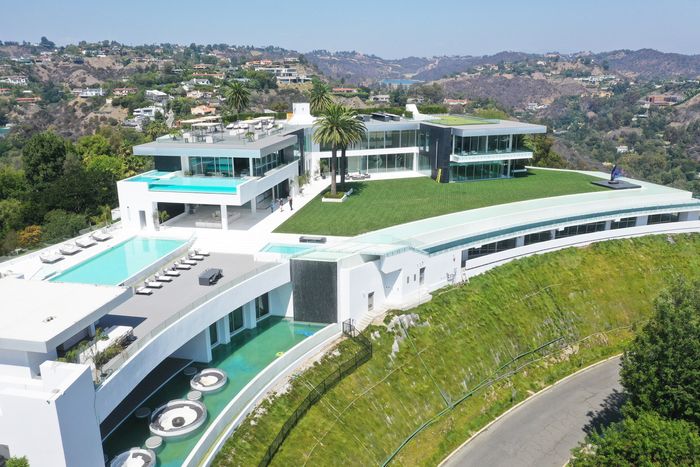 Photo: Allen J. Schaben/Los Angeles Times via Getty Images
When spec-house developer Nile Niami set out to build the biggest home in Los Angeles, at just over 100,000 square feet, with 21 bedrooms, 42 bathrooms, five pools, a nightclub, a 30-car garage, and a bowling alley (of course), he said he had a price — $500 million — and a type of buyer in mind. Niami pictured "someone who already has a $100 million yacht and has seven houses all over the world, in London and Dubai and wherever." Last week, after a protracted legal battle that Niami likely hadn't envisioned (and a plan by Niami to thwart the lawsuit by turning the property into a cryptocurrency), Richard Saghian, the billionaire owner of the Fashion Nova fast-fashion empire, bought the house at auction for $141 million including commissions. As for Niami's vision: Saghian only has two other L.A. houses and no yacht, sadly.
"The One Bel-Air is a once-in-a-lifetime property that can never be duplicated," Saghian, told the Los Angeles Times. "There is nothing else like it. As a lifelong Angeleno and avid collector of real estate, I recognized this as a rare opportunity that also lets me own a unique property that is destined to be a part of Los Angeles history."
With the addition of the One, Saghian's real-estate collection now consists of three extremely similar homes within 20 miles of each other. Last year, he paid $14.7 million for a 3,800-square-foot home in Malibu with white walls, glass balconies, and panoramic views. And in 2018 he paid $17.5 million for a 7,000-square-foot home in the Bird Streets of the Hollywood Hills with white walls, glass balconies, and panoramic views. Now, with the One's white walls, glass balconies, and panoramic views located about halfway between them, Saghian can go from a courtyard pool to an infinity pool to a pool connected by a moat that encircles a synthetic-grass lawn to another pool.
The One is even designed by the same architect as Saghian's Hollywood Hills estate, Paul McClean, the go-to for spec megamansion design. It's like a home away from home — that's 15 times the size.