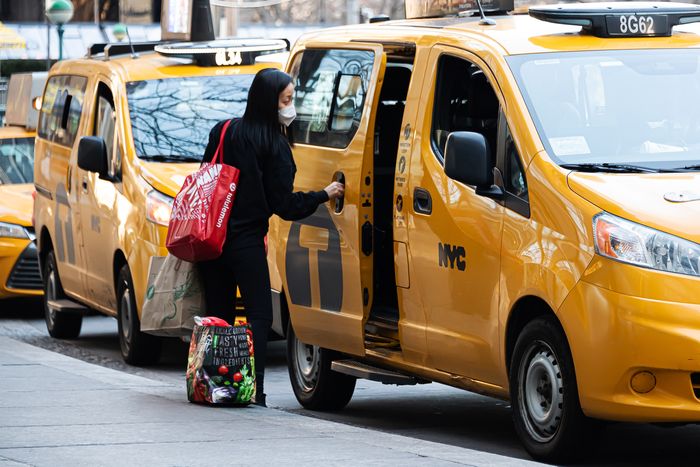 Photo: Noam Galai/Getty Images
Uber, which "reinvented" the taxi, is now pivoting its business back to … taxis. On Thursday, The Wall Street Journal reported that Uber had brokered an alliance with its longtime rival, the yellow cab industry*, and will soon list taxis on its app. The agreement brings the long-running battle between rideshare companies and taxi drivers depressingly full circle: Uber's arrival in the city in 2011 undercut taxi drivers and is part of the reason many were driven to the brink, but now that the company is facing a shortage of drivers, it's getting taxis to fill the deficit.
According to WSJ, Uber will partner with taxi companies Curb and Creative Mobile Technologies to integrate the New York City Taxi and Limousine Commission's licensed apps into its software. Drivers will be paid according to Uber's formula, which is subject to a minimum and distance rate set by the TLC. (The rate for cab drivers is calculated differently, which in practice means "they can make less, the same or more on an Uber ride depending on the nature of the trip," as WSJ put it.) Taxi drivers will have one advantage, however: Unlike Uber drivers, they'll be able to see their rate before a trip, and can choose whether they want to accept it or not (which still leaves Uber drivers in the dark). The partnership did not require the approval of the TLC, according to the New York Times.
Some are hailing the deal as a win for struggling taxi drivers, who will now have more potential rides. But questions remain as to what the deal will actually mean in practice — much of this seems like Uber just getting what it wants. As the New York Taxi Workers Alliance pointed out on Twitter, getting cabs more fare won't fix the underlying issues with Uber's business model, especially given taxi drivers' higher expenses:
The taxi union also noted that Uber drivers still face the issue of being "deactivated" from apps without warning, and called for just-cause provisions for all drivers who use the app. As Bhairavi Desai, executive director of NYTWA, said to Gothamist, "Is it good news or bad news? That all depends on the payment structure. Right now we don't see a payment structure that's made for drivers' advantage." An alliance between Uber and taxi companies won't mean much if drivers aren't at the forefront of the decisions.
*Correction: A previous version of this story said this deal was between Uber and NYC's Taxi and Limousine Commission. It has been updated to reflect that the deal was in fact between Uber and two TLC-licensed apps, Curb and Creative Mobile Technologies