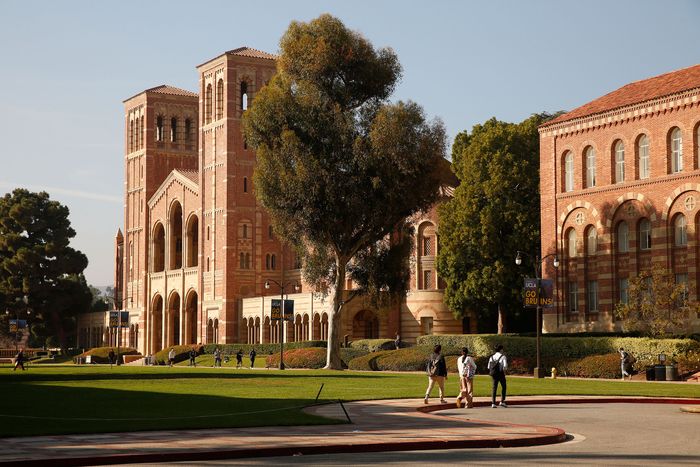 The school is able to house more than 13,000 students on the smallest University of California campus in size.
Photo: Al Seib/Los Angeles Times via Getty Images
UC Berkeley will now be able to enroll its full freshman class this fall, thanks to a last-minute emergency bill signed this week by Governor Gavin Newsom. The law effectively overrides a state-supreme-court ruling that would have forced the school to turn away thousands of students after a lawsuit brought by neighbors argued there wasn't enough housing for them. (Those same neighbors, incidentally, fought the construction of more housing.) But elsewhere in the UC system this week, we saw a welcome housing victory: Admission to UCLA now comes with a guarantee that students can live on campus.
As the Los Angeles Times reports, UCLA is the first University of California school to offer four years of housing for first-year students and two years of housing for transfer students. Thanks to the number of housing units that the school has built, 13,620 undergraduates will be able to live on campus in 17 residential buildings. The language of that "guarantee" is a bit more complex than it initially seems; students still have to pay for housing. The school claims the cost of its housing is nearly a third lower than comparable market-rate rents, but that doesn't necessarily make it affordable in L.A.'s Wild West rental market. Still, the availability of campus housing provides students with options close to their classes, which saves on commute time (which is good for students and the city).
UCLA, in particular, enrolls a large number of first-generation and low-income students, and housing has become an admissions issue, says Andrew Lewis, a 2010 UCLA graduate who serves on the North Westwood Neighborhood Council. He says the average rent of a two-bedroom in Westwood is among the most expensive in the state. "It creates a situation that forces students into cramped apartments and often leaves them teetering on the brink of housing insecurity and homelessness," said Lewis, whose council seat was created in 2018 to better represent students in the neighborhood. According to UC data, 5 percent of all UC students have experienced homelessness during the time they are enrolled in classes.
What UCLA has achieved is even more remarkable when you consider that the school is adjacent to a neighborhood where homeowners don't even want a subway tunnel dug hundreds of feet below them, let alone a residential tower built a mile downhill from them that might block one-50th of their view. But there are a few factors that have ensured the swift passage of developments on UCLA's campus. Anything built on the school's property is exempt from the city's zoning ordinances, and UCLA prioritized development on underused land it already owned, like parking lots. The school also financed the projects itself, designing tall and dense buildings to maximize the efficiency of construction costs. UCLA still conducted environmental reviews, held community meetings, and even adjusted the projects based on local feedback. But the only real approvals needed were granted by the University of California's Board of Regents.
UCLA's success is even more pronounced when compared to the difficulty that the city of L.A. has had over the past decade in producing more affordable housing. One of the people working to fix that is Paavo Monkkonen, an associate professor of urban planning and public policy at UCLA's Luskin School of Public Affairs. He says the biggest lesson to be learned from UCLA is the power of consolidating everything from planning to financing in one department — essentially becoming a public-housing developer. "UCLA develops its own land-use plan and then executes capital programs like the construction of dorms," he told me. "Proactively planning for housing to be built rather than setting up rules and waiting to see if developers build or not is the kind of paradigm shift we need."
This announcement comes at a fortuitous time; a state bill that would make it easier to build publicly funded housing of all types is about to hit the assembly floor. AB 2053, which is being brought up for debate this month, would create the first social-housing department for California. A 2021 report by East Bay for Everyone even recommends the development of UC's student housing as a model for how the state should design such a department. Part of the role of a state social-housing authority would be to tell cities where to put more housing. Monkkonen points to how school districts of all types — from K-12 to community colleges — have similar underused resources (like parking lots), and these properties can and should be the first place city leaders look to develop, he says. "Given that we already rely on schools and libraries as venues for social services, there is a natural place for expanding their purview to include housing." Putting more housing closer to schools doesn't just benefit students and their families; LAUSD has been developing properties it owns for teacher and staff housing as well.
Just south of UCLA's campus, on another publicly owned property, L.A. struggles to fund and construct the type of housing that the school built with relative ease. An ambitious plan to put up 1,200 permanent supportive housing units for veterans at the West L.A. Veterans Affairs medical campus has so far only resulted in a few hundred units of mostly temporary housing. About 3,900 veterans are homeless in L.A. County, the largest concentration of homeless vets in the country — nearly the same as the number of brand-new residential units that UCLA will bring online between now and the fall semester.