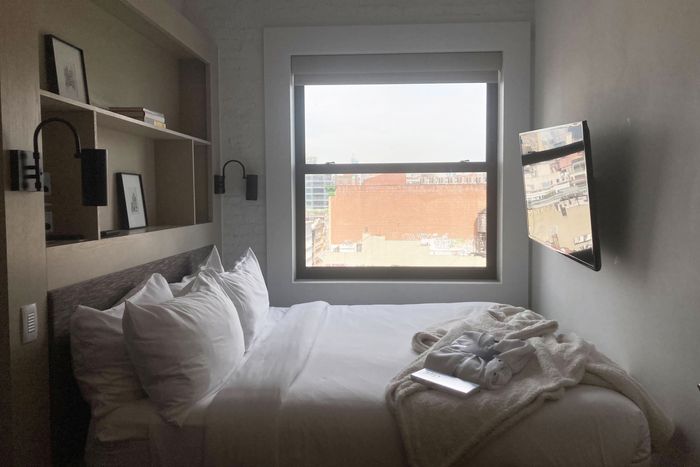 "It's nice that you get to do this for work," said the woman leading me to my room at the Walker Hotel as we went up the elevator together. Once we arrived on the ninth floor, I opened the door to find the midafternoon sun blazing through the windows, a box of tea laid out on the counter, and a silk eye mask and robe resting delicately on the foot of the bed. It was Tuesday, I was filled with coffee, and I was there to take a nap.
The habit apparently picked up over the pandemic, as people newly working from home started sneaking them in during the day. But now, with many companies pushing for workers to return to the office, and short-lived pandemic attitudes among certain bosses around "rest" and "self-care" all but dissipated, those days are gone. This is where the Walker Hotel hopes its new "Nap Pod" service will come in, advertised for "customers in need of a midday rest" and "for those looking for long-term relaxation." If unstructured time is the antithesis of work, then a nap is the ultimate form of leisure. And now that leisure can be found in the middle of Tribeca, with a view of downtown Manhattan, for $75 for 90 minutes (or $149 for four sessions).
So I lowered the shades, made a cup of Sleepytime tea (the hotel's marketing is extremely Sleepytime Bear–forward) and crawled into bed. The room wasn't a pod, just one of their normal hotel rooms. I tried to fall asleep as quickly as possible — time is money, and specifically 0.83 cents a minute in this case. I lay there in the fresh sheets and tried to relax, dressed in the clothes I wore to the office, still slightly buzzing from the crush of tourists on bikes I had dodged while walking to the hotel. It was 2:15 p.m., and I had 75 minutes left to make my nap count.
The Walker Hotel isn't the only business attempting to monetize the nap. Earlier in the pandemic, start-ups offered ultrashort-term rentals of hotels and homes for work calls and naps. New York's Nap York, a wellness club dedicated to napping in capsules, opened in 2018. Casper once set up a nap bar; Arianna Huffington rebranded as a sleep person after she says she collapsed from exhaustion in her home office in 2007 (and then added a nap room at her wellness company). But more recently, hotels have pivoted to targeting a new market of so-called "super-commuters" — employees who have moved out of the city but must now return to the office a few days a week — whether it's by offering conference rooms, midweek deals, or the power nap I was trying to take. The shift to capitalize on new business opportunities makes sense, given that the industry has suffered since the pandemic — last year's occupancy rate for New York hotels averaged 59 percent — and still hasn't fully recovered.
Historically these kinds of microstays were reserved for sex or recreational drug use, but these packages are built on a less exciting idea, which is that you are very tired because you work too much or live too far from where you work (or both). When I asked the hotel's publicist whether anyone was actually coming in, she said one or two people have used the service, later emailing to say they had gotten five more bookings.
By 3 p.m., I still hadn't fallen asleep but was maybe getting closer to it. In my semiconscious state, I thought about what I was doing, both existentially and literally. I had walked 20 minutes from the office to check in and nap for 90 minutes, to presumably walk 20 minutes back to the office and return to work. At minimum, the sleep packages operate on the premise that an average boss would be okay with the average worker taking two to three hours out of the middle of their day to rest, which seems antithetical to the reasons most bosses give for calling workers back to the office to begin with.
There is something obviously unsettling about this late-pandemic corporate ecosystem — hotel power-nap pods, Sweetgreen's resurgence — emerging around maximizing productivity. Do we now nap to work better, and work to afford our naps?
We aspire to Sleepytime Bear's lifestyle of sitting unconscious in front of the fire but never quite reach it. When my alarm went off, I was still half-awake. I stepped back into the bright day, a bit groggier than before, and went back to work. But we all know that a nap feels better when it's taken on stolen hours.