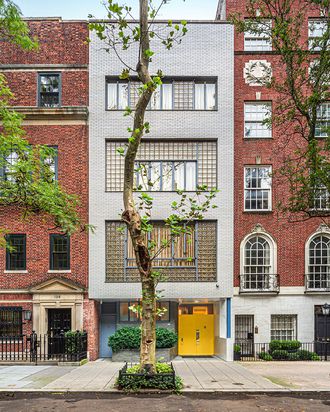 Photo: Udom Surangsophon/Michael Weinstein/MWSTUDIO
Swiss American modernist architect William Lescaze is best known in New York for the three off-white townhouses he designed in Manhattan, all of which have huge expanses of glass blocks on the facade. Two of them have been listed in the last couple of years (the Kramer House on East 74th Street has been lingering on the market since 2014, in fact), but the third — sitting on East 70th Street between Park and Lexington Avenues — is now for sale for the first time in over 20 years.
Completed in December 1941, this home was Lescaze's last townhouse in the city, commissioned by the photographer, writer, and activist Dorothy Norman. While the first two townhouses have facades of white stucco, this third one is fronted by gray brick. The use of glass blocks here is also a bit more nuanced. Instead of floor-to-ceiling glass blocks, here they're more like accents that frame (or break up) tall casement windows. Another distinction to this design: a one-story studio (with a landscaped roof deck) connected to the back of the house by a covered walkway.
The elevatored house measures nearly 6,300 square feet across four stories (plus a finished basement) and has over-ten-foot ceilings on the second and third floors, both of which have angled walls of glass in the back overlooking the courtyard. Compared to the other two Lescaze townhouses (especially the Kramer House, which has been split up into three duplex units that now have kitchen islands and herringbone floors), the Norman House has stayed the most true to Lescaze's original vision.
The current owner's meticulous restoration over the years included collecting core samples of all of the original paint colors in the townhouse to find precise matches (like the bluish-gray window frames in the back of the house). Other Lescaze touches that remain intact and renewed: the abundant built-in cabinets and shelves, rift-sawn oak doors, a custom metal bar light fixture in the dining room, and a long art rail along the wall of the piano area by the parlor-floor living room.